Jim Corbett National Park – A Traveller's Guide 2022
About Jim Corbett National Park
Indian history books are rife with the tales of Jim Corbett, an unlikely hero of the conservation movement. Corbett was a famous British hunter, tracker and naturalist who in his prime, hunted a number of man-eating tigers and leopards. In his later years, however, Corbett had the realisation that the tiger population was dwindling and he had a change of heart and decided to dedicate his life to saving the majestic beast. Since then and till his last breath, Corbett pushed for various wildlife conservation reforms, famously switching his gun for a camera.
In 1936, the Jim Corbett National Park was established as a tribute to him and his efforts. Today, it is regarded as one of the most significant and popular national reserves. Stretching over 201.1 sq miles of vast, lush, evergreen landscapes, it is quiet, relaxing and haunting – qualities that make it a perfect safari spot for everyone in need of a rejuvenating trip to get back in touch with nature.
Tigers at Jim Corbett National Park
The Jim Corbett National Park has been front-running conservational reforms, since the passing of the Wildlife Protection Act in 1972. The biggest steps were taken to protect the nearly extinct species of the Royal Bengal Tiger.
As of 2020, the park is home to over 200 tigers, with a healthy mix of varying tiger species. The tricky part, however, is managing to spot the tigers, as the grasslands of the park offer a great means of camouflage!
Remember, you are a guest in the home of the wild. A tiger will be spotted only if it wishes to show itself to you. The key is to be quiet, patient and keep all your senses tuned in.
Types of Safaris at Corbett National Park
If you've decided to pay a visit to a national park, you know pretty well that you aren't leaving without embarking on a wildlife safari tour. Lucky for you, the Jim Corbett National Park has one of the most engaging safari experiences among all national parks in India. There are 2 safari types you can choose from:
Unlike Jeep Safaris, Canter Safaris in the Jim Corbett National Park only happen in one zone. The Dhikala zone of the park offers some of the most breathtaking views and allows for a more frequent sighting of wildlife. This has encouraged tour operators to set up canters that can hold larger groups of people for longer safari tours. The Canter Safari usually starts at 7 am and can last for 5 hours at a stretch.
Jeep tiger safaris in India, in the Corbett National Park are considered to be the best way to truly experience the flora and fauna of the landscape. You can choose a solo tiger safari tour or go with a small group in an open-air jeep. The safari experience happens throughout the day and lasts for about 3 hours on each occasion.
| | | |
| --- | --- | --- |
| Core Zones | Entrance Gates (Full Safari) | Entrance Gate (Single Seat Safari) |
| Dhikala Zone | Dhangari Gate | Dhangari Gate |
| Bijrani Zone | Aamdanda Gate | Aamdanda Gate |
| Jhirna Zone | Dhela Gate | Dhela Gate |
| Dhela Zone | Dhela Gate | Dhela Gate |
| Durga Devi Zone | Durgadevi Gate | Durgadevi Gate |
| Sitabani Forest Zone | Bhandarpani Gate | Bhandarpani Gate |
National Parks are typically divided into multiple zones to make safari tours across it more convenient and easier to comprehend for tourists. You can access Kanha National Park through one of  five gates – Dhangari, Aamdanda, Dhela, Durgadevi and Bhandarpani.
Owing to the sheet size of Corbett National Park, the six zones of the park are uniquely decided based on the experience you wish to have. Some zones are also closed off till the right season approaches, while a few are open throughout the year.
The Sitabani Zone is  the only Buffer Zone of the work that allows complete access for private vehicles to enter the park.  Apart from Core and Buffer, another prime zone is the Reserved Zone – This area of the park is closed off to tourists, as it focuses mainly on wildlife conservation and repopulation.
Zoning in: The Corbett National Park Experience
Owing to the massive stretch of land that surrounds the Jim Corbett National Park, 5 zones have been set up to make navigation easier and allow for unique experiences based on what is found around the premises.
When you visit the Jim Corbett National Park, you enter a world that is flourishing with natural beauty. Today, the park still holds a major significance in wildlife protection and conservation and is a shining example of how man and wild can co-exist in peace and harmony.
The park is a true paradise of flora and fauna that may have once seemed lost forever, only to be revived in all its glory amongst a sprawling landscape. The entire Jim Corbett National Park experience is one that you will never be able to forget. We can give you endless reasons why you should visit the park, but here are the top reasons:
Best Time to Spot Tigers at Jim Corbett National Park
Planning a visit to the Jim Corbett National Park is a crucial step, as small details like date, season and lodging can make or break your vacation. When it comes to deciding when to visit, there really isn't the best option. It entirely depends on your preference and what the park has to offer at that time of the year.
Like most other National Parks, this park is divided into multiple zones, with each zone offering a unique experience. Some Zones remain closed off till a particular season arrives, while a few are open throughout the year.
Things to Do in Corbett National Park
The Jim Corbett National Park is never short of things to do. Whether you are coming solo, with a loved one, a family or a group of friends, the park offers something for everyone to enjoy. Here are some of the best things to do and simply should not miss out on while visiting the park.
The wild will like to have you as their guest, and the tour of their premises is one you should simply tick off your list. The park allows for solo/group jeep tiger safaris, canter safaris for larger crowds or elephant safaris for those who dare!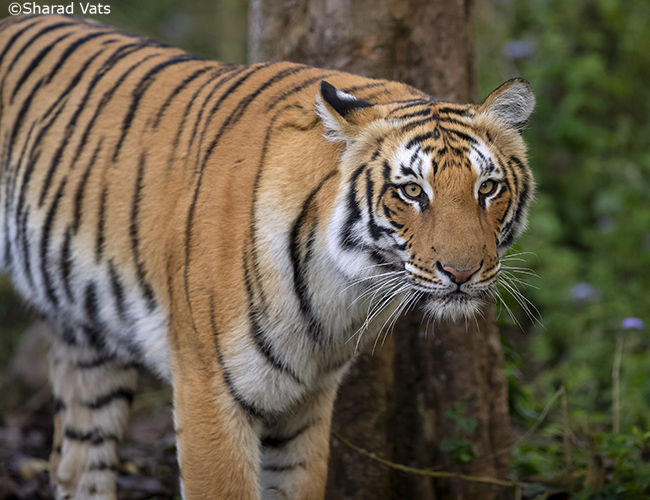 An adrenaline rush is one thing you'll feel on multiple occasions, especially when attempting any one of the many endurance testing activities the park has on offer: Mountain Biking, River Rafting, Rock Climbing, Trekking, Rappelling
The park has more than enough places to visit for people who love moments of calm and absolute bliss: Fishing by the Ramganga river, Bird watching, Camping, A visit to the Corbett museum, Cooling off under the Corbett waterfall, Taking a stroll by the Kosi river
The Garjia Temple is an auspicious location in the National Park. It is one of the most famous temples in the Nainital district. You will also get to see the statue of Lakshmi-Narayan (Vishnu), which is very ancient and dates back to the 9th century.
Luxury Hotels & Resorts in Jim Corbett National Park
Like most National Parks, this park has neighboring luxury lodgings. Some of them are:
The hotel is located in Kumaon district. Just like the crisp mountain air and the fragrance of pines, the indulgences at our luxury resort, Taj Corbett Resort & Spa keep wafting in.
This wildlife Luxury Lodge captures the essence of unspoilt Nature, weaves it with Kumaoni hospitality and brings you the plushest retreat you'll encounter in the untamed wilds.
Spread across 8 acres, on the banks of the river Kosi, cocooned by the beauty of nature, lies the incomparable haven for nature lovers – The Riverview Retreat.
But one standout feature is the Forest Rest Houses that are located within every Zone. Here are seven of the coolest lodgings you should consider staying in when booking a tiger safari tour of the Corbett National Park.
Bijrani Forest Rest House: Situated within the park's most prominent safari zone, the Bijrani Forest Rest House was once a shooting block during British India.
Malani Forest Rest House: Another lodging considered ideal for daily game drives, the Malani Forest Rest House also offers a quieter and more secluded feel for guests looking to sink into the lap of nature.
Sultan Forest Rest House: Another classy yet comfortable spot to call it a day. The Sultan Forest Rest House is an ideal pick for small families and couples.
Gairal Forest House: The romantic guest house amongst the lot for its strategically placed location – by the Ramganga river. The Gairal Forest House can double for a honeymoon lodging, in the wild.
Sarapduli Forest House: Another strategically placed guest house, this time for animal lovers. Those who stay in the Sarapduli Forest House will get a super close view of jungle life.
Khinnanauli Forest House: Pick the Khinnanauli Forest House if you wish to get as close as possible to tiger territory.
Dhikala Forest House: This is the oldest and most prestigious forest house in the park. It offers a premium living experience with some of the park's finest vistas in close view.
Places to Visit Near Corbett National Park
Come for the safari experience of a lifetime, Jim Corbett is India's top national park for the unique medley of nature and cultural experiences on offer. Jim Corbett National Park is a neighbour to some of the most breathtaking landscapes, man-made monuments and natural vistas.
Trip to Corbett National Park: FAQs
The Jim Corbett National Park remains to be on top of every environment enthusiast must-visit list. The reserve is evolving and improving every year thanks to consistent conservational efforts.
Please fill the form below and our team will get back to you within 24 hours with a perfect tiger safari tour package.