Tiger Safaris & Culture Tours
Tiger Safari Tours With Popular Cultural Destinations in India
The Taj Mahal – Rudyard Kipling described Taj Mahal as "embodiment of everything pure". Every year, tourists numbering more than twice the population of Agra, pass through its gates, to catch a once in a lifetime glimpse of one of the seven wonders of the world. Thus, a day's visit is strongly recommended to see this 500-year old monument.
Jaipur – The sagas of valor, self-esteem before life, and lavish palaces – three things that your mind envisions when you think of Rajasthan. No quest in this sandy state is complete without the color pink. The capital city, Jaipur, steeped in tradition and glorious architecture of pink lattice windows, magnificent and time-worn forts with bazaars lit like the spectrum of light; it won't be a shocker if you to fall in love with it.
Wildlife – To get a taste of Indian Wildlife, the right exposure to the right parks with the right people, is crucial. We thus suggest Corbett, Ranthambore, Kanha and Bandhavgarh National Park as a part of this itinerary. You not only get to see wildlife in all its glory, but also the landscape that this wildlife oh so beautifully rests on. And even though Tigers are protagonists in this wonderful jungle book, other species like Leopards, Elephants, Sloth Bears, Indian Gaur, and hundreds of colorful birds, share the limelight equally with this star.
From the laps of nature to the architectural elegance of ancient India, this tiger safari tour offers an all-round wow factor for the curious traveller.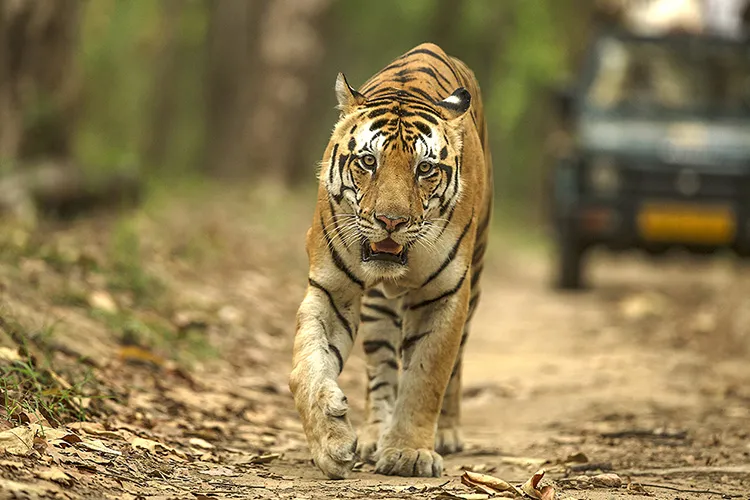 From the laps of nature to the architectural elegance of ancient India, this luxury tiger safari tour offers an opulent experience with the most boutique lodging experience.
On this luxury Rajasthan safari tour, liberate your senses as you travel across the picturesque state of Rajasthan. Your tour here is going to be unforgettable .
This itinerary is sure to keep you in high spirits, both metaphorically and quite literally. It's a great pick if you need a combination of wildlife and culture.
The ultimate wildlife safari tour. It's our biggest and best tour package designed to give you the full tourism experience around the Golden Triangle.
What's better than one species of big cats? Two species of big cats! Combine that with a tour of the Taj Mahal in Agra and you're in for a good time.
From the majestic backdrop of nature to the majestic setting of the pink city, this tiger safari tour is an absolute joy for the body, mind and soul.
Which of these fabulous wildlife sanctuaries has caught your fancy? Fill in your details below and we'll get up to speed in planning your wildlife safari tour.
Please fill the form below and our team will get back to you within 24 hours with a perfect tiger safari tour package.