The Most Experiential
Tiger Safari India Journeys
Best Tiger Safari Tours in India
The best package safari holidays recommended by tourists and nature enthusiasts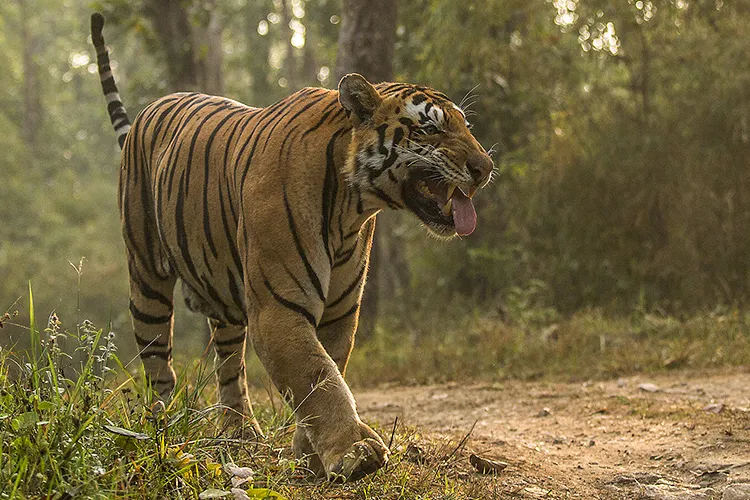 Keep your eyes peeled and your ears tuned in for the purest tiger safari tour package. An adventure inspired straight out of Rudyard Kipling's "The Jungle Book".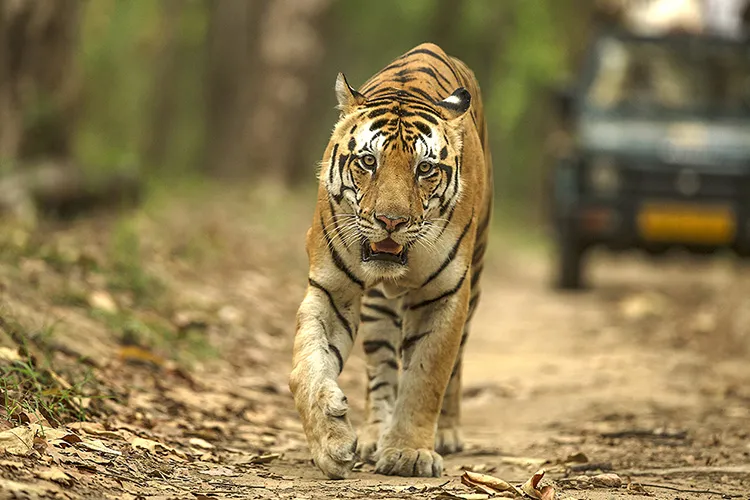 From the laps of nature to the architectural elegance of ancient India, this luxury tiger safari tour offers an opulent experience with the most boutique lodging experience.
Three breathtaking locations, and one full-fledged wildlife safari tour. It's the ideal package to consider if you're on a family vacation.
This tiger safari tour is sure to keep you in high spirits, both metaphorically and quite literally. It's a great pick if you need a well-deserved break.
On this luxury Rajasthan safari tour, liberate your senses as you travel across the picturesque state of Rajasthan. Your tour here is going to be unforgettable .
The number one pick among many nature enthusiasts. This tiger safari tour is guaranteed to have your image gallery overflowing with wilderness experiences.
Tiger Safaris India Group Departure Tours
Best Tiger Safari Group Holiday in India
If you are a solo traveler and wish to explore Indian wilderness, while still saving costs and being accompanied by other wildlife enthusiasts from around the world, these tours are for you! Our fixed departure tiger safari tours consists of small groups of 4 guests. We keep the numbers minimum, since it still gives you the opportunity of being catered to by boutique jungle lodges, getting a personalized interactive session with your expert naturalist and having enough time to absorb wildlife in a comfortable space while on tour. Below is a list of our tiger safari India fixed group departures. Choose any that tinkles your interest and drop in a query to our team.
What you will experience with us.
Experience the best of Indian wildlife that includes the Royal Bengal Tigers, Asiatic Lions, Black Leopard, Indian Leopards, Snow Leopards, Red Panda, Asian Elephants a plethora of reptile and bird species, with experienced naturalists while you stay at the best-selected premium wildlife lodges and hotels.
More Reasons to Choose Tiger Safari India
Tiger Safari India, where the wilderness comes alive and unforgettable adventures await you. With over 30 years of experience and an unwavering passion for tigers & wildlife, we are renowned as one of the most trusted wildlife tour operators in India.
At Tiger Safari India, we specialize in creating extraordinary wildlife experiences, meticulously crafted to immerse you in the mesmerizing beauty of India's diverse ecosystems. Our team of professional and experienced naturalists are dedicated to ensuring that every moment of your wildlife journey is filled with wonder and discovery.
We take immense pride in our handpicked selection of top-notch wildlife lodges and accommodations, carefully chosen to provide you with the utmost comfort and a seamless blend with nature. From luxurious jungle resorts to eco-friendly wilderness camps, we ensure that your stay is both enchanting and rejuvenating.
Seamless transport is a cornerstone of our service, as we understand that getting you to the heart of the wilderness is the first step to creating a remarkable wildlife experience. Our well-maintained vehicles and expert drivers ensure a safe and comfortable journey, allowing you to soak in the breathtaking landscapes along the way.
Tiger Safari India has earned the admiration and appreciation of thousands of guests from around the world. Our commitment to delivering exceptional wildlife encounters has made us a preferred choice for wildlife enthusiasts, professionals, and photographers seeking thrilling encounters with India's iconic Bengal Tigers & other wildlife creatures.
We are renowned for our expertise in organizing tiger, leopard, snow leopard, Asiatic lion, red panda, and sloth bear safaris in India. Whether you aspire to witness the majestic tigers of Ranthambore, the elusive snow leopards of Ladakh, or the regal Asiatic lions of Gir, our carefully curated itineraries will take you to the heart of these incredible habitats.
At Tiger Safari India, we believe that every journey should be a once-in-a-lifetime experience. With our deep understanding of wildlife behavior and a commitment to responsible tourism, we ensure that your encounters are respectful, ethical, and unforgettable.
Embark on a transformative wildlife expedition with Tiger Safari India and discover the magic of India's rich biodiversity. Let us create a tailor-made itinerary that fulfills your wildest dreams and leaves you with cherished memories that will last a lifetime.
Best Tiger Safari Reserves in India
Top destinations to catch the big cat in action...
There are over 600 national parks in India which are home to close to 200 endangered mammal species. The Royal Bengal Tiger is one of the flagship species as not only is it the apex predator of the very forests that thrive here, but it is also the biggest cat among its brothers. National Parks in India varies with varying tropics and landscapes. We have the dry deciduous forest of Ranthambore National Park in the western part of India while the evergreen Sal forest of Kanha National Park thrives in Central India. Corbett National Park is unique as it rests in the foothills of the Great Himalayan Range, making it an awe-stunning frame to capture. India has some of the most biodiverse lands making it a hotspot for wildlife and tiger safaris and nature enthusiasts.
Exclusive Tiger Safaris in India
On trails that resonate his roar...
At Tiger Safari India it is our endeavor to provide you with the best tiger safari holidays in India that have learning, adventure, and unlimited memories. We encourage you to store your experiences in form of videos and still photos which you will fondly go over at a later stage in life with friends, families, and your future generations.
While it is easy to capture people, landscapes, and monuments, capturing wildlife involves certain dynamics. The wildlife documentaries by channels are made with painstaking efforts covering months of filming in unhostile terrain, expensive equipment, special permissions from the authorities, weeks of post-production, and a great deal of resources. The end result is a dream setup. But this is not what you always see when you are on a tiger safari.
The videos below are shot by our team during a safari using a regular video camera, in a regular safari vehicle, no tripods, no extra permissions, and importantly during a 3-night stay in a national park. This is how you see tigers during a wildlife safari.
Guest Testimonials and Experiences
Consistently rated as the best by our guests on TripAdvisor
Our efforts have time and again been recognized by all our guests on TripAdvisor. With reviews that are 100% genuine, you can read them here or head on to our official TripAdvisor page to browse through in detail.
For my first trip to India, I wanted to see the sights, so booked a two week long trip around the Golden Triangle with another company. The call of the wild was strong and I was unable to resist the urge to add in extra time for the opportunity to see tigers in the wild; and that's where Nature Safari India come in. I reached out to a number of safari-specific operators and this is the one I chose to go with - and I'm so glad I did! From the very first email to the very last goodbyes at the airport, the team here could not do enough for me as a solo travelerer.....
We did a one week tiger safari and visited Pench and Kanha national park. Our trip was very well organised so didn't have to do anything else but enjoying. Which we did. Both parks have there specific nature and are worth a visit. We were lucky to have a close encounter with a tigress in Kanha national park which is a very emotional experience. We especially loved Kanha Jungle camp. With the secluded rooms on an elevated terras looking into the tree tops you feel like staying in the national park ...
Dreams of Tigers come true.. After retiring, my dream trip was to see the live wild tigers in India. Despite advice to use a local company, after a wide and extensive internet search I chose Tiger Safari India as my tour operator in India. They had consistent glowing reviews, and were offering exactly what I was looking for: Just Tigers! Ishana Vats not only planned and organised my tailormade tour, but kept in regular contact by 'phone, email and WhatsApp, making sure that my every question and query was answered with more than enough information and a calming reassurance.
We just finished the first half of two tiger safari tours in India. The first was on the Banhavgar National Park. Our guide was Sanjay Gupta, who had 25 years of experience in the park and with the tigers. He was wonderful, sharing his experience and knowledge throughout our three full days together. He was definitely a highlight of our trip, as a great guide makes for a great experience, whether you see tigers or not! And we did see tigers...
Nature Safari India organized our private 2 Weeks Safari in Central India plus a couple of Sightseeing and we are very happy to having choose this agency. I found them on the responsible tiger tourism association (TOFTigers) and I liked them from the very first contact. From the first email more than two years ago to the end of our trip in April 2022, the service was great, the selection of the itinerary, Parks, lodges and guides was perfect.
Deepkul and the Tiger Safari India team put together an incredible experience for us in Kanha and Bandhavgarh. All the details were taken care of as per our preferences and budget including transportation, food, lodging, and our amazing safari guides. Deepkul was easy to communicate with and always quick to respond to any questions before and during our trip. Highly recommend!
"While we were there the called us regularly to ensure we were happy and that was as expected. We are planning another wildlife trip and we will for sure use Nature Safari India again. Cannot recommend them highly enough. Many thanks to Sharad and team for an unforgettable experience!"
"Staff kept in touch with us as we moved from Park to Park to ensure we were happy and safe. We have begun the process of planning a different itinerary for 2023 to experience more wildlife in other areas of the country. Many thanks to Sharad and his wonderful Staff. You helped create a trip of memories."
"2 years ago our planned tour with Nature Safari India was cancelled for known reasons. 2 years we stayed in contact with Deepkul and Sharad by email and finally in April 2022 we could leave for our first experience in India. We enjoyed very much the whole tour and are planning already for going back to India next year."
Frequently Asked Questions
Please fill the form below and our team will get back to you within 24 hours with a perfect tiger safari tour package.