About Tiger Safari in Pench Tour
Pench National Park is where the Jungle Book comes to life. In the district of Seoni [erstwhile Seonee, where Mowgli was born], not more than 2.5 hours away from Nagpur City, lies this very important reserve.
Forming corridors for movement of tigers between Kanha National Park, Nagzira as well as Bor Wildlife Sanctuary – Pench is now slowly regaining its position as one of the top tiger reserves for a tiger safari in India.
This Tiger Reserve is spread across 2000 sq km in the states of Maharashtra and Madhya Pradesh, although the areas close to and in Madhya Pradesh are the most. Pench has one of the highest densities of Spotted Deer in India, and animals such as the Indian Leopard and the Dhol or Indian Wild Dog exist while carefully avoiding conflict with the 80-odd tigers in the wild here. Here, evidence of large villages which have been relocated to bring back the grasslands is apparent with sprawling grasslands now as far as the eye can see, amongst the gently rolling hills which are gorgeous just after the monsoons. So explore this beautiful park on our tiger safari tour in Pench.
Day 01 : Arrival in New Delhi
Upon arrival at the New Delhi Airport, you will be met by our representative. He will ensure a smooth transfer to the Hotel and further, help you check-in at the Hotel. All the travel related documents will be handed over and explained to you. Overnight stay at the Hotel.
Day 02 : New Delhi – Nagpur – Pench (Flight + 100 kms/2 hrs drive from the airport)
Take a domestic flight from New Delhi Airport to Nagpur Airport. On arrival, you will be met by our representative who will drive you to Pench. The total distance is approximately 100 km which will take you about 02 hours on the road.
On arrival, check into the hotel. Post lunch, take your first tiger safari in Pench National Park. Gently undulating hills, open meadows and thick copses of Teak forest with the Pench River running through it, this is one of the prettiest national parks in Central India. Pench is full of a wide variety of animals and birds and evenings are a great time to see the rush of animal activity as they get ready to settle down for the night.
Day 03 - 04 : In Pench National Park
Utilize both the days to enjoy the morning and evening tiger safaris at Pench National Park. Pench is one of the most beautiful parks in Central India and evokes a tremendous feeling of tranquility. It forms a tiger corridor with Kanha and has a healthy population of felines. It's also home to quite a few leopards and has an enormous diversity of birdlife. The park is split into two distinct zones – east and west – by the River Pench, which flows through the park. Overnight and meals at the resort.
Day 05 : Pench – Nagpur – New Delhi (100 kms/2 hrs drive to the airport + flight)
Take your last game drive to the park on this morning. Come back to the resort for a quick lunch, post which you will be heading back to Nagpur to board a flight to New Delhi.
On arrival at Delhi, you will be met by one of our representatives who will assist you with check in for your onward flight.
Feel free to get in touch so we can help you decide better. Our wildlife tour experts will guide you on everything. You can also request a custom tour package.
Related Tiger Safari Tours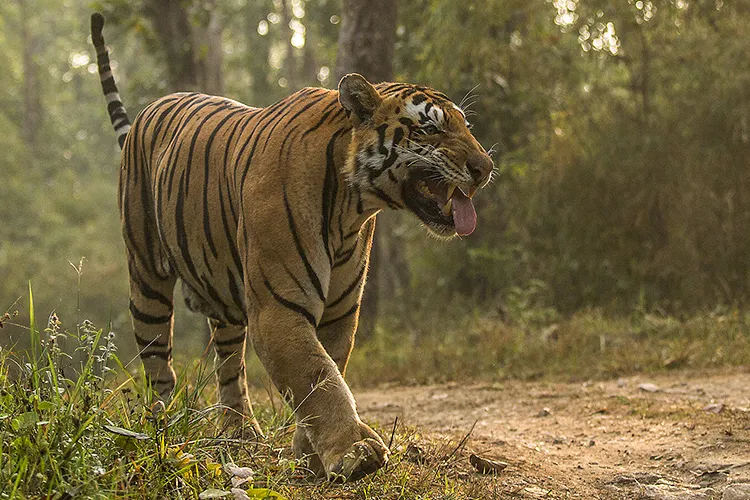 Keep your eyes peeled and your ears tuned in for the purest tiger safari tour package. An adventure inspired straight out of Rudyard Kipling's "The Jungle Book".
A short yet mesmerizing wildlife safari experience perfect for those who are pressed for time. It can slide comfortably into all of your plans.
Safari gear won't be enough for this tour. Because, by the end of it, you'll have enough tales to tell your grandchildren's grandchildren! Grab that diary.
Frequently Asked Questions
Please fill the form below and our team will get back to you within 24 hours with a perfect tiger safari tour package.