About Pench and Tadoba Wildlife Tour
Dive into the chapter of the Jungle Book with a tiger safari tour through Pench and Tadoba national park. It's a wildlife excursion where animals, birds and plants galore as you witness the stunning visuals and the real life characters that inspired Rudyard Kipling's famous fable. The panoramic beauty of the Central Highlands has been vividly described by a British Officer by the name of Captain James Forsyth during the colonial era where he witnessed wildlife coexist in the midst of one of the finest habitats of India.
The two national parks in India are known to shelter the likes of Tigers, Sloth Bears, Leopards, Wild Dogs and Honey Badgers apart from many more. With breathtaking views in the expanse of this outback, one can feel the sense of timelessness as they gain a hands on experience of doing a tiger safari in India.
Pench and Tadoba National Park are two of the easiest parks to travel to, if you wish to explore wildlife and Tigers in particular, with less time on hand. Unlike other parks which take a minimum 5-hour drive from major airports or an overnight train journey, these two are only a flight and 2 hour drive away. These two parks are however avoidable on the weekends for the same reason, i.e. proximity to the city of Nagpur. It attracts a lot of weekend tourism in the resorts. Though it does not impact the national parks as the safari permits are limited.
Day 01 : Arrival in New Delhi
Upon arrival at the New Delhi Airport, you will be met by our representative. He will ensure a smooth transfer to the Hotel and further, help you check-in at the Hotel. All the travel related documents will be handed over and explained to you. Overnight stay at the Hotel.
Day 02 : New Delhi – Nagpur – Tadoba (Flight + 100 kms/2-3 hrs drive from the airport)
Early morning transfer to the domestic airport with our representative, who will check-in for your flight to Nagpur. Upon arrival in Nagpur, a representative will meet you at the airport who will transfer you to Tadoba National Park in your chauffeur driven vehicle. This is just a 100 km drive and will take you about 2-3 hours on the road. On arrival, check into your lodge in time for lunch. This afternoon, you will enjoy your first game drive into Tadoba National Park, with your naturalist.
Tadoba is one of the first national parks in Maharashtra having a splendid Tiger population. It is dominated by teak and bamboo. It forms a corridor with Pench National Park, giving a free pass for Tigers to roam around in ample space.
Day 03 - 05 : In Tadoba National Park
Take the morning and afternoon safaris to the park. One of the oldest and largest national parks in Maharashtra, Tadoba is also one of the many Project Tiger reserves in India. The deciduous forests offer a perfect set-up for Tigers, Sloth Bears, Striped Hyena, Wild Cats and Spotted Deer. Dawn in Tadoba is a time full of activity as the park's diurnal inhabitants come to life. Tadoba has only one major track that covers the entire range of the park, so you will take a full round of its habitat before returning to your lodge. Relax and freshen up. After lunch, head out once more into the park for your evening game drive. In the evenings, Tadoba's nocturnal animals and birds start to come alive. Return to your lodge in time for dinner and evening at your leisure.
Day 06 : Tadoba – Pench (200 kms/3 hrs drive)
This morning, set off into the park for your last early morning game drive into Tadoba. Return later in the morning in time for breakfast and check out. Your chauffeur and vehicle will be ready to drive you to Pench National Park. It is a comfortable 200 km drive and will take you about 03 hours on the road. Upon arrival in Pench, transfer directly to your safari lodge and check-in. The rest of the day is at your leisure to relax and unwind at your lodge. If you like, enjoy a nature walk on the periphery or simply listen to the birdsong as the sun starts to fade.
Dinner at your lodge and evening at your leisure.
Day 07 : In Pench National Park
Morning and afternoon tiger safari drive to the park. Pench is one of the most beautiful parks in Central India and evokes a tremendous feeling of tranquility. It forms a tiger corridor with Kanha and has a healthy population of felines. It's also home to quite a few leopards and has an enormous diversity of birdlife. The park is split into two distinct zones – east and west – by the River Pench, which flows through the park.
Dusk is a terrific time to see the forest come into its nocturnal being as Pench has several night birds and animals that are out on the prowl after dark. Dinner and overnight at lodge.
Day 08 : In Pench National Park
Early morning wakeup call with tea or coffee and head out into the forest for your early morning game drive. Early mornings are a beautiful time in Pench as the sun rises over the hills and floods the park. Pench is full of dense copses of Teak trees and the light filters through creating a serene ambience. The park is full of life in the mornings as deer graze, birds come to life, monkeys chatter and small animals scurry through the undergrowth. If you look carefully into the tall grass you might spot a tiger taking a nap in the morning sun.
Return to your lodge and enjoy a leisurely lunch and a rest. Head back into the park this afternoon for your evening game drive. Return to the lodge in time for dinner and evening at your leisure. Dinner and overnight at the Lodge.
Day 09 : Pench – Nagpur – New Delhi (100 kms/2 hrs drive to the airport + flight)
This morning, enjoy your last game drive in India through the serene environs of Pench. Return to your lodge and check out after lunch. Your chauffeur will drive you to the airport in Nagpur to board your flight to New Delhi. A representative will assist you with check-in formalities at the airport. Board your flight to make your connection to New Delhi.
Upon arrival, you will be met by our representative who will transfer you to a hotel in Delhi, where you can relax and freshen up. Transfer back to the International Airport next day and board your flight back home.
Feel free to get in touch so we can help you decide better. Our wildlife tour experts will guide you on everything. You can also request a custom tour package.
Parks to visit on the Pench and Tadoba Wildlife Tour
Related Tiger Safari Tours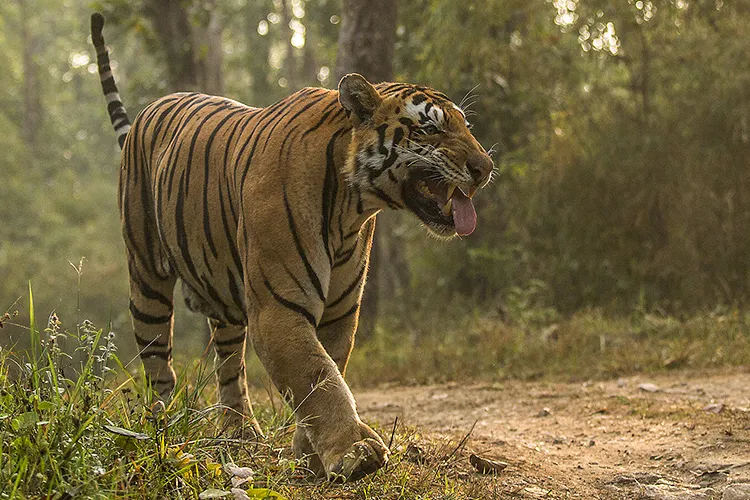 Keep your eyes peeled and your ears tuned in for the purest tiger safari tour package. An adventure inspired straight out of Rudyard Kipling's "The Jungle Book".
Safari gear won't be enough for this tour. Because, by the end of it, you'll have enough tales to tell your grandchildren's grandchildren! Grab that diary.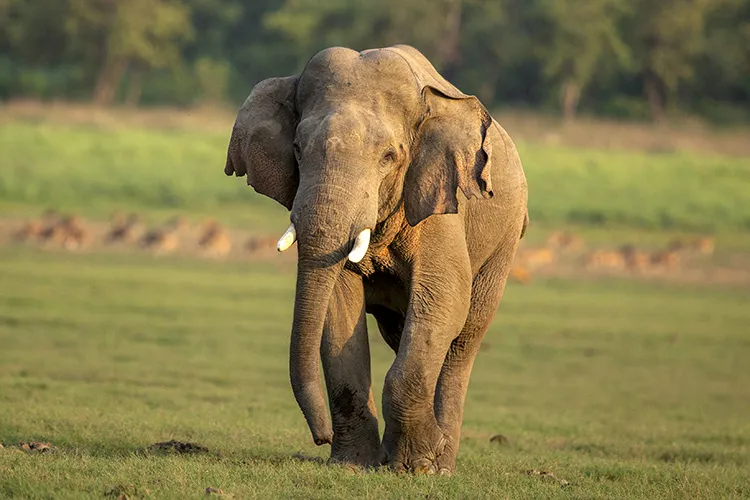 If you've got a wide-angle lens and a knack for keen observation, these tiger safari parks are the perfect place to view the big cat and asian elephants.
Frequently Asked Questions
Please fill the form below and our team will get back to you within 24 hours with a perfect tiger safari tour package.