Tiger, Leopard & Sloth Bear Safari Tour
About Tiger, Leopard & Sloth Bear Safari Tour
Satpura Tiger Reserve is an old jungle scape in Madhya Pradesh with a rich history. Named after the Satpura Hill Range, it has a mass variety of habitat including Teak and Sal Forest – ranging from Thorny Scrub, to Dry and Moist Deciduous to Semi-Evergreen. Taking a tiger safari in Satpura gives you access to a wide range of fauna across various landscapes.
The second hotspot you will be touring on your tiger safari in India is Pench National Park. This is where the Jungle Book comes to life. In the district of Seoni [erstwhile Seonee, where Mowgli was born], not more than 2.5 hours away from Nagpur City, lies this very important reserve.
Forming corridors for movement of tigers between Kanha National Park, Nagzira as well as Bor Wildlife Sanctuary – Pench is now slowly regaining its position as one of the top tiger reserves for a tiger safari in India.
The third and final leg of your tiger safari in India will be in Kanha National Park. This park is nestled in the Maikal range of Satpuras in Madhya Pradesh and spread across the districts of Mandala and Kalaghat. The park sets a great example in terms of excellent tourism management and conservation efforts when compared to the other wildlife reserves in India.
Day 01 : Arrival in New Delhi
Upon arrival at the New Delhi Airport, you will be met by our representative. He will ensure a smooth transfer to the Hotel and further, help you check-in at the Hotel. All the travel related documents will be handed over and explained to you. Overnight stay at the Hotel.
Day 2: New Delhi – Raipur – Kanha (Flight + 220 kms/4 hrs drive from the airport)
Early breakfast, and transfer to the domestic terminal of the New Delhi Airport to board a flight to Raipur. Upon arrival, you will be met at the Raipur Airport and driven to Kanha National Park. A total distance of 220 km, it will take you around 04 hours on the road.
On arrival check into the lodge. After lunch go for an afternoon tiger safari to the National Park. Dinner and overnight stay at the lodge.
Day 3 - 4: In Kanha National Park
Wake up at 0500hrs. Enjoy tea coffee and biscuits, and proceed for the morning tiger safari to Kanha National Park.
Kanha's Sal and Bamboo forests, rolling grasslands and meandering streams stretch over 940 sq. km. in dramatic natural splendor which forms the core of the Kanha Tiger Reserve created in 1974 under Project Tiger. The park is the only habitat of the rare Hard Ground Barasingha (Cervus Duvaceli Branderi).
This is the original Kipling country of which he wrote so vividly in his Jungle Book. Packed breakfast which comes from the Lodge is served at a designated spot and spread on the bonnet of the Safari vehicle. Enjoy your breakfast in the wilderness of Kanha.
Continue your search for the elusive Tiger if you have not yet seen one, and soak in the fresh, and energizing environment. Return from Safari around 1130hrs. Freshen up, and then lunch will be served.
Depart for afternoon tiger safari tour in Kanha National Park. Return at 1800 hours from safari. Dinner and overnight at the lodge.
Day 5: Kanha – Pench (210 kms/4-5 hrs drive)
Morning jeep safari to the national park. After early lunch drive to Pench National Park 210kms/ 4-5 hour drive. On arrival check into the Resort.
Dinner and overnight at the resort.
Day 6 & 7: In Pench National Park
Morning and afternoon tiger safaris to the National Park. Meals and overnight at the resort.
A total of 758 sq. km. of this Southern Indian tropical moist deciduous forest has its extent mingling with the tropical dry deciduous teak. The area is crisscrossed by a number of streams and nallahs, most of which are seasonal. Though the Pench River dries up in April end, a number of water pools locally known as Dholes are found which serve as water holes for the wild animals. The Pench Reservoir at the center of the park is the only major water source during dry spells.
As the concentration of prey is high along the Pench River, Tigers usually inhabit this area. Leopards are found lurking in the peripheral areas and are occasionally seen in the deep forest also. Jungle cats are a common sight. Leopard Cats, Small Indian Civets, and Palm Civets are seen rarely.
In Pench, Cheetal, and Sambar, are commonly seen grazing on the open sites on roadsides and banks of the river and reservoir. Jackals can be seen in search of food in the Park. Packs of up to 15 or more Wild Dogs can be seen near Chhedia, Jamtara, Bodanala and Pyorthadi areas of the Reserve. Herds of Gaur can be spotted near streams and bamboo patches commonly in summer months. Sloth Bears occupy the rocky areas and prefer Mahul Bel infested forest. Chinkara is present in very small numbers and is found in open areas around Turia, Telia and Dudhgaon villages.
Day 8: Pench – Satpura (210 kms/5 hrs drive)
Morning jeep safari to the National Park. After early lunch drive to Satpura National Park. A total of 210 kms drive, it will take you around 05 hours on the road. On arrival check into the resort. Dinner and overnight at the resort in Satpura.
Day 9 & 10: In Satpura National Park
There are a host of activities in this National Park to choose from apart from the Tiger safari. Choice of a canoe, motorboat, walking safari, Elephant ride & night safaris in the buffer forest are some of them.
Satpura National Park is very rich in bio-diversity. Its fauna comprises of Spotted Dear, Indian Bison (Gaur), Tigers, Leopards, Wild Boar, Wild Dog (locally called Dholes), Sloth Bear, Black Buck (unique attraction), Porcupine, Sambhar, Four Horned Antelopes (Chowsingha), Smooth Otter, Pangolin, Marsh Crocodile, Langoors, etc. Indian Giant Squirrel is the special feature of Satpura National Park as it is rare in India now. Sighting of Leopards, Gaurs, Wild Dog, and Sloth Bear is good in comparison to other National Parks of Central India.
Bird-watching in Satpura National Park is great. Here very frequently we can see variety of birds during stay and safari. Tiger sighting of this national park is not so impressive as compared to nearby Pench, Kanha or Pench national parks. So it is required when we go for jungle safari in the national park, we should not go with the single mindset of tiger-sighting but enjoy sighting all members of the national park as they equally share the jungle with tigers and are extremely beautiful creatures of nature.
Meals and overnight at Jungle Lodge.
Day 11: New Delhi – Bhopal – Satpura (Flight + 145 kms/3 hrs drive from the airport)
Morning jeep safari to the National Park and after lunch drive to Bhopal Airport to board a flight to New Delhi. Upon arrival at New Delhi, you will be met by our representative who will assist you with a smooth transfer to the Hotel.
Overnight at the hotel.
Day 12: New Delhi – Onward Destination
After breakfast, assisted transfer to the International Terminal of the New Delhi International Airport to board your flight back home/onward.
Feel free to get in touch so we can help you decide better. Our wildlife tour experts will guide you on everything. You can also request a custom tour package.
Parks to visit on the Tiger, Leopard & Sloth Bear Safari Tour
Related Tiger Safari Tours
A short yet mesmerizing wildlife safari experience perfect for those who are pressed for time. It can slide comfortably into all of your plans.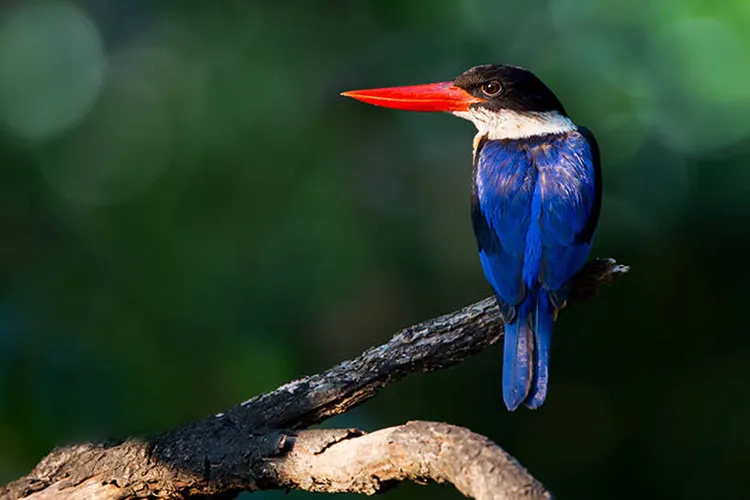 No single locomotive will be enough to truly complete this tiger safari expedition in India. Hop on board for a journey of a lifetime.
If wildlife parks won awards for just how neatly organized they are, this park will win every year. Opt in for the purest and thrilling experience.
Frequently Asked Questions
Please fill the form below and our team will get back to you within 24 hours with a perfect tiger safari tour package.