About Tiger Safari in Satpura Tour
Satpura Tiger Reserve is an old jungle scape in Madhya Pradesh with a rich history. Named after the Satpura Hill Range, it has a mass variety of habitat including Teak and Sal Forest – ranging from Thorny Scrub, to Dry and Moist Deciduous to Semi-Evergreen. Taking a tiger safari in Satpura gives you access to a wide range of fauna across various landscapes.
At the Centre of the landscape is Pachmarhi, a plateau with huge rocks which are able to store and supply water to the area around the year. Home rare reptiles and bird species. The Malabar Whistling Thrush, Satpura Gecko and Malabar Giant Squirrel are also found here at Pachmarhi.
Birding is a treat here with over 300 species of avifauna recorder here, including the rare Indian Skimmer which is found scouring the banks of the Denwa River each Winter for food; and now even record show that it is breeding here as well. Surrounded by contiguous forests, the Satpura landscape is a rich national treasure of India.
Day 01 : Arrival in New Delhi
Upon arrival at the New Delhi Airport, you will be met by our representative. He will ensure a smooth transfer to the Hotel and further, help you check-in at the Hotel. All the travel related documents will be handed over and explained to you. Overnight stay at the Hotel.
Day 02 : New Delhi – Bhopal – Satpura (Flight + 145 kms/3 hrs drive from the airport)
After an early breakfast, take a flight from New Delhi to Bhopal. On arrival, you will be met by our representative who will drive you to Satpura National Park. The total distance is approximately 145 km, which will take you about 03 hours on the road. On arrival, check-in at the lodge and after lunch, go for an afternoon drive to the park.
Dinner and overnight at lodge.
Day 03 : In Satpura National Park
There are a host of activities in this national park to choose from, apart from the Jungle safari, like, choice of Canoe, Motor Boat, Walking Safari, Elephant Ride and night safaris in the buffer forest. Satpura National Park is very rich in bio-diversity. Its fauna comprises of Spotted Dear, Indian Bison(Gaur), Tigers, Leopards, Wild boar, Wild dog (locally called Dholes), Sloth bear, Blackbuck (unique attraction), Porcupine, Sambhar, four Horned antelopes (Chowsingha), Smooth otter, Pangolin, Marsh crocodile, Langurs, etc.
Dinner and overnight at lodge.
Day 04 : In Satpura National Park
Morning game drive to the national park and later we will depart for Churna Camp through the national park. On this drive, you may see Leopard, Sloth Bear, Indian Giant Squirrel, Four-Horned Antelope, Munjac and other common herbivores. If lucky, there is also a chance of seeing Wild Dog and Tiger. We reach Churna Camp by sunset where you will be served early drinks and dinner. Food will be basic vegetarian Indian cuisine cooked at the Forest Rest House. At the camp there is a resident Giant Flying Squirrel that we will attempt to see.
Overnight at lodge.
Day 05 : Satpura – Bhopal – New Delhi (145 kms/3 hrs drive to the airport + flight)
Take your last game drive to the park on this morning. Come back to the resort for a quick lunch, post which you will be heading back to Bhopal to board a flight to New Delhi.
On arrival at Delhi, you will be met by one of our representatives who will assist you with check in for your onward flight.
Feel free to get in touch so we can help you decide better. Our wildlife tour experts will guide you on everything. You can also request a custom tour package.
Must - Do Activities at Satpura National Park
Canoe Ride: A canoe ride on the Denwa river can be a therapeutic experience. Become one with the serenity of the river and the stunning landscape that cradles it.
Night Patrol Safari: Sehra and Parsapani are buffer zones in the forest. They are excellent for night patrol; also known as evening safari, during the twilight hour.
Bhimbetka Rock Paintings: A world heritage site, these cave paintings date back to about 30, 000 years and are rock shelters that were home to humans. An easy day trip can be organised to this archeological site.
Churna Full Day Safari: Churna lies in the sprawling depths of Satpura National Park. This magical forest is less undulating and more of a flat terrain. The Churna Guest House is a minimalistic setting where one stops for lunch between safaris (morning and afternoon), or opts to stay the night.
Related Tiger Safari Tours
Safari gear won't be enough for this tour. Because, by the end of it, you'll have enough tales to tell your grandchildren's grandchildren! Grab that diary.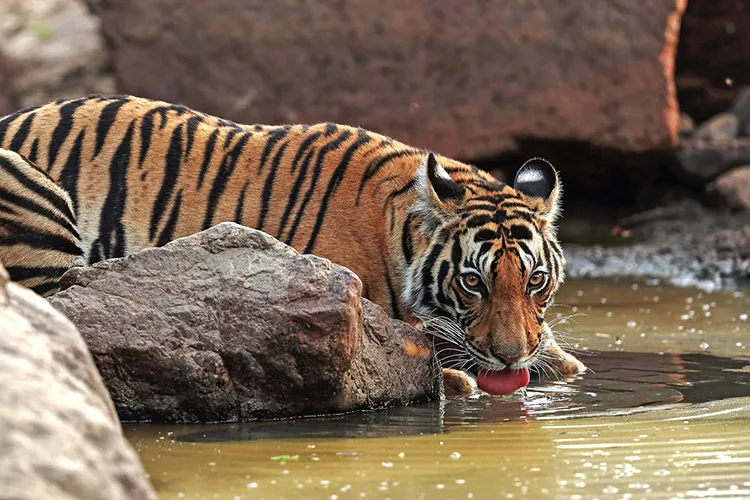 Be it cute and cuddly or majestic and fierce, the fauna you'll experience on the Red Panda and Tiger Safari tour will leave you mesmerized.
Don't have all the safari gear you need? Don't worry, spotting a tiger in this park is really easy, owing to the dense population of wildlife.
Frequently Asked Questions
Please fill the form below and our team will get back to you within 24 hours with a perfect tiger safari tour package.