While booking a tiger safari in India, a lot of our guests have multiple questions regarding safaris, safari vehicles, accommodation, food, travel costs, the best time to travel and more. Below is a comprehensive list of the top 10 questions we get from our guests, answered by our in-house tiger safari experts.
1. What is the best time for a tiger safari in India?
One of the most commonly asked questions by all our guests is what is the best time to take a tiger safari in India? The answer to this depends on your agenda for travel. For instance, if you are a wildlife photographer, we would recommend you take a tiger safari in India in the winter months, anytime between November and February. The mist and cool tones of the jungle, right after the end of the monsoon season, add a magical touch to all your photographs. More so, the ochre fur and black stripes of a tiger stand out more amidst the jungle greens, creating high-contrast detail.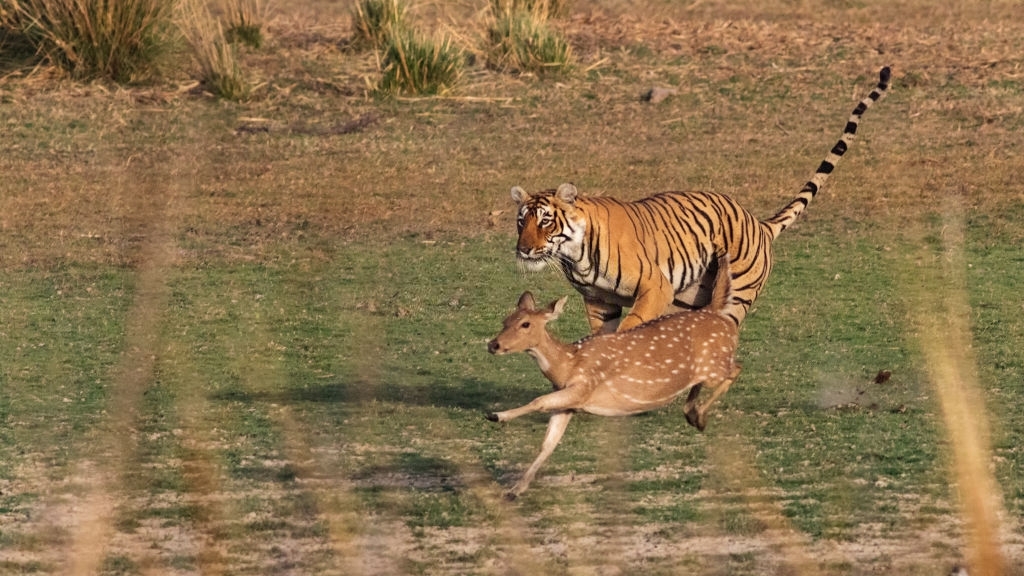 However, if you are wildlife who wishes to see prey and predators in numbers, summer months are your best bet. During peak summers (March-May) the prey concentration is high around the few and far in between water holes. This leads to more predators lounging around the same water holes with lesser movement, making their tracks easier to read. This also makes summers a busier time for tiger tourism compared to winter months. Photographers can enjoy this too, however, there will always be more jeeps in your frame when compared to winter months, when tourism footfall is not very high.
2. Which is the best national park for a tiger safari in India?
Choosing a national park for a tiger safari in India is not easy. Each of the national parks in India are favourite for different reasons. For instance, we recommend Kanha National Park to people who want to experience the true beauty of an Indian jungle along with Tigers. It homes some of the biggest tigers the country has seen and has a beautiful evergreen Sal jungle backdrop. This jungle is a dream for all tiger lovers. Similarly, we would recommend Corbett national park in the terai belt, for people who wish to witness diversity in Indian Wildlife. It is called the land of the roar, trumpet and song since it shelters Tigers, Asian Elephants, and close to 350 species of birds. The landscape of Corbett is quite different compared to other national parks in the country. It encapsulates the Ranganga river and the Himalayan foothills, together forming a mesmerizing wildlife experience for our guests.
Read our other blog post on 7 Reasons To Choose Tiger Safari India for Your Indian Safari.
Ranthambore National Park on the other hand is more open and not as dense as Kanha and Bandhavgarh, making tiger viewing easier. This park is also preferred by tourists who wish to tour the Golden Triangle in India. The Golden Triangle includes cultural detours within New Delhi, Jaipur and Agra. You can read more about it HERE.
Our team has put together a detailed comparison and travel guide of the top 07 national parks for tiger safaris in India. The account varies on budget, number of days you wish to travel for, species you wish to witness and more.
3. What is the cost of a tiger safari in India?
As mentioned earlier, the cost of a tiger safari in India will depend greatly on the following factors:
Number of people traveling
Number of days you're traveling for
Number of parks you wish to visit
Accommodation choice (whether 3 stars, 4 stars, 5 stars or luxury)
What time of the year you're traveling in
Whether you wish to experience shared safaris or exclusive safaris
Once these agendas are clear, you can write to us with specific requirements. We help you create a bespoke tiger safari experience for you and your family.
4. What kind of accommodations are available during tiger safaris in India?
The accommodation you board at during your tiger safari India tour greatly depends on your budget and the kind of experience you're looking for. Most of the national parks have accommodations varying from basic forest rest houses to luxury hotels. For instance, In Corbett, you get to stay inside the jungle in a 100-year-old forest rest house with basic and minimalist services. They do not allow liquor or smoking within the premises and serve only vegetarian food. Even though the accommodation is basic in nature, the location is an absolute delight. It is parked at the banks of the Ramganga river and gets you exclusive access to the Dhikala Zone of Corbett National Park. You can read more about the rest house and the Dhikala Zone HERE.
Similarly, there are other wildlife lodges that go beyond one's expectations in terms of luxury, hospitality and service. Some of the best wildlife lodges in India are :
Taj Banjaar Tola – Kanha National Park
The Oberoi Vanyavilas – Ranthambore National Park
Samode Safari Lodge – Bandhavgarh National Park
Paatlidun Safari Lodge – Corbett National Park
Taj Baghvan – Pench National Park
Taj Pashan Garh – Panna National Park
Evolve Back – Kabini
5. What kind of camera equipment can I carry while on a Tiger Safari in India?
Most national parks in India allow basic point-and-shoot cameras, handycams for videos, and also big lenses, like 70-200mm, 400mm, 500mm, 600mm, and 800mm for birding and more. We provide our guests with bean bags to stabilize these cameras within jeeps. While a majority of national parks do not charge a camera fee, there are a few like Sasan Gir National Park and Tadoba, that either do not allow cameras within the park altogether or then charge a basic fee during entry.
However, professional cinematography cameras are not allowed within the national park. If you are a professional, you will have to take due permission from the forest department of that particular park in order to take such equipment within the jungle. Indian National Parks also does not permit the use of Drones or any aerial photography equipment, for safety reasons.
6. Is wifi available at jungle resorts?
Yes indeed. Wifi is now available at most jungle resorts in common areas like the reception, dining hall, pool, and gym. In a few, the radius extends to your room as well.
However, since it is a jungle, we would recommend you leave technology behind and enjoy nature, be one with it.
7. What kind of food is available at jungle lodges?
All kinds of cuisines and diets are available in jungle lodges. Buffet breakfasts and dinners with a set menu for lunch is what most resorts offer. However, there are quite a few who even ask you for your preferences during each meal. You can even let the chef know of certain food aversions if you have any and the kitchen will serve you dishes that match your requirements, throughout the trip.
8. How many people share a safari vehicle?
There are two types of tiger safaris in India: Exclusive and Sharing. If you opt for exclusive safaris, only you and your travel partners will share a jeep, accompanied by a driver and a guide. However, at any given point in time, only 6 people can sit in a regular 4×4 safari gypsy.
If you opt for sharing safaris, you will have people from other groups who will join you in the vehicle. We personally do not recommend this for our guests; firstly, due to covid safety and social distancing protocols, and secondly because the people you're sharing a jeep with might not have the same interests as you. For instance, you might be interested in seeing only tigers while others might solely be interested in birding. The guide's attention can therefore oscillate between your interests and those of others in the jeep.
9. Can one tip in foreign currency while on safari?
The guides and drivers will not say no to tips in USD/Euro/GBP. But it is best advised to tip in local currency as it avoids any hassles to the locals in getting the foreign currency exchanged.
10. Are mobiles allowed inside national parks?
Most national parks in India allow guests to carry mobile phones in the jungle. If you are allowed, you must carry it in silent mode or airplane mode. Any noise during wildlife viewing can disturb animals, leading to hindered sightings for you and those around you.
Read our other blog on Best Season for Tiger Safari in India.
Born and brought up in New Delhi, it was Sharad's childhood passion to play cricket for India. While on a holiday in 1990, he saw his first tiger. Little did he know that this one sighting would immerse him into a realm where forests and tigers were all that mattered.
Sharad's experiences as a wildlife photographer have inspired him to observe the tiger's behavior for over 30 years and motivated him on his own journey as an entrepreneur. He started Nature Safari India Pvt Ltd, with a focus on "Conservation through Tourism." to align himself to the mission of saving the regal species and repopulating them in India's forests. In 2006, he set up one of India's premier jungle lodges in Kanha National Park.
Sharad believes that there are many lessons to be learned from a tiger that can be applied successfully to leadership—both in business and in life. Here's a new book by Sharad Vats on management and leadership skills to learn from a Tiger.