Best season for Tiger Safari in India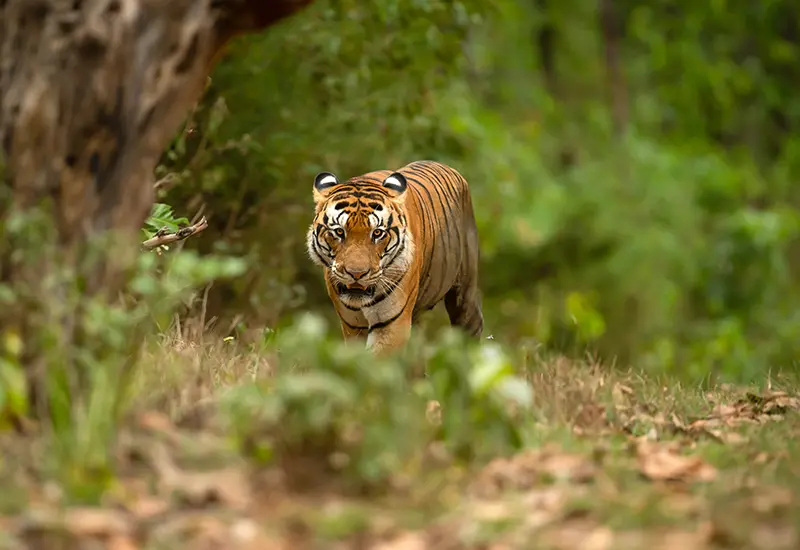 India with the highest population of wild tigers and more than 45 tiger reserves is the best destination for tiger safari in India. India is home to more than 3000 wild tigers roaming freely in their heavenly abode. Since the initiation of Project Tiger in 1973, we have successfully protected our Bengal tigers and their habitat. India has always been popular being the prime destination to witness these Big Cats in their natural habitat.
Often people wonder what is the best time to do a tiger safari in India? The answer to that is simple. What is your motive? You need to have a clear agenda before visiting any national park for tiger safaris in India.
Some of them are more popular for tiger photography due to the forest backdrop, while others have intense tourist footfall for the sheer number of tiger sightings in one safari. Having said that, for any wildlife enthusiast who really wants to witness the beauty of Indian jungles, we suggest October to June as the best time to see Bengal tigers. Most of the national parks or their core area is closed during monsoon, i.e., from July till about September.
Therefore, after having set your agenda to take a Tiger Safari in India, the next thing is to decide what time or what is the best season for you to take the tigers safari tour? Conducive climate  dictates the best season for tiger safari in India. The below charts and season guides will help you better understand the climatic conditions in India. Based on the research and your requirements, you can book your tiger safari tour with us, or help us with your details and we can provide to you the best tiger safari tour package.
Guide to the best season for tiger safari in India-
October until February:  Most of the national parks in India open in October after long months of monsoon. Jungles are in their prime greenery with nature revived and bustling with new life. Most of the time females are found with new cubs and they give a rocking start to the new safari season. October marks the start of winter in a major part of India. This makes morning safaris extremely chilly. However, you need not worry as we ensure that your safari vehicle is equipped with thick blankets and hot water bottles, to keep you warm. This is needed only till sunrise. 
Afternoon safaris are quite pleasant and enjoyable. October until February is the best for any serious wildlife enthusiast as witnessing a tiger on a misty winter morning can be described as an experience of its own. Most serious wildlife photographers prefer the winter season for their tiger safari in India so that they capture this majestic creature in a beautiful habitat during the ever-so-soft winter sun peeking through the dense jungle foliage. 
March until June: March marks the beginning of summer in India. The months of March and April are considered to be the prime time for tiger safari lovers. Most of the entry permits are sold out within seconds of the government portal going live. One might wonder why people prefer tiger safaris during the scorching heat. The reason is simple, i.e., high temperatures mean less water for everybody in the jungle. During such times, predators and prey have to share the few and far in-between water holes and ponds. Tigers in particular like to park themselves in these pools to cool off during peak temperatures on a hot summer day. 
July until September: Most of the national parks in India are closed for tiger safaris during these months due to the monsoon. Please check up with your tiger safari tour operator in India before choosing these months for your tiger safari in India.
So, when you choose your tiger safari operator in India be sure that they know when is the best season for tiger safari in India.
Read our other blog post on 7 Reasons To Choose Tiger Safari India for Your Indian Safari.
Born and brought up in New Delhi, it was Sharad's childhood passion to play cricket for India. While on a holiday in 1990, he saw his first tiger. Little did he know that this one sighting would immerse him into a realm where forests and tigers were all that mattered.
Sharad's experiences as a wildlife photographer have inspired him to observe the tiger's behavior for over 30 years and motivated him on his own journey as an entrepreneur. He started Nature Safari India Pvt Ltd, with a focus on "Conservation through Tourism." to align himself to the mission of saving the regal species and repopulating them in India's forests. In 2006, he set up one of India's premier jungle lodges in Kanha National Park.
Sharad believes that there are many lessons to be learned from a tiger that can be applied successfully to leadership—both in business and in life. Here's a new book by Sharad Vats on management and leadership skills to learn from a Tiger.