One would have visited several national parks and stayed at several jungle lodges, but if you have not stayed in Dhikala Forest Rest House, you're truly missing out on a once in a lifetime experience.  It is uniquely located, and therefore requires a different set of preparation, should you decide to venture here. Please find below some important points to remember when staying in Dhikala Forest Rest House in Corbett Tiger Reserve.
Entry / Exit from Dhikala Forest Rest House, Corbett National Park
If you happen to drive to Corbett from Delhi/Dehradun/Haridwar you must know that no private vehicles are allowed inside the national park. You are required to park your personal vehicle outside the national park. Generally, the agent through whom you have booked the stay will arrange the parking of your vehicle. The allocated safari vehicle will pick you up from a designated point outside the national park.
You are allowed to enter the national park at 10 am only if you have a valid permit to stay inside the park. The drive of 32kms from the Dhangadi gate to the Dhikala campus takes up to 2 hours.
You are expected to present the identification card that was mentioned against your name while booking the safari permits. For foreigners, a Passport and for Indians, either an Adhar Card, Pan Card, Passport, or a Driving License, is considered a valid ID. This must be carried in original form and not copies on A4 papers.
You can at the latest enter the national park by 1430hrs, beyond which you will not be allowed to enter the park.
Similarly, to exit you must check out by 1100hrs from Dhikala, and exit the main gate of the park by 1700hrs.
Accommodation in Dhikala Forest Rest House, Corbett National Park
This Forest Rest House was built more than 100 years back, so it is old architecture and is basic in nature, yet maintaining the charm of the British Era. Located next to the Ramganga river, overlooking the Shivalik hills, it is located amidst the Corbett Tiger Reserve. There is no better location in Corbett than this Forest Rest House to experience the magic of Corbett national park.
The rooms are located in different blocks. There are hutments, annexes, and cabins in this Forest Rest House. They are internally designed in a similar fashion; it is just the location within the campus that is different.  They have been built over a few eras and with each era, their exterior appeared different.
The room size is big enough to comfortably accommodates 2 occupants. The 3rd person can also be comfortably accommodated with an extra bed.
You can book rooms in this Rest House for a maximum of 03 nights.
The accommodation can be booked online via their website, or through a tour operator.
Rooms are simple and basic, without any air-conditioning in summer or insulation in winters, no refrigerators or electric kettles, and there is no television for entertainment either.
Please see the attached photos of the rooms and the bathroom. They have been renovated in November 2019. So, if you read any negative feedback on the internet regarding accommodation prior to November 2019, then please ignore the same, as rooms are clean, working, and basic.
Important Points
Electricity is available, and you can charge your camera batteries in the room. There is power generator back up when the electricity fails.
There is a dust bin in the room, and you are expected to empty it at the end of your stay and carry it out of the national park with you. While entering the park, you are provided with a jute bag, in which you are expected to carry any waste papers, plastics etc.
Keep your doors locked as there are Monkeys in the campus. Do not sit and eat outside your rooms as that also attracts the monkeys.
 There is a room attendant who is in charge of the room block you will be staying in. He will assist you with your baggage on arrival and departure, and should you require anything during your stay. If you want bed tea, you may tell him the time, and he will provide the same to you.
After a recent renovation in November 2019, they are nice and clean.
Though there is a shower, two buckets are also placed in the bathroom. It is advisable to keep one bucket filled up with water. If the electricity goes, and the overhead water tank is unable to be filled with water due to no electricity then you might not have water in the bathroom, hence keep a bucket full.
A wiper is kept in the bathroom for you to clean the bathroom yourself daily.
The bathroom is not cleaned daily, hence it helps to keep it clean yourself.
There is a geyser and hot water is available for shower.
Soap and towel is provided on arrival. I will still advise you to carry your own towel, and also a hand towel.
Recently they have also started to provide a toiletry kit which comprises of a toothbrush, paste, shampoo, body lotion, moisturizer etc. For how long this continues one never knows.
The food served here is vegetarian only and finger-licking delicious.
You cannot choose what you wish to eat, the menu is pre-decided and served on a buffet.
The meals are served at fixed times in the dining rooms. Please try to be the first person in the dining room for meals, as the food is fresh and tastes even better when eaten the moment it comes on the buffet.
There is no room service.
The menu is simple and mostly Indian, but generally, they keep pasta during meals.
Dessert is served only during dinner, not after lunch.
The food is mostly mild and suitable to Indian as well as Foreign palettes.
Soft drinks are available on-demand in the dining room.
The distance from the dining room to some rooms is a bit far, especially if you're lodging in hutments or cabins.
There is a small canteen which is open during the day when the dining room is closed. You can get tea/coffee/omelletes/toast and Maggi noodles here.
During the morning safari that starts at sunrise, it is not easy to come back for breakfast. The breakfast service starts from 8 till 10 am. It is a good idea to carry a packet of biscuits with you, but do ensure that the wrapper is kept inside the vehicle, and not thrown out. Normally the driver and guide will ask you if you want to go back for breakfast to the campus. It is your call to continue with safari, or come back. If you wish to finish the safari and then come back, the buffet breakfast will not be available, but you can surely get something from the canteen for yourself.
Drinking water in Dhikala Forest Rest House, Corbett National Park
There is an RO in the campus and you may fill in your bottles/jug kept in the room.
Should you wish, you may carry your own bottled water from outside. But it is your responsibility to carry the empty bottles out of the park in the jute bag provided on entry in the park.
General points for stay in Dhikala Forest Rest House, Corbett National Park
Always carry a torch with you. At times during power cuts, it is good to have a torch with you. Sleep with the torch next to your pillow, and keep it in your pocket when moving around the campus in the evening. In the summer months especially during dust and thunderstorms the electricity poles tend to go down due to trees falling on them, thus disrupting the electricity supply. It can take up to 2 days for the electricity to come back. There is a generator back up, but it is for a fixed duration of time in the morning and evening.
Liquor smokes, and pets are not permitted in this Forest Rest House.
There is no mobile, email, internet connectivity. However, there are a couple of points in the campus where you might get a weak signal if you are lucky.
There is no laundry service.
There is no Doctor on Call service here. Carry your own medication.
While walking on the pathways late in the evening, be careful, as the pathways were laid few years back, and do need some attention. So avoid tripping by walking carefully.
There is no souvenir shopping here.
You cannot purchase anything here in case you have forgotten anything of personal use, toiletries, etc.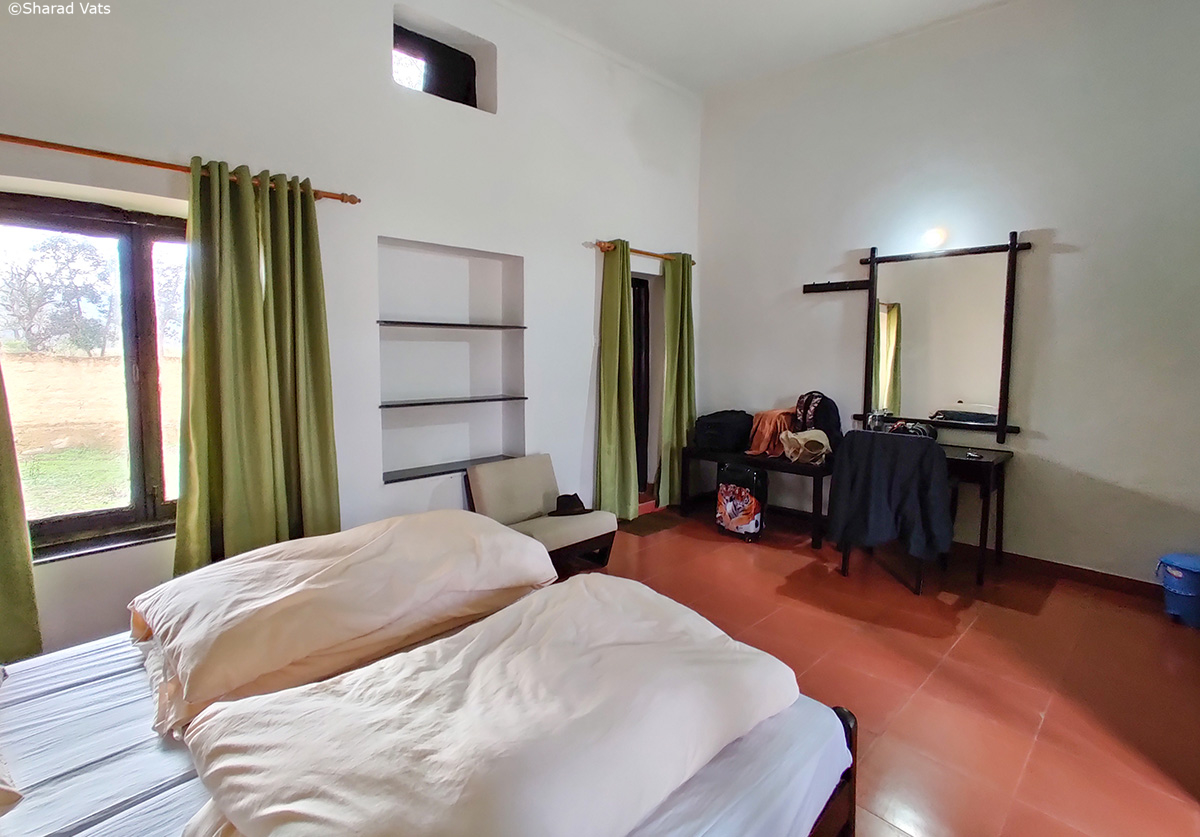 General Points
Corbett is amongst the coldest national park in India, and when staying in the Forest Rest Houses, be totally equipped. I recommend being overly prepared when it comes to winters. The morning safaris in winters are misty and extremely cold. You will require multiple layers, jackets, gloves, woolen socks, hat/cap, a scarf to cover your ears, nose, or have a Balaclava.
In the night avoid going for a stroll in the campus, as it is located in the heart of the forest so there is lot of wildlife around. Chital (Spotted Deer) enter the campus in the night. Once the prey is in, it is only normal for predators to get attracted.
There is an electric fence that has a mild current going through. So avoid touching it.
Do not be alarmed if you see Wildlife inside the campus.
Do not feed the animals in and outside the campus, it is strictly prohibited.
There have been occasions witnessed by the under-signed when the Tiger has walked right by the fence during the day. So do not be adventurous and venture out of the campus. It is prohibited to step out of the campus.
Tiger Safaris In Dhikala Forest Rest House, Corbett National Park
I always recommend that when in a national park enjoy every bit of it, do not remain focussed only on Tigers. You will enjoy your stay more that way.
Let your driver and guide know if you have any specific interest in birds, raptors, butterflies, or Tigers, and they try hard to get it for you.
The forest in Corbett is varied, there are dense woodlands, there are grasslands, dry river beds, and of course the river. Corbett is a magical forest, more so in winters. It is misty from mid-December till about mid-March.
The morning safari starts at sunrise for 4 hours, and afternoon safari starts around 2 pm for 4 hours or till sunset.
The safaris are done in a 4X4 open safari jeep vehicle. It is a fairly comfortable and an appropriate vehicle for safaris in Indian national parks.
There is a wide variety of animals to be seen in the parks, and close to 600 spices of birds.
Photography in Dhikala Forest Guest House
If you are interested in photography, then there is no better park than Corbett for you.
The soil of Corbett is hard so one does not get to see the pug marks of predators easily like in other parks. So do not think that there are no Tigers here. In fact, Corbett has about 225 Tigers, more than any national park in India. Tigers here spend a lot of time in either grassland or in thick undergrowth hence the Tiger sightings are not like some parks.
The Tigers of Corbett are a bit shy in nature, especially the male Tigers, so it is important to have a lot of patience when it comes to Tiger sightings in Corbett. Having said this, the joy one gets from one Tiger sighting in Corbett is more than any other park. The color of the Tigers of Corbett are more vibrant, so they look even more majestic.
Corbett is also very good with sightings of the gentle giants, the Asian Elephants. There are some areas, where their sightings are better, like the Dhikala Chaur in summers. Seeing them perform dust baths is very photogenic, and you can capture some really amazing and unique frames.
Crocodiles, Gharials, and even Otters have made Corbett their home.
Close to 600 species of birds are found in Corbett, so if you are a serious birder then there isn't a better national park than Corbett for you.
Other Rest Houses
There are other Forest Rest Houses in Corbett especially in the Dhikala zone; to name a few: Khinanauli, Sarpadulli, Gairal, and Sultan Rest Houses. These are also well equipped with nice locations, but, are smaller compared to the main Forest Rest House.
Then there are Forest Rest Houses in Corbett, like Bijrani, Halduparao, Mailani, Jhirna, and Dhela. But the experience of staying in Dhikala is something unique.
If there is anything you wish to know about stay, safaris, and tours to Corbett, please feel free to write to me on [email protected]
We have Tiger Tours to Corbett national park. Should you want to take one please write to me at the email address given above.
Best Wishes
Sharad Kumar Vats
Born and brought up in New Delhi, it was Sharad's childhood passion to play cricket for India. While on a holiday in 1990, he saw his first tiger. Little did he know that this one sighting would immerse him into a realm where forests and tigers were all that mattered.
Sharad's experiences as a wildlife photographer have inspired him to observe the tiger's behavior for over 30 years and motivated him on his own journey as an entrepreneur. He started Nature Safari India Pvt Ltd, with a focus on "Conservation through Tourism." to align himself to the mission of saving the regal species and repopulating them in India's forests. In 2006, he set up one of India's premier jungle lodges in Kanha National Park.
Sharad believes that there are many lessons to be learned from a tiger that can be applied successfully to leadership—both in business and in life. Here's a new book by Sharad Vats on management and leadership skills to learn from a Tiger.