IUCN & Red List Categories
We keep hearing about the status of various animal and plant species in the wild. These statuses are indicators of their population and the threat they are facing to survive. They are categorized in various categories. What are these categories and what is their definition, what are the criteria for deciding these categories, and who decides? Here we will get the answers to all these questions. First of all, we should know about the organization which decides these various categories of all known wild animal, plant, and fungi species of the world.
Also Read: The Top 8 wildlife conservationists in India
What is IUCN?
IUCN or International Union for the Conservation of Nature is an international membership union composed of both government and civil society organizations. By harnessing the experience, resources, and reach of its more than 1,400 member organizations and the input of some 15000 experts, IUCN is the global authority on the status of the natural world and the measure needed to safeguard it.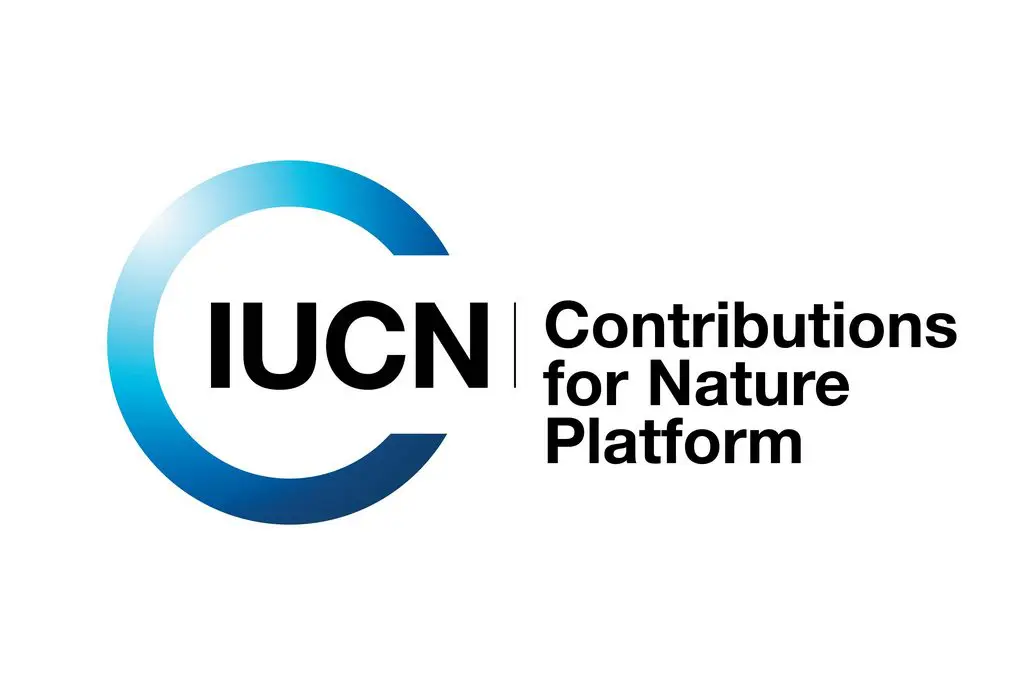 (Source: IUCN)
The IUCN Red List of threatened species
The IUCN's red list of threatened species was established in 1964 and it evolved to become the global authority and most comprehensive information source on the global conservation status of animal, plant, and fungi species.
The IUCN red list not only indicates the health of the world's biodiversity but also helps to catalyze action for the conservation and management of biodiversity and policy change. The red list categories give information not only for the status of the species but also provides information critical for the management and conservation of the species like species range, population size, habitat and ecology, use and/or trade, threats, and conservation actions that help the authorities to take necessary conservation decisions which ultimately support the species to recover from the present status.
At present more than 42,100 species are threatened with extinction, which is still 28% of all assessed species. This list of threatened extinctions includes 41% of amphibians, 27% of Mammals, 34% of conifers, 13% of birds, 37% of sharks and rays, 36% of reef corals, 28% of selected crustaceans, 21% of reptiles, and 69% of cycads.
To date, IUCN has assessed 150,388 species. Their current goal is to have 160,000 species assessed, which means they need to asses 9,612 species more.   
Also Read: Project Tiger of India – Tiger Conservation in India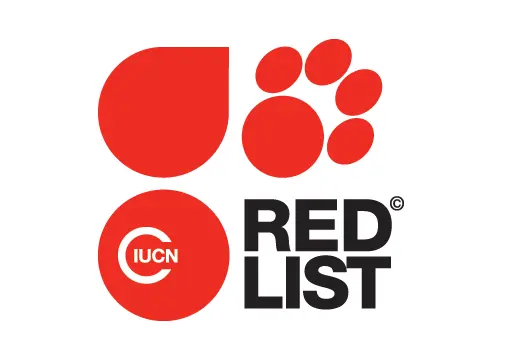 Read more on the official website of IUCN Redlist: https://www.iucnredlist.org/
The IUCN Red List Categories and Criteria
The IUCN red list categories and criteria is a system of classifying species according to the conservation threats they are facing and their population status in the wild with a high risk of extinction. There are nine different categories that divide the species. Not evaluated, Data Deficient, Least Concern, Near Threatened, Vulnerable, Endangered, Critically Endangered, Extinct in the Wild, and Extinct.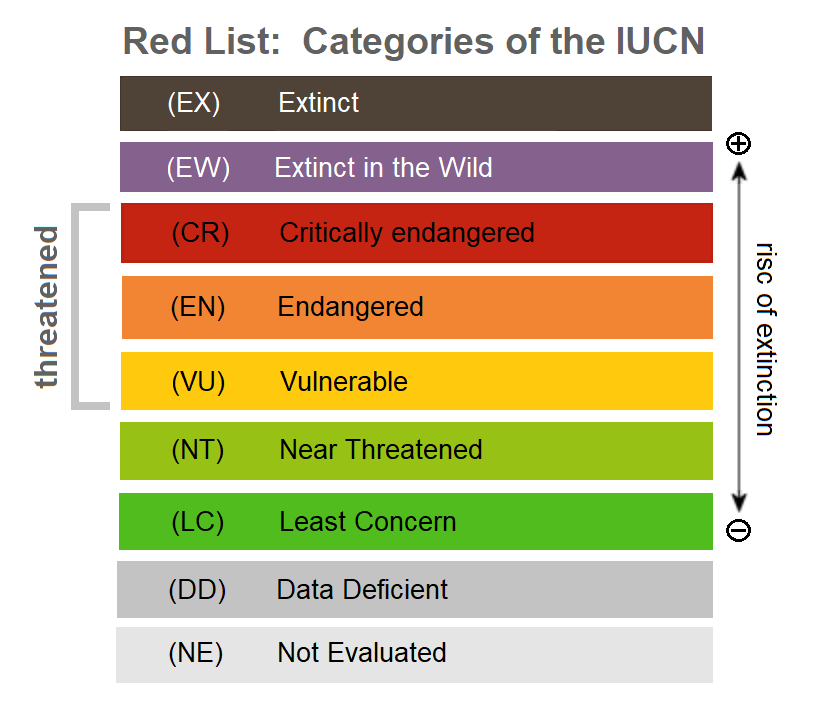 Data Deficient (DD)
A species or taxon is data deficient when there is insufficient information available to make a direct or indirect assessment of its risk of extinction based on its distribution and/or distribution is lacking. There are 20835 species of animals, plants, and fungi worldwide that come under this category.
Least Concern (LC)
A taxon or species is of least concern when it has been evaluated as per the information available and does not qualify for other categories which means it is not facing an imminent threat of extinction in the near future especially if its population is maintained at the same level or better in the wild. There are 77491 different wild species that come under this category.
Near Threatened (NT)
A taxon or species is near threatened when it is evaluated against the information available and does not qualify for the categories like Critically Endangered, Endangered, or Vulnerable now. But it is likely for the species to get into that category easily if not protected well or there are chances for the species to qualify for higher categories in the near future. There are total of 8816 species come under this category.
Vulnerable (VU)
A taxon is vulnerable when it meets the criteria from A to E set for vulnerable species. The vulnerable species are facing a high risk of extinction in the wild or may jump to next category if proper management practices and best conservation practices are not applied. There are a total of 16493 species under the vulnerable category.
Endangered (EN)
A species is endangered when after assessment it meets the criteria from A to E set for endangered species. Endangered species are facing a very high risk of extinction in the wild, also they may qualify for next category if immediate action to protect the species has not been taken. The total no. of species covered under this category are 16364.
Critically endangered (CR)
A species can be counted as critically endangered when the best available evidence suggested that it meets the criteria from A to E set for Critically Endangered species. The Critically Endangered Species face an extremely high risk of extinction in the wild. There are a total of 9251 species under the category of critically endangered.
Extinct in the wild (EW)
A species or taxon is extinct in the wild when it is known to survive only in cultivation, in captivity, or outside its natural or past range. It is declared extinct in the wild when after exhaustive surveys of its distributional range or expected habitat in different seasons and at the appropriate time no record has been found. There are 84 species which is no more exist in their natural habitat, only a few specimens are left in captivity or in cultivation.  
Extinct (EX)
A species or taxon is considered extinct when there is no doubt that its last individual has died. It is declared extinct after an exhaustive survey by experts in their known and/or expected habitat at the appropriate time (diurnal, seasonal, annual) to their past range failed to record an individual of that species. According to the IUCN, we have already lost 902 species forever.
Not Evaluated
A species or Taxon is Not Evaluated when it is not evaluated against any criteria mentioned above. These species are not published on IUCN red list.
(Source: IUCN Red List Categories and Criteria)
India at IUCN
With its incredible diversity of over 45,000 species of plants and 91,000 species of animals, India comes under the banner of a megadiverse country. Within only 2.4% of the land area, India hosts 7-8% of all recorded species. To show and strengthen their commitment to the conservation of nature, India became a state member of IUCN in 1969, through the Ministry of Environment, forests and climate change (MoEFCC).
The country office of IUCN was opened in New Delhi in 2007. IUCN India works closely with members and commissions to conserve the species and to manage biodiversity and its sustainable use. It also works at the policy level for the management of habitat, and ecosystems, including protected areas, and addresses the challenges related to poverty, climate change, and food security.
Also read: Wildlife Protection Act of India – Conservation in India
Born and brought up in New Delhi, it was Sharad's childhood passion to play cricket for India. While on a holiday in 1990, he saw his first tiger. Little did he know that this one sighting would immerse him into a realm where forests and tigers were all that mattered.
Sharad's experiences as a wildlife photographer have inspired him to observe the tiger's behavior for over 30 years and motivated him on his own journey as an entrepreneur. He started Nature Safari India Pvt Ltd, with a focus on "Conservation through Tourism." to align himself to the mission of saving the regal species and repopulating them in India's forests. In 2006, he set up one of India's premier jungle lodges in Kanha National Park.
Sharad believes that there are many lessons to be learned from a tiger that can be applied successfully to leadership—both in business and in life. Here's a new book by Sharad Vats on management and leadership skills to learn from a Tiger.