Time and time again, we've heard of Africa's Big Five, the African Lion, African Leopard, Cape Buffalo, African Elephant, and African Rhinoceros. These heavyweights of Africa's wildlife were once clubbed under the category of animals that were increasingly difficult and dangerous to hunt. However, over time, people have reoriented their outlook towards the species. Now they have added them to their bucket list of animals that they would wish to see. Akin to Africa, India has it's very own Big Five too. In this note, you will see know of the fantastic five of Indian Wildlife and Where to Find them.
These keystone species are spread across some of the most biodiverse regions of the subcontinent.
The Tiger
Tiger is by far one of the most enigmatic cats of our planet. Evolved through nature's efficacy, the Tiger is adept at ambush hunting. Blessed with black stripes painted over an ochre body aids them to dissolve impeccably with their background as they stalk their prey. Known for their strength and enormous stature, they hunt prey larger than them. They can also pull carcass to inconspicuous areas in order to conceal them from other predators. You may read about the top 3 places to see Tigers in India. So, now you know one of the Fantastic Five of Indian Wildlife and Where to Find Them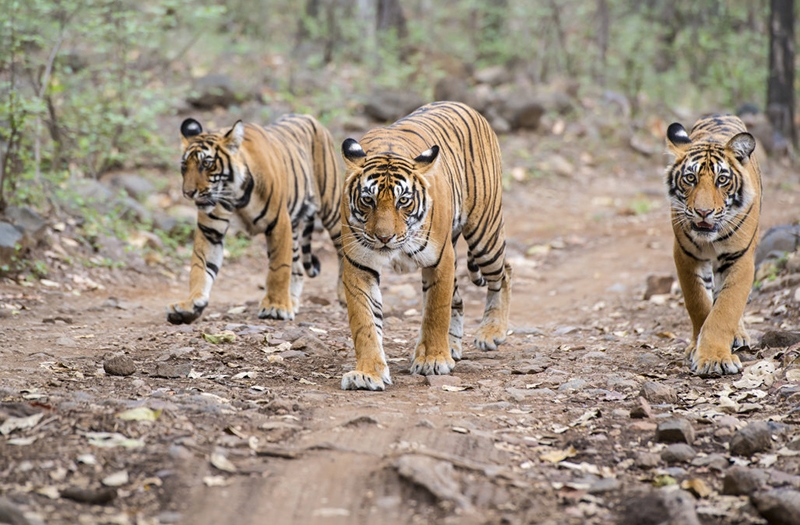 The Snow Leopard
Called the 'Ghost of the Mountain', the Snow Leopard is the apex predator that rules over the snow-clad peaks of Himalayas. Extremely shy and highly camouflaged, these charismatic cats rank amongst the most coveted species on the list of nature enthusiasts. Their home range can span between 15 – 40 sq km. They are usually found at an altitude variation of 3500 – 5000 m. Snow Leopards are highly acrobatic. They can cover large distances while navigating the formidable peaks of the Himalayas. Their skills are put to test during hunting the Himalayan Ibex and Bharal,  their predominant prey base. These stealthy hunters have been known to prey on domestic livestock as well.
Ideal Locations in India to Spot Snow Leopards – Kibber Wildlife Sanctuary, Hemis National Park and Nanda Devi Biosphere.
The Asiatic Lion
Slightly smaller in stature than their African cousins, the Asiatic lions are found only in India. A century back their home range extended to Bengal in the East, Jabalpur in central and Jammu in the north. But now their home lies restricted to Gir National Park in the state of Gujrat. Their population has increased by nearly 30% in the last few years. Their close proximity to humans has taken the world by surprise. At times the prides can be seen resting in farmlands or patrolling the village periphery to prey on domestic cattle. The biggest noticeable difference between Asiatic and African Lions is the smaller mane and fold of skin that lines the belly of the former.
Ideal Location to a Pride of Asiatic Lions – Gir National Park.
Greater One Horned Rhinoceros
Watching these armored tanks graze across the rolling grasslands of Kaziranga is a sight of a lifetime.  Widespread across the Terai Belt and North-Eastern parts of India, the revival of these massive mammals has been a remarkable success story. Close to the advent of the 20th century, the numbers of the One-Horned Rhino were as low as 200. However, with steadfast conservation efforts, protection, and management, their numbers have grown to over 3500 individuals in the region. Rhinos are mostly solitary, although, they can be seen grazing within the vicinity of one another. Their diet comprises grasses, aquatic vegetation, leaves of trees and shrubs, and even fruits.
Ideal Location to See the Greater One-Horned Rhinoceros – Kaziranga, Chitwan, Manas, and Dudhwa national parks.
Asian Elephant
Last on the list of The Fantastic Five of Indian Wildlife and Where to Find Them are the Asian Elephants. Elephants are blessed with an enormous brain, thus they exhibit an extraordinary form of intelligence. The matriarch of the heard remembers key migratory passages in order to guide her crew to locations with ample freshwater and food. As they walk along, covering distances up to 10 km/day, elephants drop an array of seeds encased in their dung. These droppings serve as one of the richest fertilizers on the planet. They are a vital keystone species and a healthy indicator of moist deciduous and evergreen forest systems. The jungles of India would be drastically altered without Asian Elephants.
Ideal Locations to See Asian Elephants – Corbett National Park, Periyar Tiger Reserve, Nagarhole National Park and Rajaji National Park.
Born and brought up in New Delhi, it was Sharad's childhood passion to play cricket for India. While on a holiday in 1990, he saw his first tiger. Little did he know that this one sighting would immerse him into a realm where forests and tigers were all that mattered.
Sharad's experiences as a wildlife photographer have inspired him to observe the tiger's behavior for over 30 years and motivated him on his own journey as an entrepreneur. He started Nature Safari India Pvt Ltd, with a focus on "Conservation through Tourism." to align himself to the mission of saving the regal species and repopulating them in India's forests. In 2006, he set up one of India's premier jungle lodges in Kanha National Park.
Sharad believes that there are many lessons to be learned from a tiger that can be applied successfully to leadership—both in business and in life. Here's a new book by Sharad Vats on management and leadership skills to learn from a Tiger.