1. Bandhavgarh National Park
One of the most popular national parks in India, Bandhavgarh, is situated in Madhya Pradesh's Umaria district Vindhya Hills. The Bandhavgarh National Park covers 105 km2 and was established as a national park in 1968. Bandhavgarh is home to a significant amount of biodiversity and is renowned for having India's greatest tiger population density.
In a similar vein, the park is home to the greatest breeding population of leopards as well as several other deer species. The park has seen significant increases in the number of tiger species over time, which is why tiger tours are so well-known and draw so many tourists to the area. This is why a lot of tourists each year visit Bandhavgarh National Park for their tigers.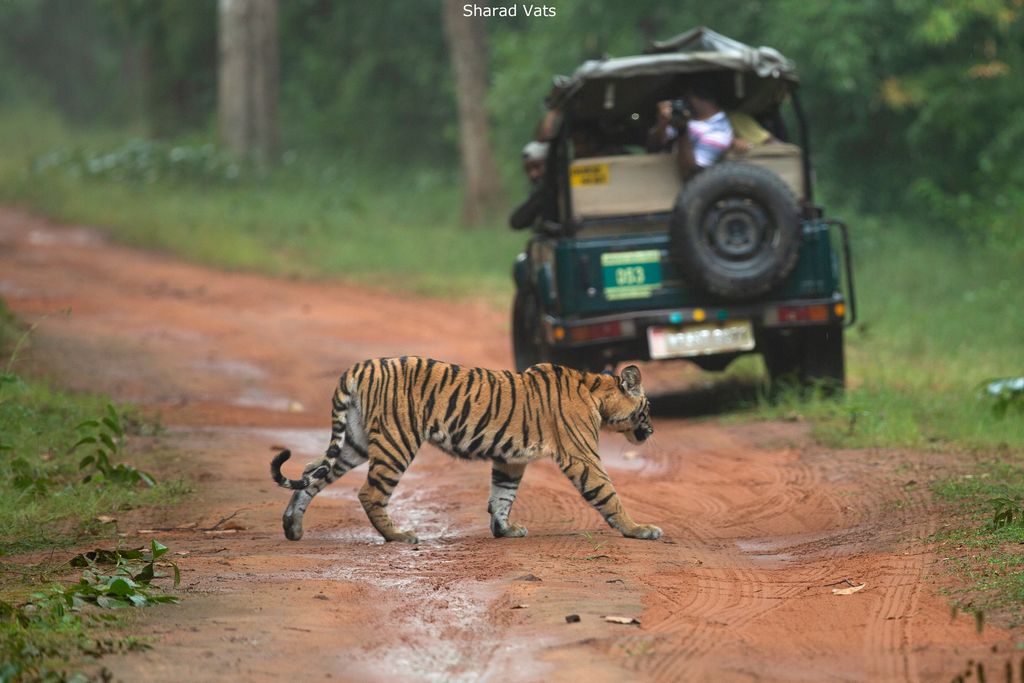 How to Reach Bandhavgarh National Park?
Reaching Bandhavgarh by Air
Bandhavgarh is easily accessible by flight from Khajuraho, a World Heritage Site, and Jabalpur, we will be pleased to help you with your flights and ground transportation to and from the Bandhavgarh National Park.
Jabalpur Airport
To get to Bandhavgarh after landing in Jabalpur, it would take you 4 hours. The breathtaking scenery, huge farmlands, and close-by towns welcome you to the original home of the white tigers and will accompany you on your journey.
Khajuraho Airport
The alternative route to get to Bandhavgarh is via Khajuraho. After arriving at Khajuraho airport, the journey to the lodge takes about 5 to 6 hours. The historic temples of Khajuraho are well known.
Reaching Bandhavgarh by Railway
The best train connections to Bandhavgarh are from Umaria, Katni, Satna, and Jabalpur.
Nearest train station
Umaria (1 hrs. drive from the station)
Katni (2.5 hrs. drive from the station)
Jabalpur (4 hrs. drive from the station)
Reaching Bandhavgarh by Road
Bandhavgarh is located in the heart of Central India and is well connected with Kanha & Panna National Park and also has easy access from major towns like Jabalpur, Satna, Khajuraho and Rewa.
Jabalpur (Distance 195 km – 4-hour drive)
Prayagraj (Distance 210 km –5-hour hrs drive)
Kanha (Distance 240 km – 5-hour drive)
Khajuraho (Distance 280 km – 5-hour drive)
Pench (Distance 390 km –8-hour drive)
Raipur (Distance 410 km – 8-hour drive)
Places to visit near Bandhavgarh National Park
Pench National Park
Kanha National Park
Panna National Park
Khajuraho Temples
Gharpuri Dam
Baghel Museum
Shesh Shaiya
Bhedaghat Dhuandhar Waterfall
2. Kanha National Park
The Madhya Pradesh state's Maikal range of Satpuras, which makes up the central Indian highlands, is home to Kanha National Park which is one of the most popular park for rhino & tiger safaris in India. It's fascinating to note that the national park is now known as the Tiger Reserve and is being hailed as one of the best wildlife sanctuaries in the world.
Kanha National Park, which spans two revenue districts, Mandala and Kalaghat, was established as a reserve forest in 1879 and reclassified as a wildlife sanctuary in 1933. In 1955, it received another upgrade and became a national park in1955.
How to Reach Bandhavgarh National Park?
Reaching Kanha by Air
The nearest airports to Kanha from Delhi are Jabalpur (176 km), Nagpur (270 km), and Raipur (225 km). National airlines offer numerous daily flights, and it is a 4-hour drive from Jabalpur and Raipur. A 5 to 6-hour drive from Nagpur airport
Reaching Kanha by Railway
Gondia and Jabalpur are the two nearest railway stations from Kanha. Gondia is 130 kms / 3 hrs and Jabalpur is 176 kms / 4 hrs drive from Kanha. There are several trains at these stations. Bilaspur Rajdhani is an excellent option from Delhi taking you to Gondia and MP Sampark Kranti from Delhi to Jabalpur.
Reaching Kanha by Road
From Nagpur and from the majority part of Madhya Pradesh, you can reach Kanha by road. Most of the way within Madhya Pradesh, the roads are highly picturesque and generally well-maintained.
Jabalpur (Distance 200 kms – 4-hour drive)
Raipur (Distance 220 kms, 4-hour drive)
Pench National Park (Distance 210 kms, 4-hour drive)
Bandhavgarh National Park (Distance 260 kms, 6-hour drive)
Nagzira Tiger Reserve (Distance 220 kms, 4-hour drive)
Tadoba National Park (Distance 300 kms, 6-hour drive)
Places to visit near Kanha National Park
Kanha Museum: Being a lover of wildlife, you must visit the Kanha Museum if you arrange a trip to the Kanha National Park.
Mandla: One of the best tourist locations close to Kanha National Park is Mandla, which is known for its lofty forts and revered temples. Mandla, which is surrounded by nature, offers its tourists stunning views of RangrezGhat and Rapta Ghat, as well as the catchment area of the tranquil Narmada River and its tributaries
Kawardha Palace: Extend your journey to Raipur, Chattisgarh, where Kawardha Palace is waiting to immerse you in the regal atmosphere.
Amarkantak: Amarkantak, which is also known as Teerthraj, is located at a distance of 159 km from Kanha National Park.
3. Pench National Park
Pench National Park is situated in the districts of Seoni and Chhindwara in the state of Madhya Pradesh India. One of India's most well-known wildlife sanctuaries named from the clean River Pence that runs through it is Pench National Park. The park is also mentioned in the well-known 1894 novel "The Jungle Book" by famed English author Rudyard Kipling.
The tale received praise on a global scale, making the national park—which was already well-known in India—one of the most well-known in the 1970s. Since then, a huge number of wildlife enthusiasts visit this national park every year for tiger safari in the hopes of seeing the illustrious figures from the novel, like Akela (the Indian Wolf), Raksha (the female Wolf), Baloo (the sloth bear), and the ruthless Shere Khan (Royal Bengal Tiger).
How to Reach Pench National Park?
Reaching Pench by Air
The closest airport is in Nagpur, which is around 130 kilometres away. Another option is to travel to Jabalpur, which is about 210 kilometres from Pench. Compared to Jabalpur, Nagpur's international airport has more flight options.
Reaching Pench by Railway
The closest train station, Nagpur, is around 130 kilometres away and has excellent rail connections. Another option is the approximately 210 kilometres away Jabalpur railway station. Both www.irctc.co.in and www.indianrail.gov.in allow for online details checking and train booking.
Reaching Pench by Road
The Nagpur-Jabalpur Highway passes by the Pench Tiger Reserve. From Jabalpur or Nagpur, you can travel by road for three to four hours to get to Pench. A different route is to travel via Bhopal, which is about 500 kilometres from Pench or Kanha. Khawasa or Seoni are the closest bus stops to Pench, and hourly buses are accessible from Nagpur.
Places to visit near Pench National Park
Ramtek Temples: Ramtek is the location for you if you're seeking for a pilgrimage site close to Pench National Park for quick excursions around Pench National Park. The historical location where Rama resided during his exile is thought to have been the Rama's shrine in Ramtek.
Sanchi Stupa: Explore the tranquilly of Sanchi, one of the earliest Buddhist destinations in India and one of the few places where ancient Buddhist monuments still exist as relics. The Great Bowl, Ashoka Pillar, and Sanchi Stupa are a few of the city's top tourist destinations which is 300 Kms from Pench.
Kanha National Park
Satpura National Park
Tadoba National Park
Panna National Park
This national park is credited with bringing back tigers, who had become extinct in the area, and has since increased their population to over 50. Panna is a success story for the reintroduction of tigers, and it is now renowned for providing outstanding results in an exceptional increase in the number of felines there. Panna was declared a UNESCO Biosphere Reserve in November of 2020.
How to reach Panna National Park?
There are three ways to reach Panna National Park in Madhya Pradesh
Reaching Panna by Air
The park is located 26 kilometres from the Khajuraho Airport, which is the closest airport and has regular flights to Delhi (India's capital).
Reaching Panna by Railway
Jhansi is the closest railway station to the national park, and it takes 176 kilometres to get there. Within four hours, the distance may be travelled by renting a taxi or cab from the Jhansi Railway Station.
Reaching Panna by Road
You may use the route through NH 86 and NH 75 from Bhopal to go to the park. To go to Panna National Park, one can use a car through NH 78 from Gwalior via Jhansi.
Places to visit near Panna National Park
Pandav Falls and Caves
Khajuraho Temples
Mahamati Prannathji Temple
Baldeoji Temple
5. Ranthambhore National Park
One of Northern India's largest and most well-known national parks for tiger safaris in India is Ranthambhore. The park is situated around 130 kilometres from Jaipur in the Sawai Madhopur district of southeast Rajasthan. The Ranthambhore National Park landscape, which was once regarded as one of the renowned and former hunting grounds of the Maharajas of Jaipur, is now a significant wildlife tourist destination that has attracted the interest of many wildlife photographers and lovers.
How to reach Ranthambhore National Park?
Reaching Ranthambore by Air
The closest airport to Ranthambore Tiger Park is the Jaipur International Airport, which is situated in the Sanganer neighbourhood of Jaipur. Then one can travel 160 km (100 mi) between the airport and the park: by car or by taxis available at Jaipur airport. Every major city in India has frequent flights to Jaipur. Since Jaipur's airport is an international one, the city has excellent flight connections with many foreign cities.
Reaching Ranthambore by Railway
The train route is the quickest method to go to Ranthambore. The railway station in Sawai Madhopur is the one closest to Ranthambore Park. About 11 kilometres separate the station and the park, and visitors can travel there by local bus, taxi, or cab from Sawai Madhopur station.
The major Indian cities of Jaipur, Delhi, Mumbai, and others have direct trains that stop at Sawai Madhopur station. It was recognised as India's greatest tourist-friendly station and is a heritage railway station. Numerous opulent trains, including The Indian Maharaja, Maharaja Express, Palace on Wheels, and Royal Rajasthan on Wheels, are scheduled to stop here.
Reaching Ranthambore by Road
All of India's major cities and towns are directly connected to Ranthambore Park by road.
Jaipur to Ranthambore – 160 Km
Udaipur to Ranthambore – 388 Km
Jodhpur to Ranthambore – 456 Km
Delhi to Ranthambore – 381 Km
Agra to Ranthambore – 239 Km
Mumbai to Ranthambore – 1031 Km
Places to visit near Panna National Park
Seven Wonders Park, Kota
Shahabad Fort, Baran
Chand Bawri, Abhaneri
Jain Temple, Viratnagar
Government Museum, Jhalawar
Raniji ki Baori, Bundi
Anasagar Lake, Ajmer
Hawa Mahal, Jaipur
Sariska Tiger Reserve, Sariska
Karauli Palace, Karauli
Bharatpur Bird Sanctuary, Bharatpur
Hadi Rani Kund, Tonk
Kishangarh Fort, Kishangarh
Bala Quila, Alwar
6. Corbett National Park
One of the best places for tiger safaris in India. The Nainital district of the Indian state of Uttarakhand is home to Jim Corbett National Park. As the country's first national park, it was created in 1936 during the British Raj and given the name Hailey National Park in honour of William Malcolm Hailey, the United Provinces' governor at the time.
It was renamed Corbett National Park in 1956, over ten years after India gained independence, in honour of the hunter and naturalist Jim Corbett, who had been instrumental in its founding and had passed away the year before. The Project Tiger initiative started from this park.
How to reach Corbett National Park?
Reaching Corbett by Air
New Delhi is the closest international airport to Corbett. Corbett national park is 275 Kms, a 6-hour drive from New Delhi.
Pantnagar in Uttrakhand is the closest domestic airport to Corbett. It is an 80 Kms, 2-hour drive to Corbett national from Pantnagar. However, flights are from New Delhi right now.
Reaching Corbett by Railway
Ramnagar railway station is the nearest railway station to Corbett National Park. It is 40 Kms, a 1-hour drive from Ramnagar railway station to Corbett national park.
Reaching Corbett by Road
New Delhi: 275 Kms, 6-hour drive
Agra: 350 Kms, 6–7-hour drive
Places to visit near Corbett National Park
Sattal – Birding or Bird Watching
Pangot – Birding or Bird Watching
Lansdowne – For Beautiful mountain peaks
Rishikesh – For Rafting and other adventure activity or Yoga
Nainital – Scenic Mountains
Bhimtal – Boating or Rafting
Naukuchiatal – Boating or Rafting
Ranikhet – For Beautiful mountain peaks
Also Read: Top 10 must-do activities when travelling to India for the first time.
7. Taboba National Park
In India's Maharashtra state's Chandrapur district, there is a wildlife sanctuary called the Tadoba Andhari Tiger Reserve. It is the oldest and biggest national park in Maharashtra. The Tadoba National Park and the Andhari Wildlife Sanctuary are also part of the reserve, which was established in 1955. 32.51 square kilometres (12.55 square miles) of protected forest and 577.96 square kilometres (223.15 square miles) of reserved forest make up the reserve.
How to reach Tadoba National Park?
Reaching Tadoba by Air:
About 140 kilometres away, in Nagpur, is the closest airport. Regular flights to Nagpur depart from Mumbai, Delhi, Bengaluru, Chennai, and Kolkata. To go to the national park, one can hire a taxi at the airport.
Reaching Tadoba by Railway:
The closest railway station is Chandrapur, which is 45 kilometres from Tadoba National Park and is on the major Delhi-Chennai route. Regular trains run there. Chandrapur serves as a stop for the Rameswaram-Varanasi Weekly Express, Gorakhpur Yesvantpur Express, and a few more express trains.
Tadoba National Park may be reached from Nagpur, which is a major train hub with good rail connections to all other important cities and towns in the nation. After arriving in Nagpur, visitors have two options: they can take the railway to Chandrapur or take the road directly to Tadoba Tiger Reserve.
By Road:
Distance between Tadoba National Park and Major Cities
Nagpur to Tadoba National Park Distance – 138 KM
Amravati to Tadoba National Park Distance – 225 KM
Aurangabad to Tadoba National Park Distance – 510 KM
Pune to Tadoba National Park Distance – 748 KM
Mumbai to Tadoba National Park Distance – 862 KM
Places to visit near Tadoba National Park:
Kanha National Park
Pench National Park
Nagzira Wildlife Sanctuary
Raipur
Raigarh Fort
Vijaydurg Fort
Navegaon National Park
Erai Dam
Sevagram
Mahakali Mandir in Chandrapur
8. Satpura National Park
The Satpura Tiger Reserve (STR), also known as Satpura National Park, is situated in India's Madhya Pradesh state's Hoshangabad District, which has recently been given the name Narmadapuram. The Satpura range inspired the name of the region. It encompasses 524 km2 (202 sq mi). Together with the neighbouring Bori and Pachmarhi wildlife sanctuaries, Satpura National Park offers 2,200 km2 (850 sq mi) of a rare central Indian highland habitat. It was established in 1981.
The national park's closest town is Pachmarhi, while the closest rail station is Pipariya, which is located 55 kilometres (34 miles) away. Bhopal, the state capital, is 130 miles or 210 kilometres away.
How to reach Satpura National Park?
Reaching Satpura by Air:
The airport closest to Satpura National Park is in Bhopal. From Mumbai, Delhi, and other parts of the nation, Bhopal is easily accessible via several flights operated by numerous national airlines.
State carrier offers convenient access to Bhopal from Khajuraho, Jabalpur, Ujjain, Gwalior, Rewa, and Indore.
Reaching Satpura by Railway:
With Itarsi, Hoshangabad, Piparia, and Sohagpur railway stations all within 70 kilometres of Satpura with trains running to and from all regions of the nation, Satpura is likely one of the best-connected Tiger Reserves in the nation by train. The nation's railroad network connects Bhopal, the capital of Madhya Pradesh, to the rest of the country.
Reaching Satpura by Road:
Distances by road to Satpura National Park
From Bhopal – 140 Kms (Approx. 3.5 Hours)
Honsangabad – 70 Kms (Approx. 1.5 Hours)
Itarsi – 70 Kms (Approx. 1.5 Hours)
Jabalpur – 230 Kms (Approx. 4-5 Hours)
Places to visit near Satpura National Park:
Pachmarhi
Bhopal
Churna Camp
Forsyth Trail
Pandav caves
Bhimbetka Caves
8. Kaziranga National Park
The wife of Lord Curzon, the Viceroy of India, visited Kaziranga for the first time in 1904 to witness the fabled One-Horned Rhino. She searched for several days but was unable to locate even one. Disappointed, she nagged her husband to designate Kaziranga Reserve Forest as a sanctuary for One-Horned Rhinos.  The 232-square-kilometre forest tract was designated as a reserved sanctuary in June 1905.
Two-thirds of the world's population of One-Horned Rhinos lived in the jungle, which is a World Heritage Site. In comparison to all other tiger reserves in the world, it also had the highest tiger density.
Birdlife International Society has designated the park as a key birding location because it serves as a stopover or permanent home to many migratory and resident bird species. The four distinct types of vegetation can be found in this sanctuary, which is located on the banks of the Brahmaputra.
There are 41% tall grasses, 29% open jungle, 11% short grasses, and the rest is covered by rivers and water bodies in the tropical moist mixed deciduous forests and tropical semi-evergreen forests. The park's astounding variety of plant and animal life enhances its natural attractiveness.
Kaziranga was designated as a tiger reserve in 2006. Having served as a reserve area for 100 years, Kaziranga was one of India's most beautiful national parks.
How to reach Kaziranga National Park?
Reaching Kaziranga by Air:
There are two airports close to the park.
The park is located at a distance of 217 kilometres from Guwahati International Airport and 97 kilometres from Jorhat Airport.
There are well-maintained highways linking both airports to the park. Guwahati's Lokpriya Gopinath Bordoloi International Airport is the finest option for air travel from anywhere in India or overseas.
Reaching Kaziranga by Railway:
Furkating, which is 75 kilometres away from Kaziranga Park, is the railroad station that is closest to the park. Numerous trains connect the station with important railway stations like Guwahati, Kolkata, New Delhi, etc.
However, tourists may alternatively use the Guwahati and Jorhat railway stations, which are the closest ones and are separated by 240 km and 90 km, respectively.
These two train terminals are the primary rail hubs for the Northeast Railways. You can utilise the taxi, cab, or bus services to travel from the stations to the park via the roads.
Reaching Kaziranga by Road:
NH (national highway) 37 leads to Assam's Kaziranga National Park, which is situated in the Golaghat and Nagaon districts. The closest bus stop to Kaziranga is in Kohara. Additionally, Kohara is traversed by buses travelling from Guwahati, Tezpur, Dimapur, and Upper Assam.
Due to its location in Kohara Town, this national park provides excellent access to Assam's major towns. From cities like Guwahati, Tezpur, Jorhat, Tinsukia, Sivasagar, Nagaon, Golaghat, and Dimapur, you may enjoy the drive. So, the decision is yours as to whether you want to use a taxi, cab, or public bus service.
Places to visit near Kaziranga National Park:
The Panbari Reserve Forest: It is in close proximity to the park. There are a variety of rare species that may be spotted in the Panbari Reserve Forest. Some examples of these birds include the Crested Goshawk and the Great Indian Hornbill.
Tea Gardens: Assam takes great pleasure in its many tea gardens. Tea from the Assam region is renowned for both its flavour and its colour. When travellers come to Kaziranga National Park, they shouldn't miss the opportunity to stop by a couple of the tea gardens that are located in the surrounding area.
Deoparbat Ruins: Deoparbat Ruins, Kaziranga The Deoparbat Ruins are in the Golaghat District, 5 km from Numaligarh. They are close to the Kaziranga National Park. The Deoparbat Ruins are known for the ancient ruins on top of a hill. They are also called the Deopahar, which means "two hills."
Kakochang Waterfalls: The Kakochang Waterfalls are 13 km from Bokakhat in the Golaghat district of the Indian state of Assam. It is a beautiful waterfall hidden in the paradise of nature.
9. Nagarhole National Park
The Kodagu district and the Mysore district in the state of Karnataka, India are both home to portions of the Nagarahole National Park.
In 1999, the government of India designated this park as the 37th Tiger Reserve in the country. The Nilgiri Biosphere Reserve includes this area under its protections. The Western Ghats Nilgiri Sub-Cluster, which spans a total area of 6,000 km2 (2,300 sq mi) and including the entirety of Nagarhole National Park, is now being considered for induction into the list of World Heritage Sites by the UNESCO World Heritage Committee.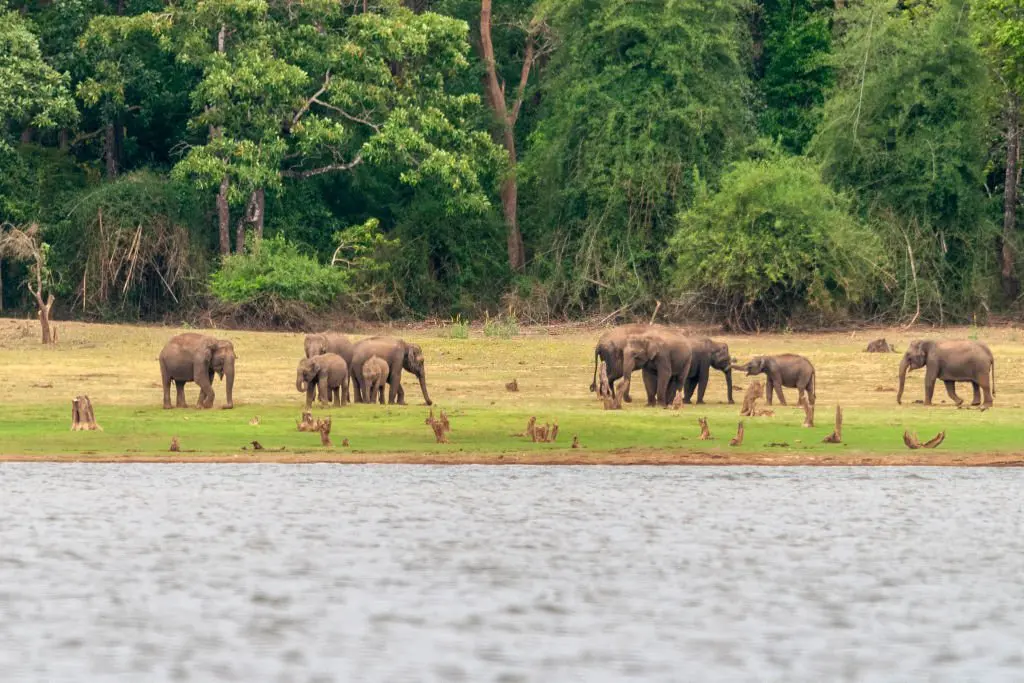 The park is home to populations of the Bengal tiger, gaur, Indian elephant, Indian leopard, chital, and Sambar deer. It also features tiny streams, hills, valleys, and waterfalls.
The word "naga," which refers to snakes, and "hole," which is short for stream, are where the name of this park comes from. The monarchs of the Wodeyar family, who were the previous rulers of the Kingdom of Mysore, used to keep the park as an exclusive hunting reserve for themselves.
It was established in 1955 as a wildlife refuge, and over the years its size has grown to include 643,39 kilometres (399.78 mi). In 1988, it was designated as a national park and given additional protections. In 1999, the park was designated as a tiger reserve by the government.
How to reach Nagarhole National Park?
Reaching Nagarhole by Air:
You can reserve a flight to Bengaluru's Kempegowda International Airport, then take a connecting flight from Bengaluru to Mysore's domestic airport.
Alternatively, you can take a taxi from Bengaluru International Airport to Nagarhole National Park, which is 261 kilometres distant. You could also take a domestic flight from Chennai to Mysore. If you land at the Mysore airport then Nagarhole National Park 95 Kms.
Reaching Nagarhole by Railway:
Numerous trains arrive at Mysore Junction Railway Station from most important cities, including Bengaluru, Jaipur, Chennai, Kolkata, Ajmer, Varanasi, and Mumbai. Nagarhole National Park is located around 95 kilometres from the Mysore train station; you can take a bus or a taxi to get there.
Reaching Nagarhole by Road:
KSRTC offers bus service between Mysore and Nagarhole. About 30 kilometres from the Park, the buses stop at HD Kote Bus Station. From the bus station, you can call a taxi to transport you to the Park.
Alternatively, you might get a car in Bengaluru or Mysore. One of the four access points to Nagarhole National Park is in Kutta, which is where buses from Karnataka and Kerala halt. 14 kilometres separate Kutta from the Park.
Places to visit near Nagarhole National Park:
Kabini Dam
Iruppu Falls
Rameshwara Temple
Balle Elephant Camp
Taraka Dam