Bandhavgarh vs Ranthambhore National Park are two of India's premium Tiger reserves of India. It is a tough decision to make when deciding on which park to visit for Tiger safaris, and where are the best chances of good Tiger sightings.
The Tiger safaris are dependent on some factors, and I am not listing those here. There is another blog for the same coming soon in this space. Each park has its own pros and cons. I have listed the pros of the above parks.
Pros for Bandhavgarh:-
1. Bandhavgarh is more remotely located compared to Ranthambhore, hence it is not easily accessible, thus reducing the pressure for getting safari permits.
2. The number of vehicles going in for safaris is less compared to Ranthambore.
3. You will mostly do safaris in the 6 seater vehicles, as there are no 20 seater vehicles allowed in this park. The experience of doing a safari in the 6 seaters is far superior compared to the 20 seater vehicle.
4. Located in central India, Bandhavgarh combines well with some other national parks in the region, like Panna, Kanha, Pench, Satpura, and Tadoba. So if you are into serious wildlife views and photography then Bandhavgarh gives you better access to other parks.
5. Bandhavgarh National Park also has a mention in ancient Indian scriptures, and a 2000-year-old fort stands tall right in the heart of the national park. However, due to restrictions on tourism, access to this fort is prohibited.
More about Bandhavgarh
6. Bandhavgarh national park is about a 6-hour drive from the UNESCO World Heritage site of Khajuraho. Hence if you are keen to see some temples then this small town can be combined well with Bandhavgarh.
7. There are 3 primary tourism zones that are much easily accessible from most of the hotels and resorts. While the Tala zone is just 3-5 minutes' drive from the resorts, the other two zones are about 10 minutes' drive. The tourism zones are much accessed here compared to Ranthambhore.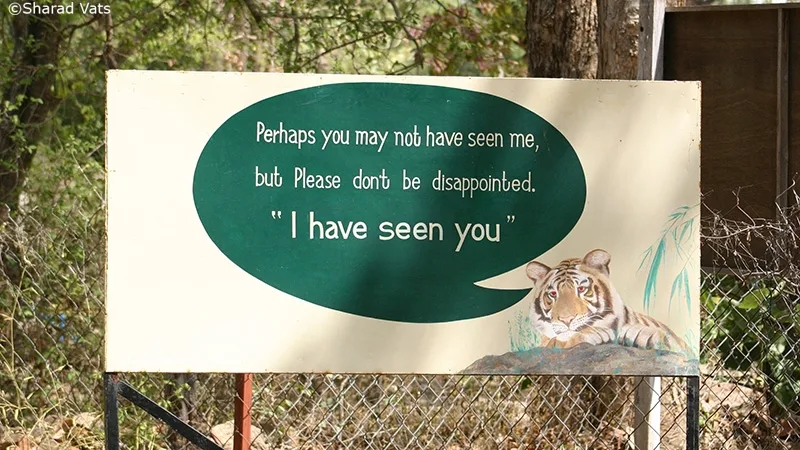 8. Bandhavgarh has some interesting wildlife, one is the Indian Gaur which is the world's largest bovine, and secondly is the Wild Elephants. Since 2019 a big herd of Asian Wild Elephants has migrated from the neighboring state of Chattisgarh and has made one particular zone their home. Hence Bandhavgarh from a wildlife point of view has more diversity now.
Pros for Ranthambhore:-
1. Ranthambhore national park is much easily accessed from New Delhi, Jaipur, Bharatpur and Agra. So if you doing the popular Golden Triangle cultural tour, fitting in Tiger safari in Ranthambhore is easy. You can drive 3 hours from Jaipur, 5 hours from Agra, and 7-8 hours from Delhi. There is good train connectivity from New Delhi, Jaipur, and Bharatpur also.
2. Safari permits are easily manageable compared to Bandhavgarh, as there are more zones in Ranthambhore and more vehicles permitted to go into the park for safaris.
3. If the 6 seater safari vehicle gets booked, then there is an option to go in the 20 seater safari bus for safaris. Though we do not recommend this option for serious wild lifers, if your decision is the last minute to do a safari then this is one option you can decide on for safaris.
4. The forest is far drier, hence less undergrowth, thus increasing chances of Tiger sightings from a distance as well.
5. Zone 3 is very scenic due to the presence of lakes like, Rajbagh, Malik Talao and Padam Talao.
6. Bandhavgarh national park is about a 6-hour drive from the UNESCO World Heritage site of Khajuraho. Hence if you are keen to see some temples then this small town can be combined well with Bandhavgarh.
More about Ranthambhore
6. The juxtaposition of wildlife and history adds diversity to the experience. There are occasions Tigers and other wildlife is sighted in these historical ramparts, thus making some good images. There is a 1000-year-old Fort which can be accessed on foot in between safaris.
7. Apart from the regular morning, afternoon, and full-day safaris, Ranthambhore also has half-day safaris which have added advantage compared to Bandhavgarh. But the rules for these safaris do change every year.
8. Certain zones of this park are open round the year, so if you happen to be visiting India from July till September then you may consider visiting Ranthambhore. Yes, I must mention here that the chances of Tiger sightings in these monsoon months in these zones reduce by more than 50% compared to visiting them from October till June.
9. The monsoon usually gets over by September, and Tiger sightings commence on time on 1st October when the park opens.
Comparing Key Points
| | | |
| --- | --- | --- |
| Location | Rajasthan | Madhya Pradesh |
| Access | Closest town Sawai Madhopur- 10kms , Jaipur-180kms, Agra-240kms | Jabalpur, 180kms, Khajuraho – 275kms |
| Area in sq kms | 1300 sq kms | 1536 sq kms |
| Type of Forest | Dry Deciduous | Moist peninsular low level sal forest |
| No of Tigers | 65 | 60 |
| Total Bird species | 275 | 300 |
| Key Bird species | Serpent Eagle, Darters, Painted Storks, Stork billed Kingfisher, Golden Orioles, Asian Paradise Flycatcher, Honey Buzzard, Indian Peafowls | Golden Oriole, Raquet Tailed Drongo, Indian Paradise Flycatcher, Falcons, Malabar Pied Hornbill, Vultures |
| Open months | 1st October – 30th June | 1st October – 30th June |
| Closed months | 1st July till 30th September | 1st July till 30th September |
| Best time to visit | 1st October till 30th June | 1st November till 30th June |
| Temperatures | 3 – 20 in winter, to 28-48 in summer | 2–20 in winter, to 24-45 in summer |
| Rainfall | 800mm | 1150mm |
| Main flora | Babul, Gurjan, Khair, Kadam, Khajur | Sal, Bamboo, Bija, Tendu,Lendia |
| Main fauna | Tigers, Leopards, Bears, Crocodiles, Sambar, Jackals, Cheetal, Barking Deer, | Tigers, Leopards, Sloth Bears, Indian Gaur, Jackals, Sambar, Cheetal, Barking Deer |
| Rainfall | | |
| Stay inside forest | NA | NA |
| Safaris | Jeep safari – 6 pax, Canter safari-20 pax | Jeep Safaris and Elephant safari in full day Jeep Safari. |
| Permit booking | Open for booking 1 year prior to arrival | Booked 120 days before arrival |
Final Words
I am intentionally not mentioning the cons of visiting these parks as each park has its pros, which are stronger than the cons. So one has to take a call after further research. One may also talk to people who have visited both the parks several times year-round and over the decades to understand the two different regions. Cons can also depend on your objectives, i.e. if you are a professional photographer, an amateur, or a wildlife lover.
To know more about Bandhavgarh vs Ranthambhore National Park. You may write to me on [email protected]
Best Wishes
Sharad Kumar Vats
Recommended Tours : 
Kanha, Bandhavgarh and Corbett Tour
Tiger Safari in Ranthambore
Tiger Safari in Bandhavgarh
Tigers, Taj & Temples of India
Born and brought up in New Delhi, it was Sharad's childhood passion to play cricket for India. While on a holiday in 1990, he saw his first tiger. Little did he know that this one sighting would immerse him into a realm where forests and tigers were all that mattered.
Sharad's experiences as a wildlife photographer have inspired him to observe the tiger's behavior for over 30 years and motivated him on his own journey as an entrepreneur. He started Nature Safari India Pvt Ltd, with a focus on "Conservation through Tourism." to align himself to the mission of saving the regal species and repopulating them in India's forests. In 2006, he set up one of India's premier jungle lodges in Kanha National Park.
Sharad believes that there are many lessons to be learned from a tiger that can be applied successfully to leadership—both in business and in life. Here's a new book by Sharad Vats on management and leadership skills to learn from a Tiger.