Tiger Safari in Bandhavgarh National Park
Bandhavgarh is arguably one of the best parks to see the biggest cat in India. This is not a recent development, for almost 25 years now Bandhavgarh has topped charts time and again, for the best and most tiger sightings. It was this National Park that laid the foundation for Wildlife Tourism in India. For the first few years, it was solely responsible for the exceptional growth of the wildlife tourism industry. Fun fact: Bandhavgarh recently completed 50 years of being a national park, and 25 years of being a tiger Reserve!
The state of Madhya Pradesh is teeming with wildlife and national conservation sites that protect it. One of the most densely populated of these parks is Bandhavgarh. Despite its relatively small size (which still stretches upwards of 65 sq. miles), the park is considered by many environmentalists and explorers alike to be extremely significant in wildlife conservation.
A running joke among the natives of Bandhavgarh is that if you don't spot a tiger, you're really unlucky! Well, with a tiger safari tour all set up and ready for you, luck is on your side. The guided tour will give you a chance to delve deep into the rich historical and mythological connections of this lush landscape – one being its connections to the Ramayana epic. In fact the very name "Bhandav Garh" is a tribute to Rama's love for his dear brother Lakshmana.
Hop atop a jeep or an elephant and witness the magic of Bandhavgarh. You'll need to be packed well, camo clothing and binoculars are a must – as this park is home to over 200 species of mammals and birds.
Day 01 : Arrival in New Delhi
Upon arrival at the New Delhi Airport, you will be met by our representative who will ensure a smooth transfer to the Hotel and further, help you check-in at the Hotel. All the travel related documents will be handed over and explained to you. Overnight stay at the Hotel.
Day 02 : New Delhi - Jabalpur - Bandhavgarh Flight + Drive (124 miles/4 hours)
Post early breakfast, check out of the Hotel. Our driver will transfer you to the Domestic Terminal of the New Delhi Airport. Board a flight from New Delhi to Jabalpur. On arrival at Jabalpur Airport, you will be met by our representative, who will assist you with a smooth transfer in a chauffeur-driven vehicle, to Bandhavgarh National Park. This is a 200 km drive which will take approximately 04 hours on the road. The last 20 km before entering Bandhavgarh is where your journey truly begins. Adrenaline will be at an all-time high as all you see from the car window is an expanse of forest on either side of the road. Try spotting some wildlife if you can!
If this is your first wildlife safari in India, then be rest assured that it won't be the last. Bandhavgarh tends to be a life-changing experience for people. On arrival, check into the Resort. Dinner and overnight at the resort.
Day 03 - 04 : In Bandhavgarh National Park
All meals and overnight at the Lodge.
Begin your day early with a rejuvenating cup of tea and prepare for an early morning tiger safari in Bandhavgarh national park. Bandhavgarh is mainly known for its tiger population. While he is the star of your trip, the park is full of other wild attractions as well, like Leopards, Blue Bulls, Indian Gaur (Bison), Chausingha (Four Horned Antelopes), Spotted Deers, Sambar Deer, Wild Boar, Sloth Bears, Fox, Jackals, Wild Dogs, etc. There are at least 22 mammal species and about 250 bird species in the Park. The reptile population in the park includes Cobras, Kraits, Vipers, Ratsnakes, Pythons, Monitor Lizards and turtles. The two primate species – Rhesus Macaque and Hanuman Langur – inhabit Bandhavgarh. Dinner and overnight at the resort.
Day 05 : In Bandhavgarh National Park
All meals at the resort. Morning and evening jeep safaris to the park.
Bandhavgarh has been at the center of human activity and settlement for over 2000 years, and there are references to it in ancient Hindu books (Narad-Panch Ratra and the Shiva Purana).
The oldest sign of habitation in the park are caves dug into sandstone, facing north of the Bandhavgarh Fort. Most of them are painted with Brahmi inscriptions dating from 1st century B.C. A number of Dynasties have ruled the Fort, for example, Maghas from 1st century A.D., and Vakatakas from 3rd century A.D. Ever since then, Bandhavgarh was ruled by various dynasties, including the Chandela Kings. Bandhavgarh became more and more deserted until forests overran the area and it became the royal hunting reserve. At independence, Bandhavgarh remained a private property of the Maharaja until he gave it to the State, which later converted to a National Park in the year 1968.
After the park was created poaching and hunting were brought under control and the animal count rose drastically. The one species that prospered in particular were tigers. A generous increase in the forest boundary provided much-needed space for the Big Cats to move around and flourish. Overnight at the resort.
Day 06 : Bandhavgarh - Jabalpur - New Delhi (124 miles/4 hours Drive + Flight)
Post an early morning safari and a hearty lunch, check out of the resort. Drive to Jabalpur Airport. The total distance is 200 km and should take you approximately 04 hours. Board a flight from Jabalpur back to New Delhi. Arrive at the New Delhi Airport and transfer to your hotel or to the International Terminal for an onward flight back home.
Feel free to get in touch so we can help you decide better. Our wildlife tour experts will guide you on everything. You can also request a custom tour package.
About Bandhavgarh National Park
Doing a Tiger Safari in Bandhavgarh National Park is always exciting. The Jungle is engulfed in the Bamboo and Sal thickets, with history binding the past and present of the Bandhavgarh Tiger Reserve. The nook and crannies of Bandhavgarh are well observed by the guides and drivers. Experts behind the wheel and of folklore, it is their expertise on the Tiger and other wildlife of Bandhavgarh that ties together the entire Tiger Safari experience perfectly.
In all national parks in India they say that you have to be lucky to see a Tiger. But in Bandhavgarh National Park you have got to be unlucky to see only one Tiger. Hence this makes Bandhavgarh the most preferred national park for all tiger lovers. We have always believed that there are two kind of tourists, one who come only to see tigers and the second who wish to see general wildlife and birds also along with tigers. Bandhavgarh National Park manages to satiate both the tourist categories substantially.
It is not only the Tiger sightings here, but the natural and archaeological setting that makes Bandhavgarh special. The Bandhav-Dhish temple of the Bandhavgarh fort as seen from the Chakradhara Meadow, or the back of the fort as seen from Sehra meadow makes Bandhavgarh a picturesque park. Visiting the Badi Gufa and seeing the caves of the Yogis who meditated here centuries ago gets you thinking about the once beautiful past of Bandhavgarh. The view of the Vindhyanchal hill range from Sita Mandap will force you to stop here for few minutes as the beauty of the place will freeze you with awe.
Bandhavgarh is a relatively small park compared to some other parks, and that makes it a high tiger density park. There are other parks as well where the tiger sightings are good, like Ranthambhore, Kanha, Tadoba, and Pench, but the X factor in favour of Bandhavgarh is the high chances of sighting tigresses with small cubs. It is the abundance of water and prey here that makes a lot of Tigers comfortable in the zones of Tala, Magdhi, and Khitauli. Lately some wild Elephants from the neighbouring states of Chattisgarh have also made Bandhavgarh their home. A herd of over fifty Asian Elephants spends most of its time in Khitauli zone, and sometimes moving into the other zones too!
Popular Fauna at Bandhavagrh National Park
Related Tiger Safari Tours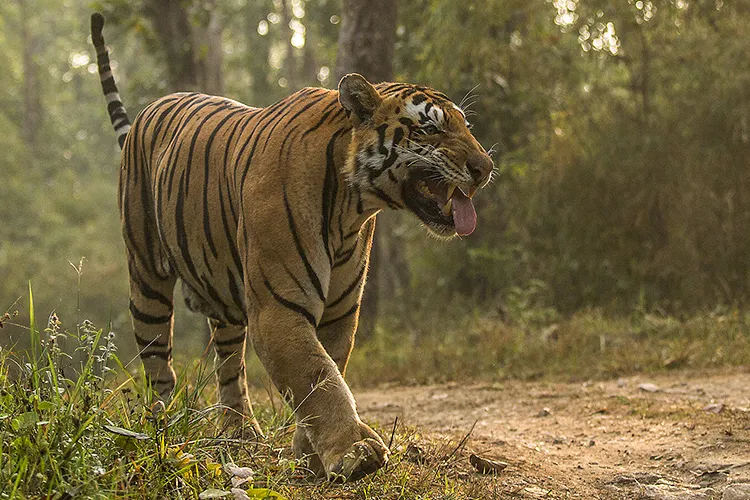 Keep your eyes peeled and your ears tuned in for the purest tiger safari tour package. An adventure inspired straight out of Rudyard Kipling's "The Jungle Book".
From the laps of nature to the architectural elegance of ancient India, this tiger safari tour offers an all-round wow factor for the curious traveller.
Three breathtaking locations, and one full-fledged wildlife safari tour. It's the ideal package to consider if you're on a family vacation.
Frequently Asked Questions
Please fill the form below and our team will get back to you within 24 hours with a perfect tiger safari tour package.