Dhikala Forest Rest House, which is situated in the centre of Corbett National Park in Uttarakhand, India, serves as a haven for both nature lovers and wildlife photographers. This rest house provides a special opportunity to immerse oneself in the alluring environment while being tucked away among the park's lush vegetation and varied vistas. Due to its advantageous location along the Ramganga River, tourists may enjoy an unbroken display of wildlife, including beautiful tigers, powerful elephants, colourful bird species, and secretive leopards. People who want to see the wonders of nature up close are drawn to Dhikala because of its rustic charm and the surrounding area's unadulterated beauty.
Why is Dhikala Forest Rest House popular?
Due to its unrivalled access to some of India's most famous animal habitats, Dhikala Forest Rest House is a favourite among wildlife enthusiasts and photographers. The rest house acts as a point of access to the park's central areas, enabling visitors to explore its wilderness without the customary limitations. Because of the unfettered access, there are extraordinary opportunities to see and photograph wildlife in its natural settings, providing a thrill and intimacy that are unmatched anywhere else. Dhikala offers photographers an unmatched canvas on which to paint their views of untamed nature, whether they are tracking the trails of secretive predators or capturing the beautiful flight of unusual birds.
Additionally, both novice and experienced wildlife enthusiasts will find Dhikala to be the perfect destination due to the area's abundant biodiversity and diverse landscapes. A wide variety of animal and bird species are guaranteed by the park's mosaic of grasslands, riverine belts, deep forests, and steep terrains. An setting that is nothing short of a paradise for individuals who are passionate about the natural world is created by this profusion of life and the opportunity to see unusual behaviours and relationships. Wildlife enthusiasts and photographers seeking a closer relationship with nature are drawn to the chance to observe the unadulterated struggles and peaceful coexistence of many species, making the Dhikala Forest Rest House a symbol of their common passion.
Here are some frequently asked questions about the Dhikala Forest Rest House in Corbett National Park.
Frequently Asked Questions about Dhikala Forest Rest House
What is Dhikala Forest Rest House?
Dhikala Forest Rest House is a government-run accommodation facility located in the heart of Corbett National Park, Uttarakhand, India. It is one of the oldest forest rest houses in the park and offers visitors a chance to stay amidst the wilderness.
How can I book a stay at Dhikala Forest Rest House?
You can book a stay at Dhikala Forest Rest House through the official website of Corbett Tiger Reserve or the website of the forest department of Uttarakhand. You can also contact the Corbett National Park administration office for bookings or write to us.
Book your tiger safari in Dhikala, Corbett.
What are the accommodation options available at Dhikala Forest Rest House?
Dhikala offers various types of accommodations, including forest rest houses, cabins, and dormitories. The forest rest houses are categorized as Old Forest Rest House, New Forest Rest House, and Dhikala Annexe.
When is the best time to visit Dhikala Forest Rest House?
The best time to visit Dhikala is from November to June, during the park's opening season. The park remains closed from July to mid-November during the monsoon season.
Is a permit required to visit Dhikala Forest Rest House?
Yes, visitors need to obtain permits from the forest department to stay at Dhikala Forest Rest House and enter Corbett National Park.
How can I get to Dhikala Forest Rest House?
Dhikala Forest Rest House can be reached by road from major cities like Delhi, Dehradun, and other nearby towns. The nearest railway station is Ramnagar, and the nearest airport is Pantnagar.
Are safaris included in the stay package?
Safaris are included in the stay package. You don't need to book safaris separately.
What safety practices & protocols are deployed by the Dhikala FRH Management?
Dhikala forest rest house is protected from all sides by a solar power fence. People are not allowed to roam near the boundary at night and the main gate is closed after the last safari vehicle enters the facility. For any emergency situation the forest department is well equipped with necessary equipment.
What are some of the unique features of Dhikala FRH when compared with Gairal FRH?
Dhikala FRH and Gairal FRH, both situated in Corbett National Park, offer distinct experiences in the lap of nature. While Dhikala FRH boasts its prime location amidst expansive grasslands and the scenic Ramganga river flowing nearby, Gairal presents a different charm with its lush forests and proximity to the Dhela River. Dhikala provides a higher chance of spotting wildlife directly from the premises due to its strategic positioning. On the other hand, Gairal, surrounded by thick vegetation, offers a more secluded and intimate atmosphere. Each FRH offers a unique gateway to the wilderness, catering to diverse preferences of nature enthusiasts.
Is proper food & meals available at the Dhikala FRH? Are meals included in the plan or bought separately? What are the charges per person per day?
Meals are separate and they have a state run canteen which serves delicious though simple meals. The charges for meals per person per day comes around a thousand rupees.
How much time does it take to reach Dhikala FRH from the park gate? Is the drive smooth or bumpy?
It takes approximately two hours, metal roads are there but are not very smooth which actually checks the speed of the vehicle. The journey from the gate to the rest house is in itself a safari experience as you pass through the jungle and you might get to see some beautiful wildlife on the way.
Is transport and stay at Dhikala FRH comfortable for children and senior citizens?
Yes it is, but please note some of the stay facilities are not wheelchair friendly in Dhikala Forest Rest House.
How many safaris are recommended per day for tiger sightings at Dhikala?
Though Dhikala always has a good tiger sighting and is known for that, it always depends on luck. If you sighted a tiger or not in Dhikala but always remember the kind of experience you get here you don't get it anywhere else.
Book tiger safari tours in India.
Which all tigers are popular in the Dhikala zone?
Dhikala zone is mainly known for Parwali and Ped wali tigresses and for their sub adult cubs, but always remember tiger social life is very dynamic and they can't hold the same territory for very long period so it might possible by the time you visit Dhikala you might get different resident tigers.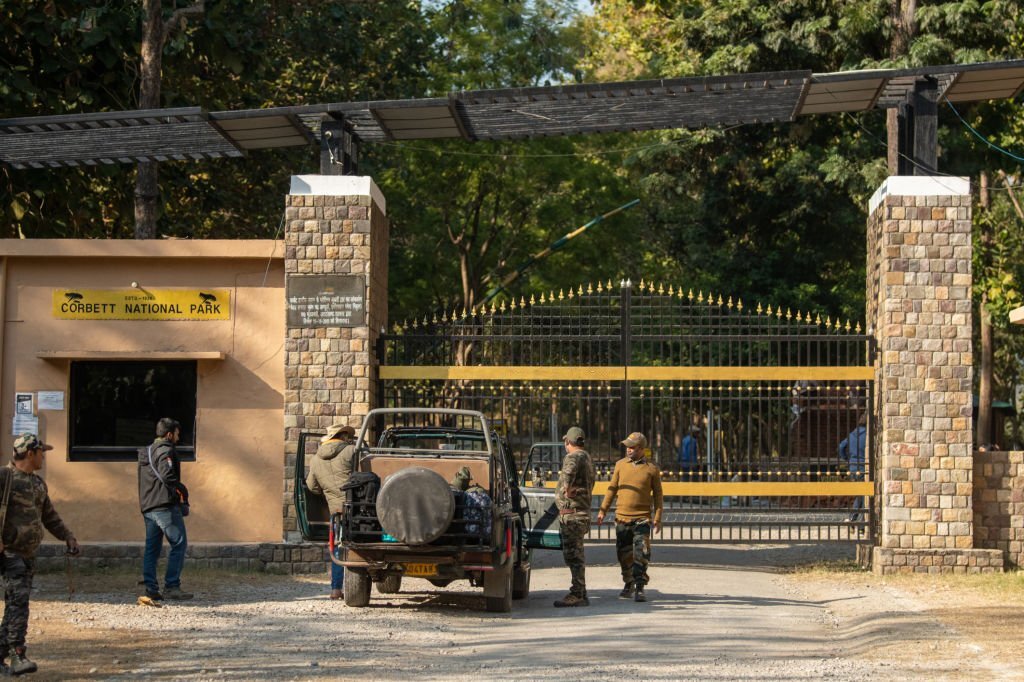 Other than wildlife, what are the other attractions of Dhikala zone?
Beautiful scenery at the time of sunset and sunrise is another attraction apart from wildlife.
What are the food/meal timings at the Dhikala FRH mess/canteen?
Breakfast 8:30 to 10:30 AM, Lunch 1:00 to 3:00 PM, Dinner 7:30 to 9:30 PM.
How many days are recommended for experiencing Dhikala, staying at the FRH?
Two to three nights stay at Dhikala is good for experiencing the area and wildlife.
Can wild animals enter the Dhikala FRH?
No, the FRH is very well protected from big and potentially dangerous animals, but sometimes you might see snakes and small mammals inside the campus.