Species of Elephants – African and Asian
Historically elephants were classified into two species, the African (Loxodonta africana) and Asian (Elephas maximus) elephants. However,  the African elephants are further classified into other two subspecies of African elephants, namely the savanna (Loxodonta africana africana) and forest (Loxodonta africana cyclotis) elephants.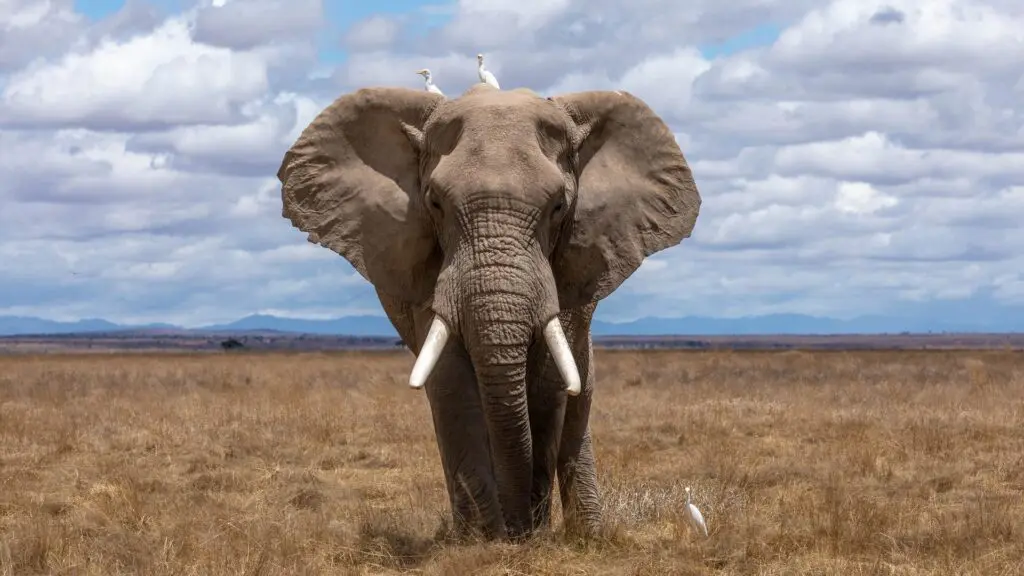 Elephants are known as "ecosystem engineers" they play a vital role in their natural habitat, helping maintain the rich biodiversity of the spaces they share with other wildlife around them. Their dung is full of seeds that they have eaten helping the plant species spreading all over the habitat. In the dry season, they dung up dry riverbeds from their strong trunk and making water holes which in turn other wildlife use them quench their thrust. In the Savana, they uproot any trees and sapling clearing and keeping the grassland open. In the forest, they keep feasting on trees and shrubs keeping the path clear for smaller habitats.
Distribution of Elephants – Where are they found
The African elephants of Savana inhabit in eastern and southern regions of Africa, while Forest elephants primarily inhabiting western and central Africa. Indian elephants are found in southern, eastern, and south-eastern parts of Asia.
The Range States for the Forest Elephant: Benin, Burkina Faso, Cameroon, Central African Republic, Congo, Democratic Republic of Congo, and in many other parts of Africa.
The Range States for the Savanna Elephant: Angola, Botswana, Burundi, Chad, Eritrea, Ethiopia, Kenya, Tanzania, Zambia, and Zimbabwe and in many other parts of Africa.
The Range States for the Indian Elephant: Bangladesh, Bhutan, Cambodia, China, India, Lao PDR, peninsular Malaysia, Myanmar, Nepal, Sri Lanka, Thailand, and Vietnam.
Habitat of African and Asian Elephants
Elephants inhabit a diverse array of habitats including tropical forests, savannas, grasslands, and woodlands.
Savannas are characterized as grasslands with widely scattered trees. They generally have distinct dry and rainy seasons.
Dry Season: Usually between June and November
Rainy Season: Usually from October to December and March to June
Grasslands are characterized as having cold winter temperatures. Seasonal droughts, occasional fires, and grazing by large mammals prevent woody shrubs and trees from becoming established. Grassland soil is very nutrient-rich and perennial grassroots are often deeply embedded.
Woodlands are characterized as an area covered with trees and shrubs. Woodlands differ from forests by having a large, open canopy with sunlight filtering between treetops. Forests have a largely—closed canopy in which sunlight does not readily filter through the treetops and almost continuous shade is provided.
Tropical forests are characterized as having little variance in temperature (around 23°C) and length of daylight (around 12 hours). However, rainfall varies considerably in the tropics and is a primary factor as to the type of vegetation that grows in an area.
Difference Between African and Asian Elephants
| | | |
| --- | --- | --- |
| Physical Differences | Asian Elephant | African Elephant |
| Head shape | Asian elephants have a twin-domed head with an indent running up the center of their head | African elephants have fuller, more rounded heads, and the top of their head is a single dome shape. |
| Shape and Size of Ears | Asian elephant's ears are smaller and more semi-circular | African elephants have much larger ears, shaped a little like the continent of Africa. |
| Size & weight | Asian elephants weigh 5,500 kg (about 6 tons) and, at most, are 3.5 meters tall at the shoulder (11.5 feet). | African savanna elephants are about 8,000 kg (9 tons) and are between 3 and 4 meters tall (between 10 and 13 feet) at the shoulder. African forest elephants are a bit smaller than their savanna counterpart |
| Appearance & size of tusks | Only male Asian elephants grow tusks. However, it's worth noting that not all male Asian elephants grow tusks. Female Asian elephants have rudimentary tusks called tushes, which can be also found in some males. | Both male and female African elephants grow tusks. But as with African elephants both sexes generally exhibit tusks, there are some cases without tusks. |
| The Trunk | The Asian elephant has only one 'finger' at the end of its trunk, which they compensate for by holding objects against the underside of their trunk. | African elephant trunk has two distinct 'fingers' which they use to pick up and manipulate objects. |
| Lower lip shape | Asian elephants have long, tapered lower lips | An African elephant's lower lips are short and round |
| Skin texture | Asian elephants have smoother skin | The African elephants' skin is more wrinkled as it is recently discovered that cracks and wrinkle allows holding more water in the body in helping to keep the animal cool and preventing dehydration in dry habitats |
| Number of ribs | the Asian elephants average of 20 pairs of ribs. | African elephants tend to have more ribs than the Asian species, with up to 21 pairs of ribs |
| Diet | Asian elephants are daintier eaters, preferring grasses, bamboo, and palms to tree saplings | African elephants act as ecological filters by breaking tree saplings and stripping them of their foliage |
| Lifespan | Asian elephants can live up to 60 years | African elephants can live up to 70 years |
Best places to see African elephants
Africa is one the most exciting places to go on a safari and elephants are perhaps the most fascinating mammals to watch out for you can watch them all day, and never get bored. The best time to go on a safari in Africa is in the dry season from June to September. And some recommended places where you can see elephants in Africa.
Chobe National Park, Botswana:

Mana Pools National Park, Zimbabwe

South Luangwa National Park, Zambia

Mashatu Game Reserve, Botswana

Amboseli National Park, Kenya
Best places to see Asian elephants
Asian elephants are found throughout South Asia but the major Asian elephants' population is in India. India has around 27000 elephants in the wild and Karnataka has the highest population amongst all-state. Best wildlife safari in India to witness the Asian elephants can be a tricky process, so here are some best wildlife safari destinations to see elephants in India.
Bandipur National Park:

Famous as a tiger reserve, Bandipur National Park also nurtures a large breeding population of Indian elephants. Spread over 874 sq km and forms a part of the Nilgiri Biosphere Reserve, which is known to be the largest habitat of wild elephants in India and South Asia. A safari ride in this national park also offers a panoramic view of the surrounding Nilgiri Hills.



Corbett National Park:

The first national park of India, Corbett National Park is located in the foothills of the Himalayas in Uttarakhand. Spread over 520 sq km, the park lies in three hilly districts – Nainital, Almora, and Pauri Garhwal. Corbett is famous for sighting Royal Bengal tigers but elephant sightings are not uncommon in this forest. The park nurtures a large breeding population of elephants. Dhikala is one the famous spot among wildlife enthusiasts to witness a herd of elephants making Corbett one of the best places for wildlife safari in India.
Kaziranga National Park:

A paradise for wildlife lovers, Kaziranga National Park is famous for – one horn rhino. Amongst the other major wildlife, the Asian elephant is one of the 'Big Five' of Kaziranga. The other three are the Royal Bengal tiger, wild water buffalo, and swamp deer. Kaziranga is a popular wildlife safari destination for seeing elephants in India as it harbors a large breeding population of Asian elephants.
Rajaji National Park:

The other beautiful national park of Uttrakhand is Rajaji National Park. Known among the best destinations for wildlife safari in India to witness Asian elephants is a part of the magnificent Shivalik ranges in Uttarakhand. Sprawling 820 sq km, the park lies near Rishikesh and Haridwar. Named after famous freedom fighter Sri C. Rajgopalachari, popularly known as "Rajaji.



Nagarhole National Park:

Lying between the Deccan plateau and the Western Ghats, Nagarhole National Park is one of the oldest national parks in India. Spanning 642 sq km, the park is a part of the Nilgiri Biosphere Reserve. Nagarhole is considered one of the best national parks to spot wild elephants in India. Kabini river is passing through the park is the main source of water in the park for wild animals. One can spot herds of Asian elephants near the river banks.
Also Read: Indian Wildlife vs African Wildlife