When it comes to Corbett it is Dhikala for me. Not only for its location but over a period of time, one builds a close relationship with the place. The people you know in the Dining room, the room attendant, the guides and drivers. It is like homecoming and I really look forward eagerly for my quarterly visit every year to Dhikala.
It was 24th Feb when I left New Delhi and arrived in Dhikala by lunch. Subsequently got ready for the safari. It started at 2 pm, and like every time we first check the popular Sambhar road. After all, it is a popular area as now 3 Tigresses visit this road. This road initially belonged to Chua Pani female alone, then Paro started to come over, and lately, the old Grassland female as well as started to mark her territory hereafter her daughter took over her traditional grassland area from her. Sambhar road is so much like Baba Thenga in Kanha or Magadhi zone in Bandhavgarh where the Tigers territory overlap.
Seeing nothing on Sambhar road we took the main road went up to one of the most beautiful parts of the park, Kamarpatta road. This is my personal favourite area of the park. Though this road does not witness much of Tiger sighting, the Sal forest here seems to talk to you. I can spend hours just by myself on this road. The silence, the solitude and the stillness in the area have a meditative effect on me. We came down from Mota Saal. Stood at the junction, and from there we saw a tusker in the water at a distance. We closed in and took some nice images of the tusker enjoying his time in the water. At a distance, we could see a small herd of Elephants, but this tusker seemed to enjoy being with himself, just like me in Corbett. The weather was clear, and some clouds in the sky made some nice painting like a backdrop.
Found the Tiger
We scanned all the roads in the grasslands, and there were no alarm calls in the area. Gradually we moved towards the Sambhar road again passing by the Dhikala campus. Stopped briefly to take images of a Collared Falconet, and a soaring Short Toed Snake Eagle. We moved on, and as we reached the Sambhar road we saw a canter (a mini-open safari bus) moving to slow ahead. My guide got excited and said the magical word that my ears were eager to listen to, 'Tiger'.
There was a Tigress ahead of the canter walking slowly, and marking her territory. This was none else than the Paarwali. Irshad told me that she was seen on this road after almost a week. We moved ahead while she moved into the bush for a while. But she returned pretty fast, and then she started to walk behind us. Intermittently, she would go, sniff at a tree, and do spray marking to tell other Tigers that she is in the area and that this area belongs to her. During such patrolling rounds once in a while, two Tigers meet accidentally, and what can ensue is a ferocious territorial fight. Just two years back this very road witnessed, Paarwali and Chua Pani Tigress exchange blows.
Both had cubs at that time, so they did not go full out. Some vehicles present witnessed this once in a lifetime duel. I have mentioned this in one of my other blogs about the different types of Tiger sightings, and I rate two Tigers fight as the most interesting of Tiger sightings.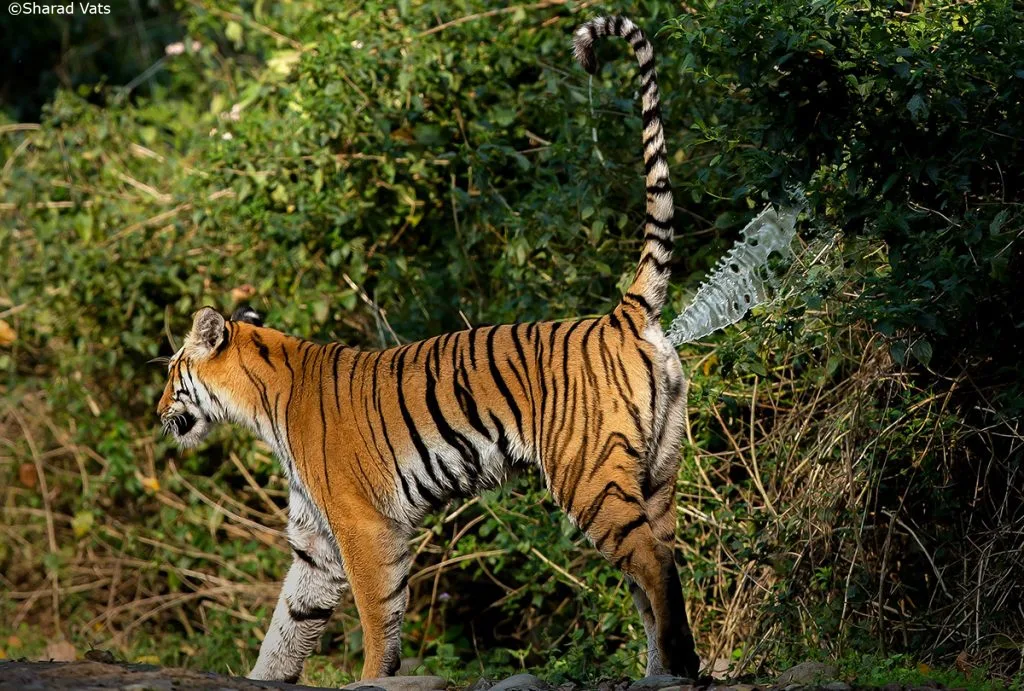 How Tiger Marks its Territory
We did not see any territorial fight, but seeing Paarwali mark her territory itself was very exciting. She was completely nonchalant about the presence of tourists and continued to do what she had come to do leaving her cubs. I saw her completely peace maybe because she was now not worried about her cubs which are about 5 months old as of now.
Her previous two litters have not survived for the simple reason that her territory has Leopards and couple of other tigers from the neighbouring areas. In both the previous litters she had given three cubs each. In the second litter, she was able to save one cub, who was turning out to be a heart-throb of all Corbett lovers. Popularly called as Nawab, he was bold and was about 9-10 months old when he was attacked by another Tigress. Paarwali came back in time and fought off the Tigress, but the injury inflicted upon Nawab proved to be fatal. He fought hard to survive but it is not easy to survive a Tiger attack, not even for a Tiger. And here Nawab was less than a year old. A lot of hearts broke when the news of his death was announced. But nature bounces back. Setbacks are only temporary. This time she has 3 cubs of more than a year and Paarwali is more relaxed now.
These three cubs are all female. How everyone wanted at least one male cub, for the simple reason that the sightings of male Tigers in Corbett is not so good. And like her, these three cubs are bold hence a male cub would have been good. But who can fight or dictate nature? The responsibilities of a Tigress are way too high, and she mostly fulfils them all diligently. There is another blog I am going to write on the 'Responsibilities of a Tigress'.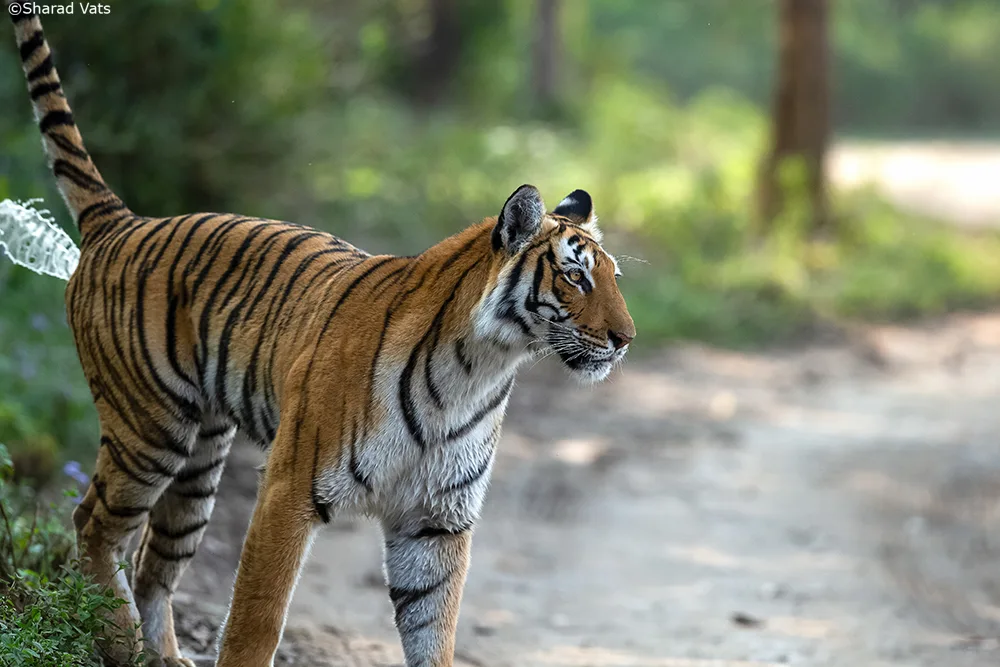 Paarwali finished her territory marking and crossed the Ramganga river back to get close to he cubs. During this sighting of about 10 minutes, she gave me several images to cherish. From the area she crossed the river, we anticipated that she will come out walking at the bridge near Gadiyaro But that was not to happen at least today. We waited and she did not turn up. No regrets, but the sun was now going down so we decided to head back to the Dhikala campus. Happy and something in me inside told me that tomorrow will be an even better day, as now she will come with her cubs. The cubs were kept in the grasslands area between Paar and Dhikala for almost 4 days, so they will surely show up somewhere. Will that be near Sambhar road, or in Paar was to be tracked and seen.
The happy faces in the campus suggested that everyone had a good sighting of Paarwali. Then I heard that one vehicle also saw a male Tiger immediately after Paarwali sightings. I was not so lucky this day, but I was already getting excited about the next day safari and hoping to see Paarwali and her cubs too.
Post dinner, I hit the bed, and I kept on seeing Paarwali in my dreams. It is not uncommon to see Tigers the same night when you have a Tiger sighting. It has happened many times, and I pray it keeps happening in future too. Along with the tiger tours in Corbett, experience the wildlife adventures at the two other national parks Kanha and Bandhavgarh, by choosing our Kanha, Bandhavgarh and Corbett tour package.
Born and brought up in New Delhi, it was Sharad's childhood passion to play cricket for India. While on a holiday in 1990, he saw his first tiger. Little did he know that this one sighting would immerse him into a realm where forests and tigers were all that mattered.
Sharad's experiences as a wildlife photographer have inspired him to observe the tiger's behavior for over 30 years and motivated him on his own journey as an entrepreneur. He started Nature Safari India Pvt Ltd, with a focus on "Conservation through Tourism." to align himself to the mission of saving the regal species and repopulating them in India's forests. In 2006, he set up one of India's premier jungle lodges in Kanha National Park.
Sharad believes that there are many lessons to be learned from a tiger that can be applied successfully to leadership—both in business and in life. Here's a new book by Sharad Vats on management and leadership skills to learn from a Tiger.