Every morning, as the residents of Nainital bustle about in their warm winter clothes enjoying a snow-capped winter, the Jim Corbett National Park comes to life in its full glory just a stone's throw away from the tourist hub. 
The Jim Corbett national reserve is a true biodiversity hub and a sight to behold for nature lovers. The pleasant climate and welcoming people are just another reason to visit. It truly is one of the finest tourist spots in India if you're looking for a destination that brings you up close and personal with nature. Booking a safari in the Jim Corbett National Park a no-brainer for adventure seekers.  
With the Himalayas as it's backdrop, the swift waters of the Ramganga river flowing beneath, and dense thickets of forest interspersed with grass, it's quite simply one of our favorite national parks in India. The park's biodiversity – both flora and fauna – is impressive. It encompasses a vast terrain of hills, marsh, grassland, riverbeds, and a lake and forms a part of the Himalayan subtropical eco-zone.
Flora of Corbett
The park is rich with over 521 square kilometers of biodiversity. It is unique for the blend of fresh-water and alpine flora, which accounts for over 600 species of plants. Chief among the flora is the Sal tree, which is considered a prime resource for timber. Other trees like Semal, Madaar and Kachnar are flower blooming, which gives the forest an eye-catching carpet of red, yellow, pink and orange blooms. 
Thick coats of shrubs like the Ber and Maror Phali serve as an essential source of food and shelter for the many little critters wandering about the dense landscape. 
From carnivores to herbivores, avians to amphibians and reptiles, (and of course an incredible range of insects and spiders!) the sheer range of life is utterly mind-boggling. It's a haven for photographers as there's no shortage of activity in this forest. This makes opting for a well-guided safari at the Corbett National Park quite necessary, as you wouldn't want to miss learning about the rich fauna that surrounds you.
Fauna of Corbett
Are you a bird lover? If so – this is your happy place. Corbett safari is the way to experience a whopping five hundred and fifty species of birds! From the Lesser Fish Eating Eagle to the Great Hornbill, Ultramarine Flycatchers to the Red Jungle Fowl, the sheer array of birds is a sight for sore eyes – and ears!
Corbett is also an amazing habitat for marine life – particularly the epic Wild Mahseer. The Himalayan waters are ideal for several species of fish.  It creates an excellent prey base for both the fish-eating birds and carnivores. There's a whole variety of frogs and toads and one can hear their chirping throughout the park. Reptiles abound in the park and it's a herpetologist's delight. Pythons, cobras, several species of lizard coexist with one another. Some of these snakes are even large enough to eat a whole deer!
The park is full of herbivores – particularly deer. From the spotted deer to the barking deer, Para (Hog Deer), make their home in this forest. Primates abound. Entire barrels of black-faced langur and red-faced Rhesus Macaque swing through the treetops, chattering and shrieking throughout the day. Wild Boar, Otters and the rare Himalayan Pangolin can be found here as well.
The Corbett National Park is one of only thirteen national parks that form the Terai biosphere – an ideal habitat for elephants. One can frequently spot wild elephants grazing or enjoying a splash in the rivers and streams that run through this jungle.
Project Tiger – Inspired By Jim Corbett
It's somewhat ironic that Corbett Park is named after Jim Corbett – the legendary big game hunter turned conservationist, who was one of the first people to highlight the importance of saving the species during the British Raj.
His admiration for the big cat and the alarming decline of the tiger species inspired the government of India to launch the Project Tiger Initiative in 1973. Tying up with WWF, Project Tiger sought to help rescue the dwindling numbers among the national animal. The initiative was a major success, with 49 national reserves now housing the species, and the Corbett National Park leading that line in numbers – 215 tigers and rising.
Corbett National Park – An Adventurer's Paradise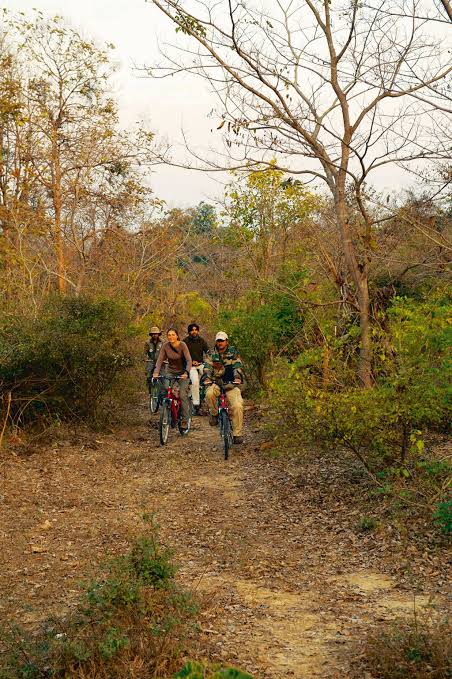 Corbett is always teeming with anticipation. As a blood-red sunrise sears the skyline, you never know what's waiting just around the corner. If you're looking to get the complete experience, book a safari tour at the Corbett National Park with Tiger Safari India. Our compact 4 Nights/5 Days package offers thrill-seekers a journey of a lifetime amongst the wild and wondrous. 
While on your safari tour, ensure to ask your guide about these favorite activities:
Embark on the classic jungle safari: 
The first thing you have to cross off your list is the jungle safari. Our safari guides have spent years mapping out the best possible routes along the wilderness, so you can be sure to catch a glimpse of animals in their natural habitat. Just make sure to be safely seated in your jeep, and have your eye and ears peeled to spot some of the apex predators in action.

Book a stay at a forest lodge:
While our tour package includes lodging at hotels in the city, the true adventurer in you can opt for lodging that is set in the midst of nature. There are many forest lodgings for you to choose from, which are built to give you snug comfort while ensconced in the heart of the forest.
The neighboring Ramganga river has two authorized spots where you can engage in the most popular leisure activity in town – fishing. The mahseer fish is a great catch in this region and offers adventurers a welcome break from the adrenaline rush of a tiger safari. 
Up the tempo with river rafting:
If the Ramganga river is for chills, the Kosi river offers nothing but thrills. If you are in the mood for a challenge, take part in grade 2 or grade 3 white water river rafting. 
Set up a picnic at Corbett Falls:
A 4-kilometer drive from the national reserve will take you to one of the most picturesque locations in the village – the Corbett Falls. This 66-foot waterfall complements the lush green, dense forest and offers the chance for a soothing picnic experience. 
The Corbett National Park appeals to everyone in every possible sense. It's not just the sights that are magical but also the sounds and the smells. The trumping of elephants and chirping of birds are a treat to ears. Above all, the freshness from the smell of woods and leaves makes every tourist return.
Eager to embark on the adventure of a lifetime? Drop us a line at www.tigersafariindia.com to learn more and plan a safari to the Corbett National Park today.
Enjoy 5days by sightseeing tigers and experience boating, fishing on the rivers, bicycle safaris, and walking safaris at Corbett park by choosing the Corbett National Park tour package.
Born and brought up in New Delhi, it was Sharad's childhood passion to play cricket for India. While on a holiday in 1990, he saw his first tiger. Little did he know that this one sighting would immerse him into a realm where forests and tigers were all that mattered.
Sharad's experiences as a wildlife photographer have inspired him to observe the tiger's behavior for over 30 years and motivated him on his own journey as an entrepreneur. He started Nature Safari India Pvt Ltd, with a focus on "Conservation through Tourism." to align himself to the mission of saving the regal species and repopulating them in India's forests. In 2006, he set up one of India's premier jungle lodges in Kanha National Park.
Sharad believes that there are many lessons to be learned from a tiger that can be applied successfully to leadership—both in business and in life. Here's a new book by Sharad Vats on management and leadership skills to learn from a Tiger.