Kanha National Park is a wildlife sanctuary situated in the core of the Pench Tiger Reserve and is bounded by the state of Madhya Pradesh. The Kanha National Park is one of the oldest national parks in India and was founded on 13th June 1935. The name of the park is believed to be derived from Kanhar, a clayey soil found in the area.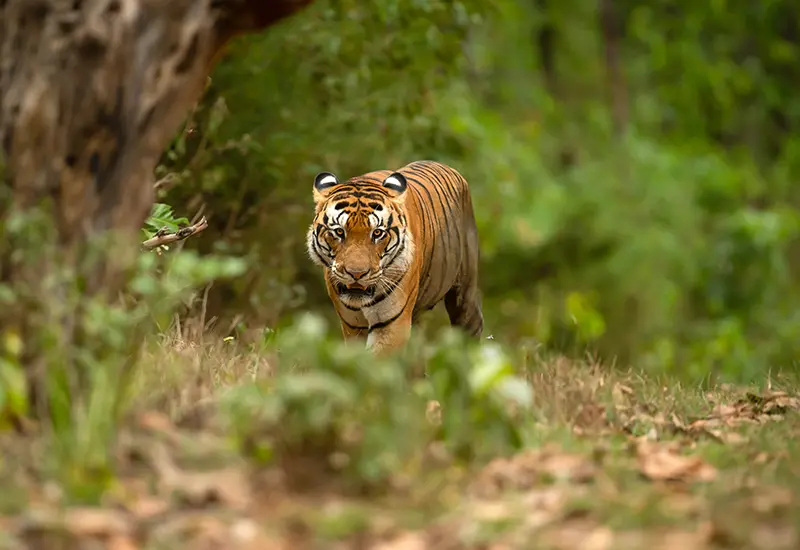 Today, it is considered as one of the most famous national parks in India. The high popularity amongst tourists and wildlife enthusiasts is based upon its well-earned reputation for being an excellent place to spot a large number of flora and fauna species.
If you're planning a nature safari in India, Kanha National Park is a great option, and these 7 big reasons will prove just why.
The Setting
Rudyard Kipling's "The Jungle Book" had such an immersive and entertaining story, and a big reason for that is its setting. The book is a fairytale representation of Kanha's scenic, natural and breathtaking beauty. Why just read your kids the book when you can give them real-life experience?
As you enter the park's premises, you will be enveloped by massive sal trees – a highlight of Kanha. Sal trees cover 60% of the total forest landscape, which has a vital effect on Kanha national park's climatic conditions. The unique, evergreen carpet formed by the sal tree leaves plays host to some of the most diverse wildlife found in the country. Every part of this timber-rich tree serves as a natural resource for human livelihood.
The park is fully open to public visits between the months of October and May, which is when the lush vistas of Kanha give off an old-world welcoming, and comforting charm. Even the local residents love playing host, giving you an opportunity to truly immerse yourself in a more traditional lifestyle while on tour.
The Call of the Wild
There is no denying that Kanha's major attraction is the wildlife. From the get-go, the place will leave you stunned with its sheer variety of unique flora and fauna. Just the numbers game is enough to keep you buzzed – 43 mammal species, 26 reptiles species, 50 aquatic species, 320 species of avifauna and over 800 species of plant life!
One does not finish a Kanha tour without spotting the biggest attraction of them all – the Royal Bengal Tiger. This once endangered species is now thriving in the wilderness of the National Reserve. Other endangered subspecies of the tiger are also witnessing a revival, all thanks to committed conservation efforts.
Another super rare species is the Hard Ground Swamp Deer, locally referred to as the Barasingha. It was the successful conservation of these majestic deers that led to Kanha's conservation fame.
Other favorites to spot are the big cat families of leopards and jaguars, and the occasional appearance of wild dogs, boars, sambar deer, and jackals. While these animals are a common sight, the real challenge comes with pairing binoculars and trying to spot a feathered friend.
For lovers of lush landscapes and picturesque moments, Kanha offers the finest spread of plant life in the area. From majestic, to elegant to essentially medicinal, every plant species has a way of making you stop, stare and take in the memory.
The Adventure
If you think Kanha was simply a treat for the senses, you should think again. Adventure seekers will find all they could ask for in an adrenaline-pumping journey across the landscapes of the National Park. From endurance-testing nature trails to soul-soothing picnic hotspots, the trip will keep you asking for more.
Owing to its rich environmental and cultural history, Kanha can be both educational and entertaining at once. A trip to the national museum will bring you up to speed on all there is to learn about the park's foundations, and visiting local communities will get you closer to the way of life of the reserve's neighbouring inhabitants.
The Jeep Safari of the National Park continues to be one of the top thrilling activities to be a part of. Or, if you want a whole new perspective, hop aboard an elephant! Kanha will also keep you on your toes through its many nature trails and campaign hotspots.
Explore our Popular Tiger Safari Tours in India.
The All-Round Experience
If you've booked your adventure smartly and done so through the best tour operators in India, your Kanha adventure will only get better. A proper week's worth of planning will let you discover attractions beyond the wildlife reserve.
So many more activities like sightseeing, local shopping and, if you're lucky, even fishing can be accomplished. The lodgings around the National Park are plenty; some give you the vibes of your home setup, while others leave you resting in the laps of nature.
Book a wildlife safari in Kanha, and experience the optimum family-friendly tour that will have your photo gallery overflowing with moments to cherish for a lifetime.
Find out more about Kanha National Park on our Kanha National Park Traveller's Guide 
Born and brought up in New Delhi, it was Sharad's childhood passion to play cricket for India. While on a holiday in 1990, he saw his first tiger. Little did he know that this one sighting would immerse him into a realm where forests and tigers were all that mattered.
Sharad's experiences as a wildlife photographer have inspired him to observe the tiger's behavior for over 30 years and motivated him on his own journey as an entrepreneur. He started Nature Safari India Pvt Ltd, with a focus on "Conservation through Tourism." to align himself to the mission of saving the regal species and repopulating them in India's forests. In 2006, he set up one of India's premier jungle lodges in Kanha National Park.
Sharad believes that there are many lessons to be learned from a tiger that can be applied successfully to leadership—both in business and in life. Here's a new book by Sharad Vats on management and leadership skills to learn from a Tiger.