About Tiger Safari in Dudhwa Tour
Located in the State of Uttar Pradesh (North India), it will be unfair to call Dudhwa anything but beautifully bio-diverse. Call us biased if you wish but once you experience and breath in everything Dudhwa has to offer, you will have similar thoughts. The Park came into limelight because of Billy Arjan Singh, the man who 'found' this hidden treasure. Part of the most beautiful Terai Forests of India located in the Upper-Gangetic Plains, these protected forests are formed by Moist Deciduous, Evergreen Forests and Alluvial Plains on the doab of the Mohana and Suheli Rivers.
What makes Dudhwa National Park really interesting are its areas. Katerniaghat, another hidden gem, about 85 kms from Dudhwa, is a Ghariyal breeding center. Another Sactuary, Kishanpur, is just 25 kms away. Linked to Pilibhit Tiger Reserve, it can be easily be clubbed with Dudhwa and Katerniaghat, to make a wonderful 5 night program here.
A jeep tiger safari in Dudhwa or rowing down slowly on the river observing the winter birds, the crocodiles and the beautiful grasslands and the forested hills beyond them. At every turn, there are unique species to see – which makes Dudhwa truly a paradise for Nature Lovers.
Day 01 : Arrival in New Delhi
Upon arrival at the New Delhi Airport, you will be met by our representative. He will ensure a smooth transfer to the Hotel and further, help you check-in at the Hotel. All the travel related documents will be handed over and explained to you. Overnight stay at the Hotel.
Day 02 : New Delhi – Lucknow – Dudhwa (Flight + 250 kms /5 hrs drive)
In the morning, eat an early breakfast and transfer to the Domestic Terminal of the New Delhi Airport, to catch a flight to Lucknow. On arrival at Lucknow, you will be met by our representative who will drive you up to Dudhwa. It will take you approximately 05 hours on the road to cover a total of 250 km. Upon arrival in Dudhwa, check-in at your lodge.
Eat a quick lunch and head out for your first-afternoon safari to the National Park. Situated in the heart of the subcontinent's Terai grassland, Dudhwa lies on the border of India and Nepal, and covers a vast swathe of wilderness. Dinner and overnight stay at a Hotel.
Day 03 : In Dudhwa National Park
Take an early morning game drive into the park's environs for your first foray into this natural paradise. The alluvial soils of its rivers and the natural fertility of the Indo-Gangetic plains give it an unrivalled feeling of lush, raw beauty. This is an ancient stretch of forest, with Sal trees that top 100 feet in height and are over 150 years old! Not only is it prime territory for Tigers and Elephants, but it is also one of the few natural habitats for the highly endangered One-horned Indian Rhino. This will also include an Elephant ride to see Rhinos in their protected area.
Return to your lodge for lunch and relax before heading out into the Park once again for an afternoon game drive. Return to your lodge after sunset in time for dinner. Take the rest of the evening at leisure. Meals and overnight stay at the lodge.
Day 04 : Kishanpur National Park
Take an early morning drive to the Kishanpur Wildlife Sanctuary. This will approximately take 25 minutes from Dudhwa. Kishanpur is a birders paradise, particularly at this gorgeous water body called Jhaadi Tal. In cooler periods migratory birds from across the northern hemisphere come here in flocks to spend the winter months. Drive around this lake which connects to the Sharda river is a peaceful experience. Just climb onto one of the watchtowers, preferably number one, and enjoy the view of Swamp Deer, Crocodiles, and thousands of migratory birds in the lake.
This is also a good place for Tigers to ambush, and also the Leopards. Though a very small area is open for tourism in this sanctuary but that is the best part, you get to enjoy more from the watchtowers, and do some photography from the hide created for this purpose. Overnight stay at the Lodge.
Day 05 : Kishanpur Sanctuary – Katarniaghat (90 kms/2 hrs drive)
This morning, you will be driving to the neighboring park of Katarniaghat. which is approximately 90 km, a two-hour drive. Enter the territory of the park and take a scenic boat ride to see the rare Gangetic Dolphin, Gharial Crocodiles, and several species of birds. Katarniaghat's swamps and marshy wetlands are an ideal habitat for birds and during cooler periods, you will find several species of migratory birds here.
Katarniaghat is also home to the Tiger and several smaller felines, as well as reptiles including Pythons, Sand Boas, Crates and Vipers. Return to Dudhwa for overnight in the Lodge.
Day 06 : Dudhwa – Lucknow – New Delhi (250 kms /5 hrs drive + flight)
After a short game drive of about 3 hours to the National Park, eat a quick breakfast and drive to Lucknow to board a domestic flight to New Delhi. Upon arrival at New Delhi, our representative will assist you with transfer to the International Airport, or check-in at a Hotel in New Delhi.
Feel free to get in touch so we can help you decide better. Our wildlife tour experts will guide you on everything. You can also request a custom tour package.
Related Tiger Safari Tours
Combined, these two parks stretch across one of the longest natural landscapes in India. Your eyes will not miss the large herd of elephants!
Explore two national parks for Tiger Safaris in India – Corbett and Sariska National Park, alongside the famous golden triangle of India.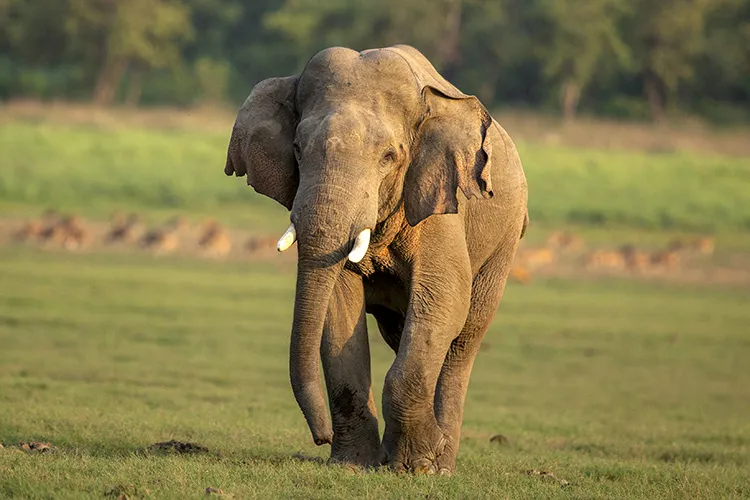 If you've got a wide-angle lens and a knack for keen observation, these tiger safari parks are the perfect place to view the big cat and asian elephants.
Frequently Asked Questions
Please fill the form below and our team will get back to you within 24 hours with a perfect tiger safari tour package.