Luxury Tiger Safari and Cultural Tour in Rajasthan
On this luxury Rajasthan safari tour, liberate your senses as you travel across the picturesque state of Rajasthan. Your tour here is going to be unforgettable experience owing to the landscape, which is comprised of a medley of palaces, busy bazaars, and awe-inspiring hues. 
Ranthambore National Park, where tigers roam the ancient ruins that belonged to "maharajas," serves as the starting point of your luxury Rajasthan safari tour.
As you continue on this Luxury Rajasthan Safari tour, you will not only travel through the magnificent landscapes of regal cities like Jaipur, Jodhpur, and Udaipur, but you will also get the chance to see the majestic grandeur of the Taj Mahal in Agra.
At the end of the day, relax in Delhi's cultural enclave and acquaint yourself with a variety of timeless historical sites. This thrilling but opulent Rajasthan Safari Tour will surely be one to reminisce.
18 March' 23 : Arrival in New Delhi
On arrival at the New Delhi Airport, a representative from Nature Safari will meet you at the airport arrival hall, holding your name card. He will be accompanied by the chauffeur and an air conditioned SUV waiting to transfer you to your hotel. On arrival at the hotel, our personnel will also assist you with a smooth check-in, while handing over any paperwork necessary for the trip. Overnight at the Oberoi New Delhi.
19 March' 23 : New Delhi – Agra (by surface – 220 Kms, 4-hour drive)
After a scrumptious breakfast, check out and drive to Agra, 220kms, 4-hour drive. On arrival check into hotel. Later proceed to visit the red sandstone AGRA FORT which stands like a crescent on the banks of Yamuna River enclosed by forbidding 20-meter high walls, with a 12- meter moat between them. Three successive Mughal emperors – Akbar, Jehangir and Shah Jehan – helped create this massive structure which contains Hindu and Muslim architecture.
Overnight at Oberoi Amarvilas.
20 March' 23 : Agra – Ranthambhore (by surface 260 kms, 5-hour drive)
At sunrise, proceed to visit the famous white marble mausoleum, The Taj Mahal, which was built in the middle of the 17th century by the Moghul emperor Shah Jehan for his wife Mumtaz Mahal.
Completed in 1652, skilled craftsmen from Persia, Turkey, France and Italy and some 20,000 labourers worked for 17 years to build this edifice. [The Taj is closed on Friday].
After relaxed breakfast check-out from the hotel. Later drive to Ranthambhore national park 260 kms, 5-hour drive. On arrival check into lodge. After lunch proceed for afternoon jeep safari. Overnight at Oberoi Vanyavilas Ranthambore.
21 March' 23 : In Ranthambore National Park
Morning and afternoon private game drives in the park. All meals and overnight at Oberoi Vanyavilas Ranthambore.
Ranthambore is one park which will give you all the angles, lighting, backdrop, and many frames of different kinds. It is also rich in bird life with around 300 species of birds. In fact, for a keen bird watcher Ranthambhore and the surrounding area is a paradise. Some interesting resident species of birds are large Cormorant, Painted Spurfowl, Sarus Crane, Bronzed winged Jacana, Sandpiper, Kingfisher, Nightjar, Painted Sandgrouse, Great horned owl and many more regular winter migrants which come from their nesting ground north of Himalayas to Ranthambhore and surrounding areas.
22 March' 23 : In Ranthambore National Park
Morning and afternoon private tiger safari in Ranthambore. All meals and overnight at Oberoi Vanyavilas Ranthambore.
Ranthambhore with an area of 400 sq. km encompassing rocky hill crests which descend to open valleys between the Aravalli and Vindhya ranges, dotted with water pools and fruit trees, this park gets its name from the thousand-year-old fortress, which looms above the forest. Well known for the diurnal activity of tigers, Ranthambhore is a very special and unusual area where a natural present meets a historical past. Sambar, cheetal, chinkara, nilgai and languor. The elusive leopard and tigers are found in this reserve with tourists standing a very good chance of seeing tigers during the safaris.
Dotted across the landscape are the crumbling ruins of its past glory, be it chatris or cupolas, like palaces or old guard posts, all of which reinforce the magical and ethereal quality of this great wilderness. 
23 March' 23 : Ranthambhore – Jaipur (by surface 180 kms,3 hrs drive)
Morning jeep tiger safari in Ranthambore national park. After a relaxed lunch drive to Jaipur 180 km/3 hrs drive. On arrival check into the hotel. Overnight stay at the Oberoi Rajvilas.
This morning you will drive 11 km in the outskirts of the city stop at Jal Mahal to visit Amber Fort, the ancient capital of the State until 1728. Visit the Temple of Kali, the Hall of Victory or Jai Mahal.
Later visit the Observatory, the Palace of Winds and the City Palace and Museum. The museum has an interesting textile section, which contains dresses and costumes of the former Maharajas. And Maharanis of Jaipur. Overnight stay at Oberoi Rajvilas for a luxury accommodation experience in Jaipur.
25 March' 23 : Jaipur – Pali (by surface 270 Kms, 4.5 hrs. drive)
Morning after the relaxed breakfast check-out from hotel. Later drive to drive to Pali for 270 Kms, 4.5hrs. On arrival transfer to hotel. Chcek – in at Brij Laxman Sagar.
Spread over 32 acres of land, our boutique hotel in Pali is an oasis located in a serene rural setting. It offers 12 independent cottages with private pools, a historic man-made water catchment, a hand-carved swimming pool on top of a rock hill with an air of tranquillity. The re-conceptualization of Brij Lakshman Sagar is manifested through the endless detailing in the architecture and design, the cuisine, and the well-thought activities and non-activities tailor-made for the guests amid a captivating, natural topography, ideal for mindless relaxation. Overnight stay at Brij Laxman Sagar.
26 March' 23 : Visit to Jodhpur
Morning go for city tour of Jodhpur for 143 Kms, 2 hour drive. Visit Meharangarh Fort – Mehrangarh Fort is an ancient hill fort situated in Jodhpur City. Then proceed to Umaid Bhawan Palace is a royal palace located on Chittar Hill in Jodhpur City of Rajasthan, India. It is one of the world's largest private residences and also one of the popular Jodhpur tourist places. 
Also visit Jaswant Thada is a royal cenotaph located near Mehrangarh Fort entrance in Jodhpur city of Rajasthan state. It is famed as one of the most beautiful white marble cenotaphs in Rajasthan and also one of the popular Jodhpur tourist places. Return to the hotel for overnight stay at Brij Laxman Sagar for a luxury accommodation experience in Jodhpur.
27 March' 23 : Pali – Jawai (by surface – 188 Kms, 3.5-hrs. drive)
Morning after breakfast drive to Jawai 188 Kms, 3.5-hrs drive. On arrival check into the lodge.
Jawai, Rajasthan is located quite near to the Jawai Dam. It is a well-known for its magnificent sightings of Leopards. The experience is unique as it's not a forest; instead, you will sight leopards near around this sandy village. Jawai, being a home to a number of mammals and birds is an attraction to wildlife enthusiasts to spot evasive Leopard, the mighty Bluebull,the Crocodile, the ever so mischievous Hyena, the graceful Pelican, the Greylag Goose, Robin Accentor, Demoiselle Crane, Barheaded Goose to name a few.
Evening visit Rabari home [1700 to 1900 hrs.] It's only apt to meet the Shepherds in the land of Leopards & Shepherds. Experience the local life and culture on this fascinating tour. The hosts at the lodge take the guests to one of the Rabari's abode that's also home for few of the lodges staff teammates. The smell of the chilies while sipping on the ginger and masala Chai from the traditional chulha stoves awaken the senses and fill anyone with comfort and joy.  Dinner and overnight stay at Brij Jawai.
After breakfast experience the golden mornings of Rajasthan with wildlife sightings. Morning & afternoon Safari also one can see the village life in Rajasthan.  All Meals at the lodge.
Not only Leopards! Another magnificent wildlife habitat Jawai is famous for, Crocodiles. What actors are they; 15 feet giants can fool anyone with their sleepy lying illusions. They could be as active as in hunting process even if they are doing nothing. They won't move, hence sometime create a camouflage with the rusty muddy ground near the reservoir and we have to focus as we see them from a distance. They sun bath for entire day and whenever hungry they simply dive in the lake full of fishes, which makes sightings go difficult when they are in action, however they will always be visible in a sunny day lying on the shore.
29 March' 23 : Jawai – Udaipur (by surface – 135 Kms, 3-hrs. drive)
Morning jeep tiger safari and after lunch drive to Udaipur airport 135 kms/3 hrs. Udaipur The city of Lakes, Located in the Aravalli ranges of Rajasthan, the city of Udaipur is situated at a distance of about 405 km from the state capital Jaipur. The City of Dawn, surrounded by the ancient Aravali Mountains and set on the edge of three lakes, is a brilliant kaleidoscope of narrow lanes flanked by bright stalls, gardens, lakes, palaces and temples. The city is famous for its palaces, lake, museums, temples, and gardens and much more. On arrival check – in at the hotel. Overnight stay at the Taj Lake Palace.
30 March '23 : In Udaipur
Morning full day city tour of Udaipur including a boat ride at Lake Pichola. The city was founded in 1567 AD by Maharana Udai Singh on the advice of a sage. Udaipur was last of the numerous Mewar capitals. It was in Udaipur that legendary Maharana Pratap was born. He was obsessed with Chittaur and the past glories of the Sisodia clan possessed his mind. Maharana Pratap left Udaipur to win back Chittaur from the Mughals. But he failed in his attempts and Udaipur remained the capital of Mewar till India got her independence. The memory of the failure of noble Pratap gives Udaipur its pervading mood of nostalgic wistfulness.
The city acquires its scenic beauty from the Aravallis. Three lakes- Pichola, Fateh Sagar and Udai Sagar make it an oasis in the desert. Overnight stay at the Taj Lake Palace.
31 March '23 : Udaipur - New Delhi (flight)
After breakfast check – out from hotel. Later drive to Udaipur airport to board flight to New Delhi at 0735 hour to arrive New Delhi at 0845 hrs. Met at airport and transfer to hotel. Overnight stay at the Oberoi New Delhi.
01 April '23 : New Delhi – Fly back
After relaxed breakfast, check out from the hotel and transfer to New Delhi International Airport to board your flight back home.
Feel free to get in touch so we can help you decide better. Our wildlife tour experts will guide you on everything. You can also request a custom tour package.
Parks to visit on the Luxury Tiger Safari and Cultural Tour in Rajasthan
Related Tiger Safari Tours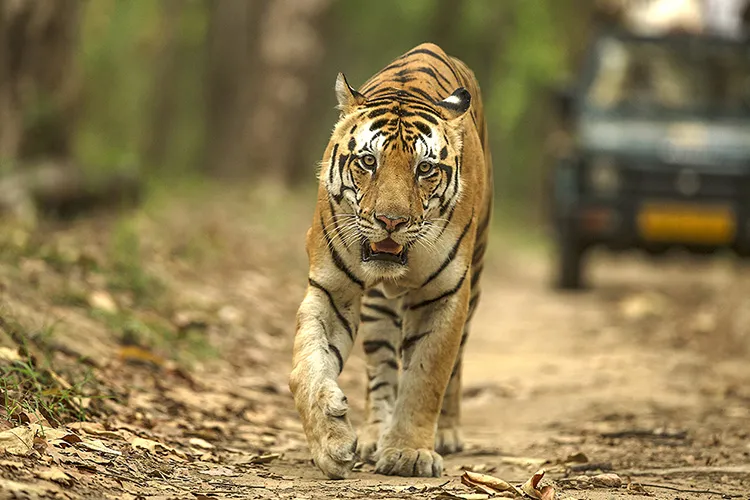 From the laps of nature to the architectural elegance of ancient India, this luxury tiger safari tour offers an opulent experience with the most boutique lodging experience.
The full package of roars! Take this tour up as an opportunity to teach your kids about the beauty of nature and the big cats of India!
Three breathtaking locations, and one full-fledged wildlife safari tour. It's the ideal package to consider if you're on a family vacation.
Luxury Tiger Safari and Cultural Tour in Rajasthan
Frequently Asked Questions
Please fill the form below and our team will get back to you within 24 hours with a perfect tiger safari tour package.