About Bandhavgarh, Kanha and Kaziranga Safari Tour
This tiger safari in India will cover the Big 5 of India, namely Tiger, Elephant, Rhinos, Water Buffaloes, and Indian Gaur. Tiger and Gaur will be amply taken care of in Kanha and Bandhavgarh. Kaziranga will take care of the Elephants, Rhinos, and Water Buffaloes.
Kaziranga is a UNESCO World Heritage Site, a declared Tiger Reserve as well as an Elephant Reserve. It is a prime area of biodiversity and the waters of the Brahmaputra River which feed the alluvial grasslands is the life-support system of the Park. 2000 Greater One Horned Rhinos are protected fiercely here, which garners large interest from Wildlife enthusiasts and Nature Lovers. With over 500 species occurring here, Kaziranga has been classified as an Important Bird Area (IBA).
A lot has been written about the other two celebrity parks, Kanha and Bandhavgarh. The setting to Rudyard Kipling's 'Jungle Book', it is here that the amalgamation of grand Sal trees, bamboo forest and the fascinating animals it nurtures, that helps the wildlife coexist within this tranquil outback. A tiger safari in India through Kipling's very own country will leave its viewer enchanted with the sights of Tigers, Sloth Bears, Wild Dogs and the hardground Barasingha. These iconic national parks in India are known for their legacy and high tiger density, which means you have an incredible chance to witness the elusive striped cat walk nonchalantly through the forest floor in its royal demeanor.
Day 01 : Arrival in New Delhi
Upon arrival at the New Delhi Airport, you will be met by our representative who will ensure a smooth transfer to the Hotel and further, help you check-in at the Hotel. All the travel related documents will be handed over and explained to you. Overnight stay at the Hotel.
Day 02 : New Delhi – Jabalpur – Bandhavgarh (Flight + 200 kms/4 hrs drive from the airport)
Early morning transfer to the domestic airport to check-in for your flight to Jabalpur. Upon arrival in Jabalpur, our driver will meet you. Transfer to Bandhavgarh National Park. Upon arrival in Bandhavgarh, transfer directly to your safari lodge and check-in. The rest of the day is at your leisure to rest and relax after your journey.
Day 03 - 04 : In Bandhavgarh National Park
Wake up early this morning at around 05:00 hrs for your first tiger safari in India into the forests of Bandhavgarh National Park. Bandhavgarh is one of the most beautiful parks in Central India and has deep historic roots. The park is named for the fortress that towers over the jungle. Enjoy an adventurous ride through the park and return to your lodge in the late morning. Enjoy a delightful lunch and some rest before heading out into the park again this afternoon.
Bandhavgarh is known for its incredible tiger density and it is unusual not to spot these felines among its thick Sal and Bamboo groves. The park is full of several other animals as well as birds and is a beautiful habitat. Keep an eye out among the grasses to catch sight of a tiger taking a nap after a meal. Bandhavgarh is full of herbivores and reptiles and there is plenty of activity amid the jungle. Wild boars, sloth bears, porcupines, foxes, primates and several other animals scurry through the undergrowth.
Return to your lodge in time for lunch and a leisurely afternoon. Head out into the park again for your evening tiger safari in India to Bandhavgarh National Park drive. Return in time for dinner and a relaxed evening.
Day 05 : Bandhavgarh – Kanha National Park (280 kms/6 hrs drive)
Wake up at 05:00 hrs for your last tiger safari in Bandhavgarh national park. Upon your return to the lodge, check out and you will be driven in your chauffeur-driven vehicle to Kanha National Park.
Arrival in Kanha and transfer directly to your safari lodge. Check-in and the rest of the day is at your leisure to rest. Enjoy dinner at your lodge this evening.
Day 06 - 08 : In Kanha National Park
Morning and afternoon safaris at the park. All meals and overnight at the lodge.
Day 09 : Kanha – Raipur – New Delhi (210 kms/4 hrs drive to the airport + flight)
Take your last morning safari to the mysterious yet magical Kanha. Return to your lodge for an early lunch and drive to the Raipur Airport. Fly from Raipur to New Delhi. Upon your arrival in New Delhi, you will be met by our representative who will assist you with transfer to the Hotel in Delhi. Overnight at Hotel.
Day 10 : New Delhi – Guwahati – Kaziranga (Flight + 250 kms/5 hrs drive)
Early morning transfer to the airport for your flight from Kolkatta to Guwhati. Upon arrival in Guwahati, you will be greeted by our representative and transferred to. Arrival in Kaziranga and transfer to your lodge. This afternoon, head out for your first foray into the stunning forests of Kaziranga, one of India's largest and most beautiful national parks. Dense groves of trees, tall elephant grass, reeds, and marshes are interspersed by a series of streams and rivers that cut through the park.
Day 11 & 12 : In Kaziranga National Park
Early morning wakeup call in time for you to head out into the jungle. Kaziranga National Park is a large untouched tract of true jungle and is home to the Asiatic Elephant, the Tiger, the One-Horned Indian Rhino, Water Buffaloes, and several other species, some of which are endemic to this part of the subcontinent. Return to your lodge to relax and have lunch. Head out again this afternoon to explore more of Kaziranga. Dusk is a lovely time of day as it is particularly scenic at sunset. Return to your lodge and evening at your leisure. Dinner at your lodge.
Day 13 : Kaziranga – Guwahati – New Delhi (250 kms drive/05 hrs drive to the airport + flight)
Check out after breakfast at your lodge. Drive back to Guwahati. Board a flight to New Delhi. Arrival in New Delhi. Meet and greet at the airport and transfer you to your hotel. Overnight in New Delhi.
Day 14 : New Delhi – Onward Destination
After a relaxed breakfast, drive to New Delhi International Airport to board your flight back home/onward.
Feel free to get in touch so we can help you decide better. Our wildlife tour experts will guide you on everything. You can also request a custom tour package.
Parks to visit on the Bandhavgarh, Kanha and Kaziranga Tour
Related Tiger Safari Tours
Be it cute and cuddly or majestic and fierce, the fauna you'll experience on the Red Panda and Tiger Safari tour will leave you mesmerized.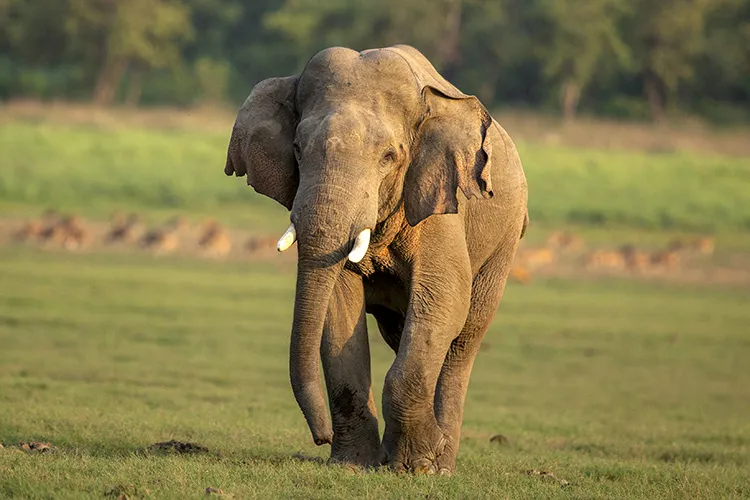 If you've got a wide-angle lens and a knack for keen observation, these tiger safari parks are the perfect place to view the big cat and asian elephants.
Combined, these two parks stretch across one of the longest natural landscapes in India. Your eyes will not miss the large herd of elephants!
Frequently Asked Questions
Please fill the form below and our team will get back to you within 24 hours with a perfect tiger safari tour package.