Year of Introduction Project Tiger in India : 1973
Protected Area under Project Tier in India : approximately 71,000 sq. km
Population of the Royal Bengal Tiger in India : around 3000 individuals
IUCN Status of the Royal Bengal Tiger : Threatened
Global Population of the Tiger : around 3900 individual.
Countries where the Tiger is found : India, Nepal, Bhutan, Myanmar, Laos, Indonesia, Malaysian, Cambodia, Vietnam China & Russia
Scientific Name : Panthera tigris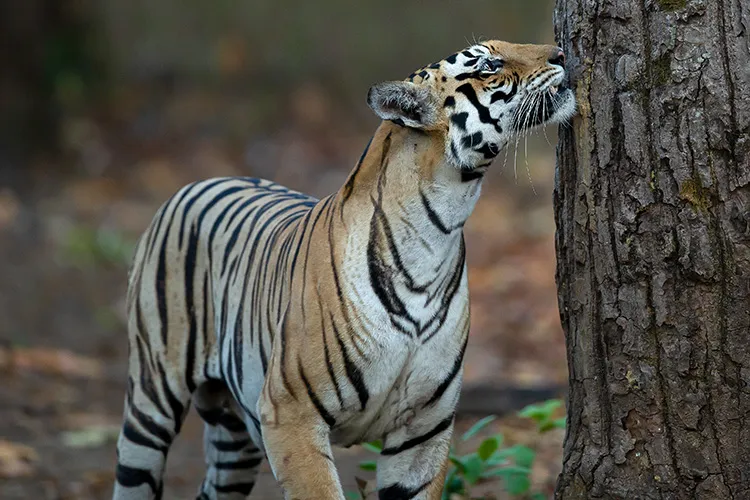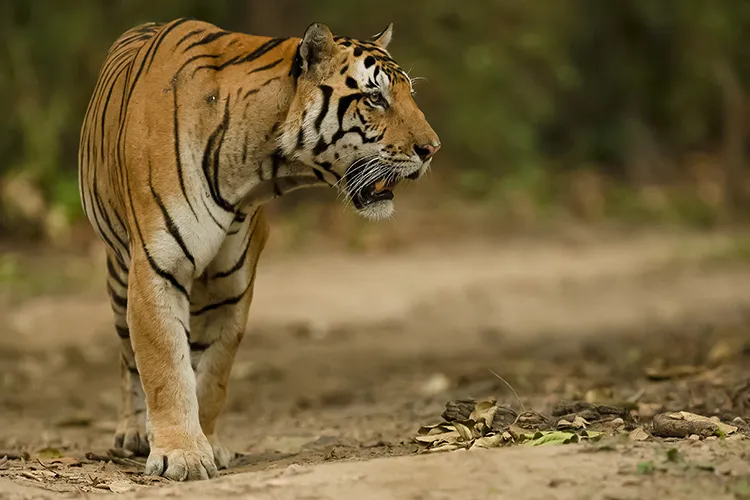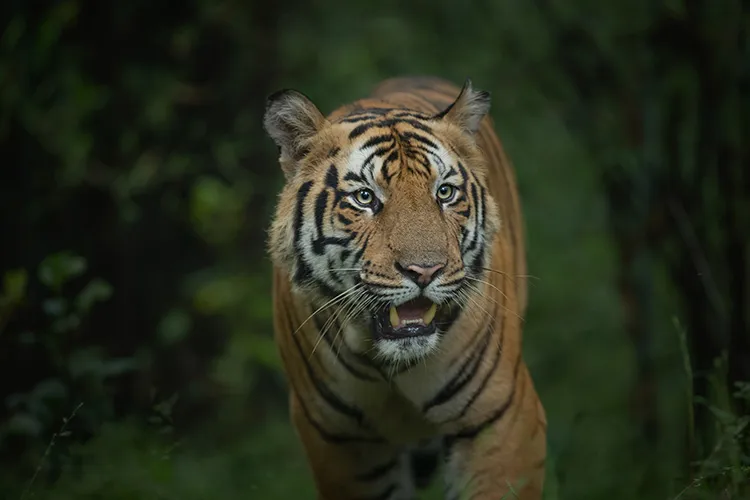 The Tiger is the Largest Wild Cat species in the World : The Siberian or Amur Tiger can weigh up to 320 kg, followed closely by the Royal Bengal Tiger which can even weigh upto 300 kg.
They are solitary hunters, who hunt by stealthily approaching their prey upto 10 metres in distance before they are likely to be successful in their attempt usually.
Despite their large size, they are an extremely agile animal and can even hit speeds of upto 60 kmph in short bursts. A single leap of a tiger can exceed 20 feet.
Their large size demands for large home ranges and ideally anywhere between 30 sq km to 150 sq km varying between subspecies. It is usually the Males who have a large territory and they try to defend their areas from other males who may enter to establish their own ground, or to vie for the Female Tigers which are present in an existing Males' territory.
It is this need for habitat which brings them into contact with humans and creates conflict situations due hunting of livestock and rare attacks on humans.
A rather fascinating truth is that the Tiger, its clear superiority in size and strength notwithstanding, avoids contact with people and will even hide away from even a single person if their paths cross. Hence their nickname of "The Gentleman of the Jungle".
In an overpopulated country such as India, it is inevitable that the Tiger comes into conflict with humans on a daily basis – yet attacks on Man around the 50 Tiger Reserves of India are few and far between.
Compensation packages to the victim in cases of death of livestock outside the boundaries of the National Parks ensures that the agitation against the Tiger does not reach an impossible situation with the locals.
A Tigress can give birth to upto 5 cubs, however the occurrence of Tigers with 5 cubs is extremely rare and only been observed in only a couple of individuals in Central India. The average litter is 2-3 cubs ; of which only one may successfully be dispersed.
They are a forest animal, and rarely venture in the open like the Lion. Their stripes make for useful camouflage in such habitat.
Young Male Tigers when dispensed from their mothers tutelage at around 18-22 months, are most likely to travel fair distance in order to find new areas, and due to competition with older and probably larger Male Tigers in their prime, may have to undertake extremely perilous journeys across human habitation, rural and developed, exceeding 200 km to find new forest areas and compete for territory. Not many make it, but the ones who do survive through life-threatening dangers faced due to lack of well-connected forest corridors in India.
Worshipped in traditional Hindu and Tribal culture in India, the Tiger is feared and respected at the same time. However, with the increasing emphasis on policies for development – the long-term success of Project Tiger hangs in the balance.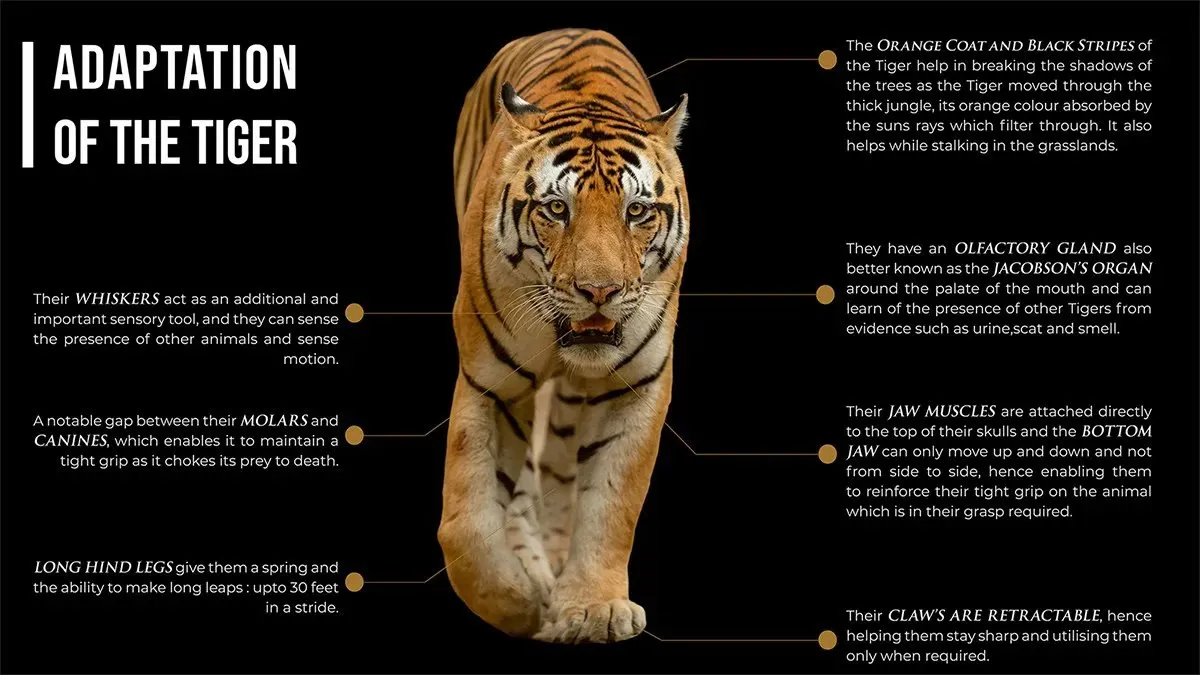 India is now home to almost 75% of the world's Wild Tigers. The relative transparency in the estimation process and the dedication to the project in India of Saving the Tiger is unparalleled.
A previous estimation by the data collected, and number of Tigers shot for sport – it was estimated that, at the beginning of the 20th Century, there likely could have been upwards of 50,000 Tigers in India alone. The continued hunting, poaching and habitat destruction has decimated their populations and by the 1960's, wildlife in India had hit rock bottom. They were treated like vermin, and nearly exterminated.
It was around 1970, that, a group of conservationists and researchers applied sustained pressure on the Indian Government. Notable Conservationist Dr.Kailash Sankhla made a personal appeal to then Prime Minister Mrs.Indira Gandhi, who turned out to be empathetic and understanding towards the need to protect India's Natural Heritage – the oldest heritage of India.
Wildlife Protection Act was drawn up in 1972 as a result, and it ended legally, all hunting in India – and protected individual species by Law.
Project Tiger was launched subsequently, in 1973, and Dr.Kailash Sankhla was appointed the 1st Director of Project Tiger in India.
Jim Corbett Tiger Reserve in Uttarakhand was the 1st Tiger Reserve in India. A further 8 Tiger Reserves were established with around 9115 sq.km of forests under the wing of Project Tiger.
This figure stands today at 71,000 sq.km – a stark improvement from its initial days but nearly not enough forest cover for a burgeoning country such as India with a beautiful and rich Natural Heritage.
Today, there are 50 Tiger Reserve established in India.
NTCA – National Tiger Conservation Authority
The NTCA is the Apex body that administers Project Tiger. Powers and functions of the National Tiger Conservation Authority as prescribed under Section 38O of the Wildlife (Protection) Act, 1972, according to www.projecttiger.nic.in as amended in 2006 are as under:-
• To approve the Tiger Conservation Plan prepared by the Individual State Governments.
• To evaluate and assess the various aspects of sustainable ecology. Disallowing unsustainable land use for projects such as Mining, Industry and other such projects within Tiger Reserves.
• Establishment of Standards for Tourism Guidelines within the Tiger Reserves has to be set by the NTCA. It encapsulates those in the Core as well as the Buffer Area of the Tiger Reserve.
• To focus on addressing inevitable Human-Animal Conflict scenarios. To ensure due processes are established on the areas surrounding the National Park, Sanctuaries or Tiger Reserve to enable co-existence around forest areas.
• To provide information on Protection Measures including the Future Conservation Plan, Estimation of Tiger Population and its Natural Prey Species, Status of Habitats, Disease Surveillance, Mortality Survey, Patrolling, reports on any Untoward Happenings and such Management Aspects as deemed fit in the Future Conservation Plan.
• To approve and co-ordinate Research and Monitoring on ecological aspects of the Tiger, Prey, Habitat as well as related ecological and socio-economic parameters and their evaluation.
• To ensure that Tiger Reserves and areas linking a protected area with another, are not diverted for ecologically unsustainable use, except in absolute public interest; with approval from the National Board for Wildlife and the advice of the NTCA.
• To facilitate Eco-development and People's Participation in Biodiversity Conservation Initiatives as per the approved management plans. Additionally, to support similar initiatives in adjoining areas consistent with State and Central Laws.
• To ensure critical support including Scientific, Information Technology and Legal Support for ideal implementation of the Future Conservation Plan.
• To ensure Training and Development of Officers and Staff of Tiger Reserves through Capacity – building Programs.
• To perform any such other functions to carry out purposes of the Project with regards to protecting the Tiger and its Habitat.
Each Tiger Reserve is divided into 02 areas
Core Area /Critical Tiger Habitat
This is the critical habitat of surviving Tigers and prey species which can support or already support Tiger populations in the landscape due to favourable ecological conditions having potential for improving existing habitat to ensure long-term success of the species.
No human activity save for conservation-related or Park-management related activities are permitted here. Everyday tasks of wood collection, grazing and utilisation of forest produce is banned.
Tourism is permitted, however according to NTCA guidelines, only upto 20% of the Core Area is available for Wildlife Tourism.
These areas usually have a legal status of National Park or Wildlife Sanctuary.
Demarcated areas adjoining or surrounding the Core Area have been given the status of the Buffer Area. These are peripheral areas of the Core or newly created habitat for wildlife which inevitably spills over from the declared Core Area.
However, activities such as livestock grazing, controlled collection of firewood and minimal use of forest produce for the sake of livelihood by the locals are permitted.
Forest Check-Posts and Patrolling Camps have been strategically established across Tiger Reserves in the Core and Buffer Areas to mitigate poaching threats and ensure management of the reserve and swift action in case of emergency situations.
One of the most difficult and herculean of all tasks has been the ongoing Village Relocation Programmes in Tiger Reserves, ongoing since 1973.
Voluntary relocation of people and settlements has been one of the major tasks and a massive challenge ineffective establishment and management of Tiger Reserves across India in addition to reducing poaching threats and preserving the habitat.
Many villages were/are situated in the identified Critical Tiger Habitats in India, as well as in the newly identified Critical Tiger Habitats for the future establishment of Tiger Reserves. The need to educate the local people of the benefits of relocating/moving away from their present homes in the Tiger Reserve. Compensatory land or money is provided as aid from the government along with logistical assistance.
56,247 families across 751 villages of the 50 Tiger Reserves have been earmarked for relocation, out of which 12,327 families from 173 villages have been successfully relocated out of these areas.
The challenge of Human Rights, Political pressure and vested interest groups has definitely ensured that this task be a Herculean effort – however, relatively good governance practices and diligence of the various Forest Departments has resulted in various positive breakthroughs for Project Tiger.
In light of heavy poaching and formation of strong poaching networks by smugglers within India, a need for greater monitoring and an additional layer of protection was included in the year 2005.
Following the exposure by the media and ground-level conservationists on the sudden disappearance of Tigers in the notable plight of Sariska Tiger Reserve in Rajasthan, The Prime Minister of India Mr.Manmohan Singh set up the Tiger Task Force to strengthen the conservation of the National Animal of India.
The guiding principles for all the Tiger Reserves in the country by the Tiger Task Force include : –
• Looking into the various problems of Tiger Conservation and suggesting methods for its improvement.
• Improving methods to check-poaching of tigers and illegal practices followed in the wildlife sanctuaries.
• To improve the method of counting and forecasting Tigers.
• To educate the local indigenous population inhabitant in the Reserves towards the conservation of tigers and preservation of habitat.
More on The Royal Bengal Tiger
Please fill the form below and our team will get back to you within 24 hours with a perfect tiger safari tour package.